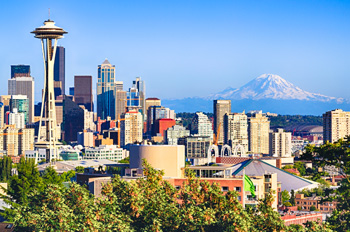 If Seattle were a woman, she'd likely be sipping an Americano (the city has 15 coffee shops per 10,000 people), and quite possibly be nose-deep in a novel (it boasts more libraries and bookstores per capita than any other city). Her iPhone would probably have plenty of Ray Charles, Jimi Hendrix, and Nirvana—one-time Seattleites, all. Not even the gloomy weather (Seattle is enveloped in clouds 294 days a year) can dampen the rapidly growing city's reputation as a truly cool place to be.
A timber town-turned-tech hub, Seattle is home to Amazon, Microsoft, Starbucks, the Space Needle, and the country's longest continuously running farmers' market. Nestled 100 miles south of Canada between the saltwater Puget Sound and Lake Washington, it's the largest city in the Pacific Northwest with 684,000 residents. The Emerald City is green in every sense of the word: More people bike to work than in any other similarly-sized US city, and 90 percent of the area's electricity is produced using hydropower.
What besides a taste for salmon and an affinity for flannel do Seattleites share? The insider's knowledge of the other Washington, gained while studying at AU. Get to know some of our 1,068 Seattle transplants here.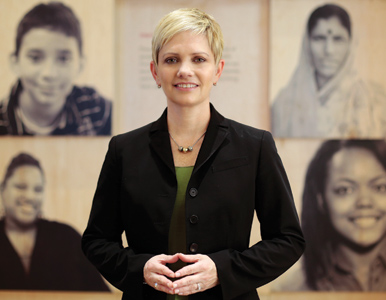 Leigh Morgan, SPA/MSOD '97, COO, Bill and Melinda Gates Foundation
Working for one of the world's richest couples has been exceptionally enriching for Leigh Morgan in much more than the monetary sense of the word.
"It's an incredible privilege to know that we're helping build a world where every person has the opportunity to live a healthy, productive life," says the chief operating officer of the Bill and Melinda Gates Foundation. "That's our North Star. It's an easy thing to get excited about and to work really hard on behalf of."
With an endowment of roughly $40 billion, the foundation is the largest of its kind on earth. Last year it handed out $4.2 billion in grants to organizations working toward one of its four core missions: ensuring children survive and thrive; empowering the poorest, especially women and girls, to transform their lives; combating infectious diseases that particularly affect the poor; and inspiring people to take action to change the world.
A native of the Pacific northwest, Morgan attended Duke University as an undergraduate, where she played point guard for the basketball team. She worked in government, biotech, and academia before the Gates Foundation came calling in 2014.
"Bill and Melinda are remarkable human beings and remarkable leaders," she says. "They set a high bar for us, and their consistency and values inspire us every day. We want to ensure that we have a culture and working practices that enable us to reach our fullest potential. Doing so, we think we'll have an even greater impact in the world."
Wesley Schauble, CAS/MFA '04, User experience art director, Amazon
Working for Amazon is "like living in a small town but knowing all of the shopkeepers," says Wesley Schauble.
Schauble designs for Fire TV, Echo, and other digital products-as he puts it, "anything Amazon creates that has a power button."
Unlike the typical buildings across Amazon's South Lake Union campus, his office is a converted laundry from the early 1900s. "They gutted the entire building and created an agency-like feel," he says. Under 14-foot ceilings with light pouring down from clerestory windows, the designers are all on the same floor, without barriers between them.
But there are barriers to the outside world. This former laundry is a highly restricted site where the company's future is unfolding. Teams here are busy ironing out the details of confidential products still in development.
"Unfortunately I can't say too much about what I do because it gives a lot away," Schauble says, adding that "it's so fascinating to be in a front row seat, seeing something about to happen for a company of this size. I feel incredibly honored to be a part of this."
During a career that has taken Schauble from DC to Boulder to San Francisco, he has contributed to projects ranging from designing wakeboards to hand-sketching all the branding for a pizza chain, with a client list that includes both the staid Brookings Institution and global super group U2.
He says moving to Seattle, where he met his wife and where his son was born, was the best decision he's ever made. Biking, hiking, and skiing in the dense green forests of the Pacific Northwest reminds this Hickory, North Carolina, native of The Land Before Time. "It's the most beautiful place I've ever lived."