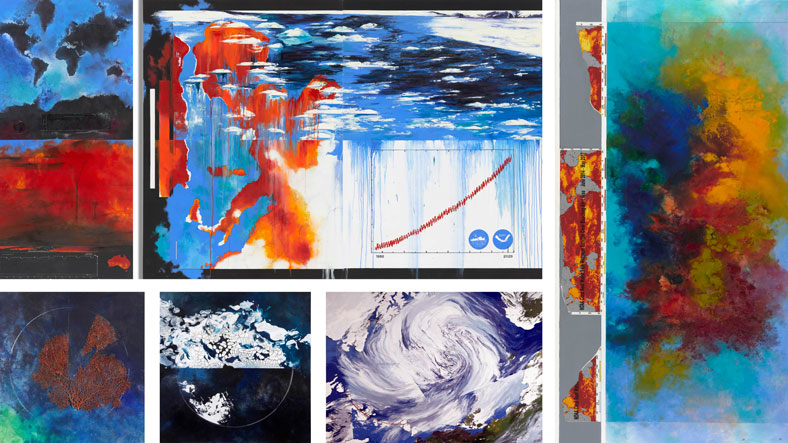 Painter and photographer Diane Burko has always advocated for art's role in addressing climate change—and never has that call to action been more urgent. 
"I can't keep making paintings about the landscape I love without trying to do something about it," she says in the catalog for Seeing Climate Change, which runs through December 12 at the AU Museum. 
Burko, who has traveled to corners of the world most acutely affected by global warming, including the Arctic Circle, Antarctica, and the Great Barrier Reef, layers abstract, large-scale images with scientific data about threats posed by melting glaciers, raging wildfires, and the COVID-19 pandemic. 
"Motivated not simply by an optimistic spirit of discovery or a personal desire to experience the awe-inspiring vistas and phenomena of the natural world, Burko sets out now in the twenty-first century to document what remains of their beauty and to bear witness to their destruction—in the hope, nevertheless, that the collaboration of art and science exemplified by her work might yet play a meaningful role in helping to avert that destruction," writes Mary Garrard, who curated Seeing Climate Change with Norma Broude, her frequent collaborator and fellow professor emerita of art history.
The exhibit is presented in conjunction with AU Climate Action, a yearlong interdisciplinary program designed to spark dialogue and prompt action around the existential threat of climate change.