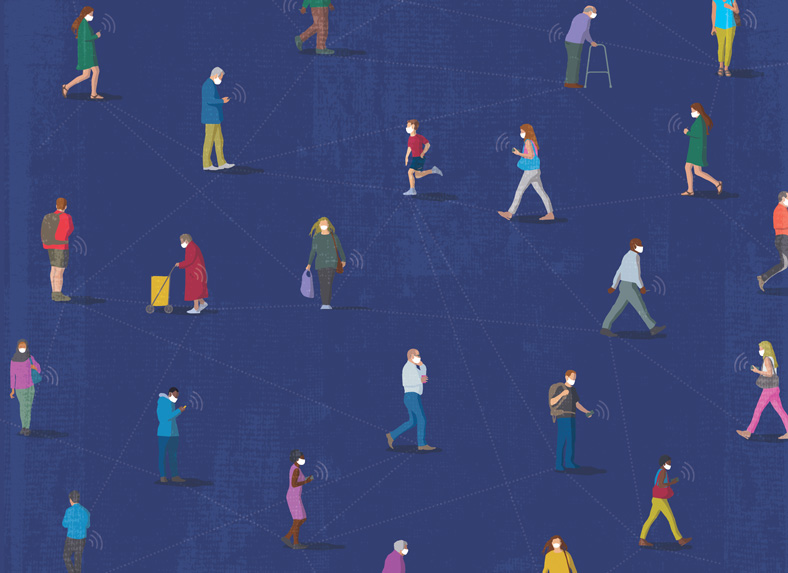 The 833 or 857 area code doesn't reveal much, but the caller ID—MA COVID TEAM—is like a smack to your (hopefully masked) face.
You were perhaps lucky or careful enough to avoid for eight months a virus that has killed more than 235,000 Americans and infected close to 10 million. Now you might be a link in the chain, and this incoming call serves as a warning: coronavirus knows someone you know.
You've seen the health department's ads—"The greatest act of love is answering the call"—and decide to pick up.
Hi, this is Marie calling from the Community Tracing Collaborative, working with Partners in Health and the Department of Public Health in Massachusetts on the COVID-19 response. Am I speaking with . . . ?
Yes, you confirm, while trying to convince yourself that this is neither scam nor dream.
We're trying to stop this pandemic and you can help. Someone who tested positive for COVID-19 reported that they came into contact with you recently. I'm not saying you have the virus or that you're going to get the virus, but do you have a few minutes to discuss what this might mean for you?
It means that, if you follow advice, the next two weeks will be boring at best. It also means that Marie Alden, SIS/BA '21, will become a familiar, friendly voice, calling at least every other day to check in, monitor your symptoms, and help connect you with resources like food and medication.
Since April, the international studies major has been a contact tracer in her native Massachusetts, spending 20 hours a week tracking and tamping down COVID-19. She is one of nearly 40,000 crisis-time contact tracers and case investigators, according to National Public Radio, working for state and local public health departments, nonprofits, and other contractors to chase a slippery and unpredictable adversary.
They deal in sensitive, complex information, often for a little more than 20 bucks an hour, and bring dignity and humanity to data collection, talking those with COVID-19 and their contacts through their fears while facing some of their own.
For Alden, it was the unknown. "There are just so many hypothetical reactions," she says. "I didn't know if people would be shocked or scared or angry and not want to share any information, so my first couple calls, I was timid." Her unease is not unusual. Matthew Reise, CAS/BS '17, worried that Marylanders would try to guess who had exposed them to the virus. And Kara Suvada, CAS/BS '17, fretted about fumbling over words or being bombarded by the most loquacious Georgians she called and missing key information.
None of the investigative Eagles, however, let their worries get in the way of their unselfish goal: to be good enough at their jobs—ensuring contacts are informed, tested, and isolated—to play a small part in making them obsolete.
"We care, it's as simple as that," Alden says. "We want this pandemic to end. Everyone wants it to end. So please, pick up the phone and help."
Alden didn't intend to be on contact tracing calls this spring—or even on this continent.
She was settling into her second semester studying social justice in São Paulo in March when COVID began spreading worldwide, forcing her early return home. "Feeling a bit lost," she discovered that Partners in Health, the global health nonprofit with which she had volunteered the previous summer, was spearheading Massachusetts' contact tracing program. Alden had also spent eight months speaking only Portuguese, an asset in a state home to one of the nation's largest concentrations of Brazilian immigrants. 
Earlier this year, the Association of State and Territorial Health Officials (ASTHO) estimated that 100,000 contact tracers would be needed to adequately identify and contain COVID-19 in the US. To reach even a fraction of that number, hiring managers have had to think outside the box: tapping both public health specialists and those with an excellent phone-side manner.
Reise, fresh off a COVID-rushed departure from his English teaching job in Merida, Mexico, brings an educator's patience and understanding to contact tracing. "I wouldn't want to get that news," he says. "It's being there for people when they're concerned. It's trying to be calming, and it's being their lifeline and their resource."
Jeanette Millard, SPA/MSOD '87, watched her thriving Boston-area consulting business wither to one client in a single day in March. She still projects the warmth, calm, and persuasiveness of a team builder while cold-calling contacts.
"I'm somebody who wants to see problems solved. My livelihood was helping people communicate and understand each other, and suddenly I have no work and I'm helpless," Millard says. "Then, I got this gift from the gods: a chance to help fight a pandemic." This fight is not our first. Contact tracing has existed in its most basic form since the sixteenth century when it was used to track the bubonic plague. It grew in popularity in the early twentieth century during outbreaks of sexually transmitted infections like syphilis. More recently, the HIV epidemic in the 1980s modernized partner notification processes and the development of best practices to drive testing and referrals to other health and social services.
Today, vastly improved technology and methods face a maddening foe. COVID does not behave predictably for contact tracing's sake. It spreads quickly, shows symptoms only sometimes, and stymies our best treatment efforts.
"There's just so much we don't know. The asymptomatic transmission, the folks who are carriers and aren't tested because they either don't have symptoms or have severe symptoms—that's all proven to be quite a difficulty," says Professor Jolynn Gardner, director of AU's public health program. "In the history of public health, it's one of the more difficult diseases to contact trace. I'm not saying it isn't effective, but there are so many confounding factors that people are going to slip through the cracks."
The Centers for Disease Control And Prevention provide guidelines for contact tracing, but without national training requirements, a handful of universities like UC San Francisco and Johns Hopkins and organizations like ASTHO have stepped up to develop free modules. These help states and localities more quickly onboard contact tracers, providing them with the basics of communicable diseases, information privacy and ethics, and empathy in difficult conversations. 
Data management systems differ—Virginia and Pennsylvania utilize Sara Alert, while Massachusetts uses Salesforce—as do policies like texting or calling for follow-ups. But the general framework is the same. Once someone tests positive for COVID-19, a case investigator gathers the names of close contacts—those who have been within six feet of the infected person for more than 15 minutes—and a contact tracer reaches out to them, urging them to get tested, quarantine for 14 days, and monitor their symptoms.
Ideally, the virus will be isolated to an individual, family, or friend group—but that assumes everyone follows the guidelines. It's nearly impossible to guarantee that people will hunker down at home for two weeks—or that they will even pick up the phone. Tracers are persistent, often trying a contact's cell two or three times in a row every day for several days. With unrelenting caseloads, though, they can only do so much.
"You have to be inquisitive, have empathy, and know when to stop," says Dana Billings, CAS/MS '16, a contact tracing team lead in Santa Clara County, California. "You can only chase down someone for so long before you have to move on to the next person."
Making contact is hard enough. Getting people to then change their behavior for the greater good requires building trust, which can be a frustrating tug of war. Public health officials, who can only cross their fingers and hope that contacts stay home, know their work to stop the spread is either strengthened or stymied by each citizen's level of faith in government and science. And COVID doesn't just infect the cooperative.
Suvada, a graduate public health student at Emory University, spent the summer tracing myriad personalities. There was the occasional elderly contact who, happy to have someone to talk to, responded to "How are you doing today?" with a minutes-long monologue. A grateful woman told her, "You're the most helpful person I've talked to," while a less kindly man—for whom she left a voicemail—replied with a disturbing text message: Stupid b____, you don't know what you're talking about.
Nevertheless, the epidemiologist in training valued her time burning up the phone lines because it emphasized the importance of equity in her work. For every contact who stressed only about getting physically sick over a two-week quarantine, there was another who feared even more the financial ruin of 14 days without work.
"You can know all of the data—and I love data, that's why I'm in an epidemiology program—but if you can't contextualize the people behind the numbers, then you're not being the best public health professional you can be," Suvada says.
Worry can be a major deterrent to sharing information with public health officials, regardless of which disease they're tracking. And while concerns like being scammed might be easier to shake—for Virginia contact tracer Tara Rahmani, SIS/MA '21, sometimes it's as easy as sharing her .gov email address or her supervisor's name—others linger.
As a tuberculosis contact investigator in Maricopa County, Arizona, Roel Ayala Peña, CAS/BS '20, has learned to fight the battle for trust on multiple fronts. He'll talk with a patient three or four times to establish a rapport and text a picture of his government ID badge to prove he's legit. Fluent in Spanish, he also uses his language skills to connect with the county's Latinx population—one of the largest in the country. The stigma associated with being infected, however, can overshadow Ayala Peña's careful work andthe promise of free TB treatment.
"People are scared they're going to lose friends and family members because they gave them TB. They are worried that when they return to work, people are going to look at them differently," he says. "They're scared of people seeing them as an 'other,' a sickly thing that can also get other people sick. That's understandable, so we try to talk through it."
Fear of illness is most palpable when it's at our doorstep. COVID-19 has transformed our daily lives for eight months, but it can feel abstract to those who haven't watched—or listened to—someone fight it. For contact tracers, the reminders are intense and sudden. When she began making follow-up calls, former Massachusetts contact tracer Sophia Comas, CAS/BS '17, was initially shocked at how, seemingly overnight, sprightly contacts could begin to struggle with symptoms.  
"I saw that someone could be totally fine one day and then suddenly need medical attention the next," says Comas, a public health graduate student at Harvard. "It was kind of grim to realize that," but it underscored the critical importance of checking in.
Meg Carr, CAS/BS '15, was in DC visiting her college roommate in March when her employer, the Allegheny County (Pennsylvania) Health Department, announced its first COVID-19 case. She immediately raised her hand—or, rather, picked up her smartphone—to help.
Carr made her first contact tracing calls from the District and dove headfirst into the COVID-19 response while finishing up her public health master's program at the University of Pittsburgh. While her boss established a script for calls, Carr created an Excel spreadsheet to track initial contacts, helped organize health department colleagues for calls, and hosted trainings on COVID and contact tracing basics.
As a COVID-19 epidemiologist and contact tracing lead, she compiles daily metrics, fields questions on difficult contacts and database issues, checks in with her own and other health departments, partners with local colleges to establish internal contact tracing, monitors new state and CDC guidelines (which can change daily), and even makes some of her own contact tracing calls.
Carr is inspired by her colleagues, who have poured their time and effort into an unforeseen and unprecedented health crisis, but their work is unrelenting. Since COVID hit, health departments everywhere have been all-gloved-hands-on-deck, but that doesn't mean pre-pandemic health concerns—everything from mental health to food safety—have receded, or that the coronavirus is behind us.
"I think the challenge is: How do we sustain this level of work for the duration?" Carr says. "Despite many peoples' hopes, COVID isn't going away anytime soon. Public health professionals need more support from the general public and resources to sustain this work."
Contact tracers are buoyed, however, by the courage they hear over the phone, and by relationships that are built a few minutes at a time over two weeks.
Rahmani corresponded with a contact for a week before the woman shared her greatest fear: COVID affecting her pregnancy.  
"She said, 'I was afraid to tell you this in the beginning, I just didn't know [how to ask]. Since I'm positive, is this OK for my baby?'" Rahmani recalls. "She wasn't comfortable telling me at first, but she wanted me to know what was going on with her situation."
Amid a dark time, the most rewarding endeavor is guiding someone to the light at the end of the tunnel.
Millard spent two weeks following up with a man who had grown increasingly emotional about being apart from his family. On their last call, she shared some good news: he had done his part, staying isolated while infected, and was now free to embrace his loved ones. She remained on the line and listened to the happiest of sounds: a door swinging open and a family cheering.
"What could be better than that?" she asks. "We need to remember that we're loving and caring people. Fear obviously makes us forget that, but we can help other people by talking with a contact tracer. So, don't worry, and don't be afraid."
Just pick up the phone.
TRACE EVIDENCE
Our national COVID-19 case total has jumped by five figures every day since March 23, according to Johns Hopkins. Despite our protracted failure to flatten the curve, tens of thousands of contact tracers remain motivated, charting and calling through the spread.
While each organization's outreach differs slightly, most methods are built on general CDC guidelines. Below is a framework of contact tracers' fight against the pandemic:
A patient is tested for COVID-19.
A positive test is reported to a state and/or local health department.
A case investigator calls this "index case," collects names of recent close contacts, and relays instructions for isolation, which lasts at least 10 days.
A contact tracer calls individuals who've been exposed to the infected person, recommending they get tested if they haven't already and quarantine for 14 days. 
A case investigator follows up if the contact tests positive.
Contact tracers and case investigators refer individuals without access to resources like food to support services.
A tracer or investigator makes a follow-up call every day (case) or every other day (contact) to monitor symptoms and general wellbeing.
A case or contact exits isolation or quarantine unless symptoms remain.