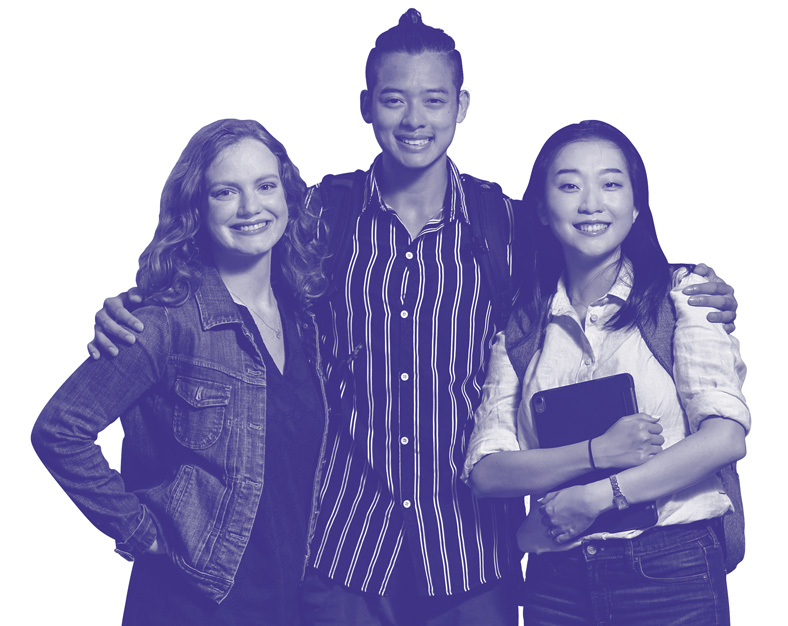 On May 12, we announced a bold endeavor—Change Can't Wait: The Campaign for American University—our call to address today's complex and urgent challenges. More than 2,000 Eagles and friends around the world joined President Sylvia Burwell for the virtual kickoff to mark AU's first campaign to launch in 18 years. With a $500 million goal, Change Can't Wait advances critical areas of the university's strategic plan. Three campaign pillars—Elevate, Inspire, and Lead—create transformative student opportunities, drive research and teaching with impact, and build stronger communities throughout DC, across the nation, and around the globe. In the coming months, AU will share additional information and opportunities for the community to learn about and engage with the campaign.
ELEVATE
Goal: $175 million
We are committed to preparing changemakers to shape our changing world and promoting student thriving in a diverse, inclusive environment. ELEVATE is a vision to transform the student experience and create a more equitable, affordable, and empowering AU education through:
Undergraduate and graduate scholarships that open doors to learning 
Experiential learning that equips students to impact the world around them 
Opportunities that support student health, wellbeing, and thriving 
A vibrant campus offering the spaces and holistic experiences students want and need  
Thanks to the generosity of AU trustee Janice Menke Abraham, SIS/BA '79, and her husband, Kim Abraham, the $1 million Menke-Abraham Endowed Scholarship Fund earmarks scholarships for first-generation students. "Although I wasn't a first-gen student, I know that a college education opens doors, broadens horizons, and provides security," Menke Abraham says. "AU is a welcoming place for all students, and we hope this scholarship
 helps first-gen students achieve their dreams."
INSPIRE
Goal: $175 million
The world needs solutions—now. Our faculty generate knowledge to advance society today and into the future. They ask the right questions, work alongside students, and deliver real-time results. INSPIRE is our path to support these dedicated scholar-teachers through: 
Endowed chairs and professorships in critical research areas such as antiracism, public health, tech policy, neuroscience, and extremism
Research centers that accelerate exploration, innovation, and action
State-of-the-art collaboration spaces that spark new insights
Teams across campus that fuel AU's distinctive 
approach to problem-solving
As part of their commitment to addressing mental health issues, AU trustee and congressperson David Trone (D-MD) and his wife, June, through the David and June Trone Family Foundation, generously donated $5 millionto establish an endowed eminent scholar chair in neuroscience and behavior. AU Distinguished Professor Terry Davidson—whose critical research is poised to revolutionize our understanding of addiction and other cognitive disorders—will be the inaugural chairholder. 
LEAD
Goal: $150 million
Strong communities generate opportunity, create space for diversity of thought, and inspire lifelong learning. AU contributes to and learns from our DC home, a place where changemakers from across the world converge. LEAD is our call to strengthen communities in the District and beyond through: 
Research and initiatives that improve outcomes for the DC region and address challenges through community-based research
Programs that advance civic discourse in service of democracy
Events that convene perspectives, elevate voices, and pose the questions that shape our future
Endowments that support AU's mission and people, now and for generations to come
Initiatives like AU's Humanities Truck, a mobile lab that unites scholarly research with the needs of the DC community, reflect the university's commitment to community partnerships. Last year, the project received a $100,000 grant from the Henry Luce Foundation to support COVID-19 response efforts. The Humanities Truck has since delivered food to hundreds of people across the District during the pandemic. 
A Conversation with President Sylvia Burwell
Change Can't Wait marks a time of transformation not only for the university but for the world. During this time of great momentum, President Burwell offers her perspective. 
What makes the Change Can't Wait campaign historic for AU?
Change Can't Wait is the first campaign AU has launched in 18 years. Our $500 million goal is the largest we've ever set—and during the quiet phase leading up to the launch, our community generously contributed $270 million towards this goal. AU has long been home to changemakers who tackle complex, interconnected challenges. This campaign will amplify our impact and help us share our strengths with the world. 
What does a "comprehensive campaign" mean for AU? 
"Comprehensive" means that the campaign supports current programs and initiatives as well as endowments for our future, from students and faculty to capital projects to partnerships. To that end, Change Can't Wait is rooted in our defining values and directly aligns with our Changemakers for a Changing World strategic plan. It extends that work and supports our new Challenge Accepted narrative to advance scholarship, learning, and community. Furthermore, through the campaign, we "accept the challenge" to create lasting, positive change where it's needed most. 
How will the campaign impact students, faculty, and the campus community? 
As the past year has demonstrated, higher education is evolving—and so is AU. Change Can't Wait creates life-changing student opportunities—with an emphasis on equity and affordability—by increasing scholarships, financial aid, and experiential learning opportunities and strengthening student health and wellbeing resources. 
Our faculty's expertise and strengths help define an AU education. As scholar-teachers, they ask the right questions, addressing critical issues such as the rise of disinformation, racial injustice, environmental sustainability, and the social and political implications of internet governance. They seek answers that go far beyond our campus. Change Can't Wait supports and expands faculty resources—such as doubling our number of endowed department chairs—as well as critical research initiatives and on-campus centers. 
The campaign also supports opportunities to learn from and contribute to Washington, DC, advances programs that promote civil discourse, and increases resources to help AU plan for the future. 
What about the wider AU community?  
It's no surprise that we have Eagles all over the world. Our alumni set the bar as changemakers, whether they're political strategists, entrepreneurs, community organizers, artists, and so much more. They demonstrate that AU has long been a place where people come to discover their passions and activate their purpose. Change Can't Wait shines a light on the strengths of our community. As we step up to new challenges, that community—and our collective impact—will only grow stronger. 
Did the events of 2020 impact the campaign's focus?
Last year was momentous in many ways, and I had the privilege of seeing our community come together, be nimble, and persevere. The events of 2020 only made the campaign's focus areas more relevant, urgent, and necessary. Change Can't Wait recognizes just that—the need to act right now. And American University is ready. 
What does this next chapter for AU mean to you personally?  
I am deeply proud of the work that takes place in our community: the student experience we offer, our faculty's world-class research and scholarship, the alumni who are making a difference. When I first came to AU, I knew right away this community was exceptional. Now, we're ready to share that experience far and wide. It's inspiring to be a part of this journey, and I hope Eagles everywhere will join us—because Change Can't Wait.