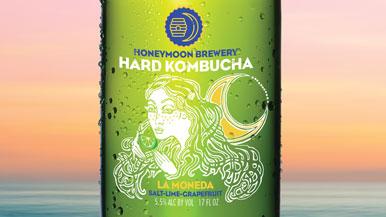 Ayla Bystrom-Williams, Kogod/MBA '22, is undeterred by the challenges of entrepreneurship: extinguishing logistical fires, procuring capital, and shrugging off nos. The small business cofounder and CEO of six years is used to having her startup under a microscope.
In 2014, the longtime home brewer hopped over to hard kombucha, the sweet and sour, effervescent fermented tea that's rich in organic acids and probiotics. When Bystrom-Williams married older brewing techniques with the trendy beverage, HoneyMoon Brewery was born.
But the Santa Fe, New Mexico-based business still had a stout list of needs in the idea stage, including perfecting the brewing process. Libations met lab science in 2015, when Bystrom-Williams was accepted into the New Mexico Small Business Assistance Program at Los Alamos National Laboratory. On the same campus where the A-bomb was invented, she worked with scientist David Fox to raise the drink's ABV.
"We said, 'OK, the idea's cool, but now we need money,'" Bystrom-Williams says.
She joined a startup accelerator and in 2016 beat out 15,000 entrants in the Miller Lite Tap the Future competition, pitching to Shark Tank's Daymond Johns and landing a $200,000 windfall. After raising additional funds, Bystrom-Williams opened her brick and mortar kombucheria in 2018.
HoneyMoon was fortunate to tap into a new idea—a modest bottling line—in 2019, setting it up for pickup orders and distribution in stores like Whole Foods. The move set the company up for success in 2020, a year that drained many breweries' cash reserves.
"Even on the days when it's really dark, we feel fortunate that we're validated by consumers," Bystrom-Williams says. "That's what makes our idea seem really viable."
As her business grew, Bystrom-Williams was careful not to overextend HoneyMoon's offerings. She'd rather brew a few things well—stone fruit, tart cherry, salt-lime-grapefruit, and ginger-lemon hard kombucha—than dabble with new flavors.
The irony is that as an entrepreneur, she boasts many titles: fundraiser, marketing executive, brewmaster, partner, mother, and now, online MBA student.
"When COVID arrived, I gave myself an ultimatum. We have ambitious goals and to give it any chance, I had to go back to school," says Bystrom-Williams of HoneyMoon, which was accepted to the AU Center for Innovation incubator in fall 2020. "I have two toddlers and I'm at the business all the time, but I decided to go for it. My first term solidified that I had made the right choice. It started bringing everything together and providing much-needed structure."
Juggling a business and B-school has been "wildly challenging and wildly fulfilling." But the entrepreneur understands that this is normal—just the regular rigors of raising a toast.