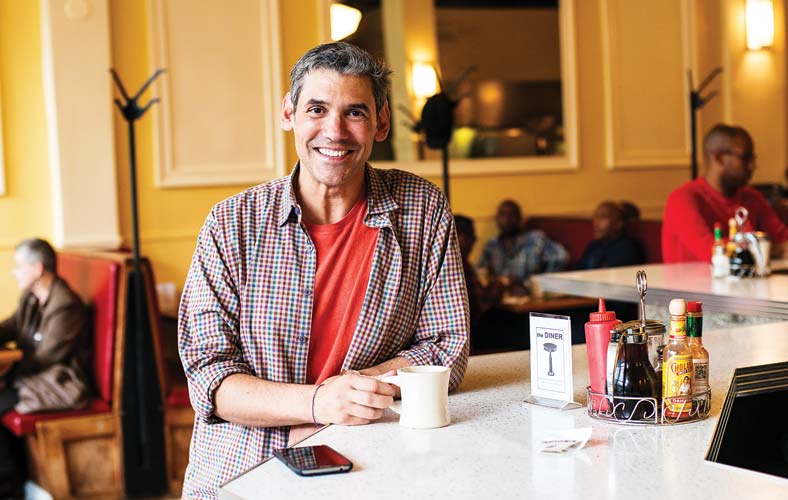 On the floor of Constantine Stavropoulos's next café, the outline of the old baptismal pool, long since filled with concrete, is still visible.
The Washington restaurateur is showing a guest around Open City at the National Cathedral, soon to become the seventh member of a burgeoning eatery empire that's quickly becoming as large as his last name is long. Unlike the others, this one isn't housed in a bustling DC neighborhood, but on the serene grounds of one of the most hallowed landmarks in the country.
"I'm hoping this will get me into heaven," jokes the easygoing Stavropoulos, 50, who rode his Harley here. "When we first opened in Adams Morgan, we had the mindset of being a neighborhood gathering place—a third place. As a result, the design, the mission, the mentality in which we approached it allowed us to give off that vibe. I think we're going to achieve that here."
"Here" is the Herb Cottage, a 110-year-old building on the 57-acre campus that's home to the sixth-largest cathedral in the world. The roughly 1,800-square-foot cottage rests in the shadow of the cathedral's breathtaking spires and towers, the tallest of which sits 676 feet above sea level, making its top the highest point in the city. Workers are putting the finishing touches on the café, which will retain its beautiful stained-glass windows and rotunda-like domed roof.
It's a curious spot for a café, but Stavropoulos, Kogod/BSBA '87, has never stuck to convention. Save for a job as a short-order cook at a Greek-owned diner on the Jersey Shore ("working for Greeks was torturous," quips Stavropoulos, whose parents are Greek immigrants) and a few bartending stints after college, he had no restaurant-business experience when he decided to open his first coffee shop/lounge/restaurant hybrid, Tryst.
"There was nothing like that in DC," says Raj Aggarwal, vice chair of Think Local First, a nonprofit Stavropoulos helped found. "When I was working [in Adams Morgan], Tryst was my second office. I used to hold meetings there. The food was good, the ambiance was good, the coffee was delicious. His heart is always in the right place. He wants to do good, and that comes through in his places."
Stavropoulos likes to say that he was "conceived in Greece and born in the U.S.A." A Philadelphia native, he learned Greek before he could speak English, and as a child he spent summers with his grandparents in Greece, where massive lunches followed by slumbering afternoons were the norm.
He majored in international business at AU, although he harbored dreams of becoming a musician or an actor. After graduating he floated from job to job, working as a bartender, a federal investigator, and a computer security assessor before he partnered with his father, George, to start a successful building company. But it wasn't until he stumbled into a coffee shop—or was it a bar?—on New York's Upper West Side that his true calling hit him like a shot of espresso—or whiskey.
"A café that had coffee and alcohol? I was like, wow, this is crazy," he says. "I thought DC really needed something like this."
Stavropoulos and his wife, Djinn, had just bought a house on Capitol Hill and had their first child, Romain; it wasn't exactly the best time for him to shift careers and begin working at a coffee shop. So naturally, that's what he did. While he learned to pour perfect cappuccinos and live on a barista's meager salary of a few beans, he developed his business plan and scouted for sites.
Location, location, location. Stavropoulos knew he needed the optimal spot for his establishment, which he idealized as a "third place," a relaxed venue where people could go between work and home. He found it in an old electronics store on 18th Street in Adams Morgan.
Using his credit cards, loans from his stepfather and the Small Business Administration, architectural design from his father, and his own sweat equity, Stavropoulos transformed the space into a comfort-first lounge that simultaneously looks like someone's living room, a coffee shop, a restaurant, and a bar. In the midst of the Monica Lewinsky affair, a friend recommended the name "Tryst," and on the Tuesday before Labor Day 1998, it burst onto the scene.
Success was immediate. Too immediate. "That weekend was insane," he says from a four-top in Tryst's dining room. The couches, comfy chairs, tables, and stools at the counter are mostly filled. "Despite all my planning, we weren't prepared. We had no system for identifying people's orders. It would literally take 45 minutes to get a cup of coffee."
Stavropoulos needed to reassess. A week after Tryst opened its doors, it closed them for a day to revamp its processes and service plans.
"Thank God the neighborhood was very forgiving; they were so excited we were here," he says. "What we underestimated was the daytime business. When I was doing the construction, nobody was parking out here. There was tumbleweed going down the street. It was dead."
Tryst's staff grew from 15 when it opened to 40 three months later. Stavropoulos had forecast revenue of $750,000 that first year—he was off by a million.
"It exceeded my expectations in terms of what it's done to our lives and the people that live around here," he says. "It's a public living room, a community gathering place. It's where you come to connect with everybody else in your neighborhood. Some people love to come and keep to themselves and do their work, although secretly I think everybody likes the idea of being connected in some way. There have been multiple books written out of here, businesses started here, lots of weddings started out of here."
Jocelyne DeHaas was one of Stavropoulos's first hires. She started as a server and now is the company's glue. Literally. Her title is GLUE—General Logistical Ubiquitous Executive. She met her boyfriend, David, at Tryst (he's the beverage director), and they have two children together.
"Tryst has always had this energy about it," she says. "Constantine wants to make sure not just that our businesses are successful but that the neighborhoods overall are successful."
In 2001 Stavropoulos opened The Diner (pictured below) two doors down from Tryst, and six years later Open City came on board in Woodley Park. In 2012 he opened Tryst at the Phillips, in the Dupont Circle art museum, and The Coupe, his largest project to date. It's a 7,000-square-foot bar, restaurant, and lounge that takes up nearly an entire city block in Columbia Heights. Earlier this fall he bought a DC catering company and the building that houses it, which will soon become Tryst Central Inc.'s headquarters. In all the company has about 400 employees and revenue around $15 million.
From the moment the National Cathedral's first stone was laid in 1907 to today, when 700,000 visitors and worshippers visit annually, anyone who wanted a drink or bite to eat was out of luck.
"The National Cathedral has wanted to open a café on its campus for decades," says its chief operating officer, Rob Sokol. "There's a story from about 10 years ago, when the archbishop of Canterbury came to visit and after a tour wanted to know where he could get a cup of coffee."
The cathedral's RFP process solicited bids from both local and national establishments, including Starbucks and Au Bon Pain.
"Constantine won out pretty easily with his vision," Sokol says. "His model is that the first line of customers is the neighbors
and the staff. If we can build something that really serves the community first, everybody wins."
At their core, all of Stavropoulos's establishments share essentially the same concept—providing a comfortable setting for people to savor good food, drink, and, importantly, each other.
"We're going to create a third place at the National Cathedral," Stavropoulos says. "My focus is on pulling in as many locals as possible. When the tourists do come in, this will be a nice little surprise for them."
A relaxing spot to enjoy a panini for lunch, a hot latte on a cold winter day, or some soft-serve ice cream on a sticky summer one.
Amen.