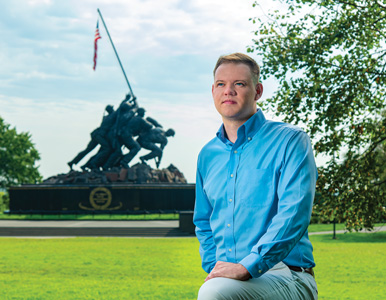 An overseas deployment set the stage for Student Veterans of America (SVA) chief of staff Will Hubbard's most important mission on the home front.
During a six-month tour in 2016 with the US Southern Command—which took him to Guatemala, Honduras, El Salvador, and Haiti, after the island nation was devastated by Hurricane Matthew—Hubbard and his 300 fellow Marine Corps reservists learned that their deployments would not count toward their GI Bill benefits. "A lot of people aren't in a position to do anything about that, aside from writing a member of Congress," he says. As SVA's then head of government affairs, Hubbard simply lobbied them.
The Forever GI Bill unanimously passed through both houses in three weeks and was signed into law by President Trump in August 2017. It features more than 30 provisions that expand education benefits for 1.3 million active duty personnel and 1 million members of the National Guard and reserves.
Hubbard led a coalition of more than 60 organizations that rolled out the $3.5 billion piece of legislation, which also removed the GI Bill's 15-year expiration date. "I had confidence, but at the time I felt like we were swinging for the fences," he says.
Hubbard, the 2019 recipient of the AU Alumni Association's Rising Star Award, has worked since 2014 for SVA—a nonprofit composed of 1,500 chapters that support 750,000 student veterans nationwide—but his advocacy dates back even further.
He joined the Marine Corps Reserve in 2006 to serve and study simultaneously. Two years later, the international studies major and a few friends founded AU Vets on campus, just as SVA began to organize over Myspace.
Today, Hubbard serves on the President's Council on Diversity and Inclusion and remains committed to ensuring higher education serves veterans, both while and long after they do the same for our country.
"These are largely adult students with adult obligations," he says of vets, of whom 46 percent are parents and nearly two-thirds are first-generation college students. "Going to school affords them the opportunity to elevate their families."