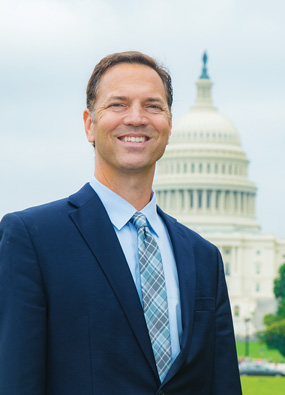 They might not be recognizable to those whose television preferences tend toward The Face as opposed to Face the Nation, but David Barker is confident that in future elections, the people on this list will have become household names. 
If anyone is qualified to make predictions about the notoriously unpredictable world of national politics, it's Barker. As director of AU's Center for Congressional and Presidential Studies, he holds a prominent platform in the world of political academia. He's also a professor of government affairs in the School of Public Affairs, a dream job for a man who became fascinated by politics when he was an undergraduate at Baylor University.
"I went to the boondocks outside of Waco and saw some wife of some governor from Arkansas that nobody had ever heard of who was apparently running for president," Barker says. "Only about a dozen people attended, so Hillary just sat down and talked to us, answering all of our questions. I became more aware that day about how politics affects people's lives, and soon I was obsessed."  
Despite the often polarizing nature of contemporary American politics, he sees many talented politicians on both sides of the aisle with bright futures. 
Barker's 10 up-and-coming politicians
Jason Kander, Democrat
The former Missouri secretary of state is an Iraq War vet who almost won his Senate race in 2016, beating the Clinton vote by nearly 20 points. I expect him to run for governor, and he's been talked about as a vice presidential candidate. Kander's also an AU grad (SPA/BA '02).
Ben Sasse, Republican
The first-term senator from Nebraska is a Harvard grad and has a PhD in history from Yale. He is the former assistant secretary in the Department of Health and Human Services and was president of Midland University. He often breaks with Trump on Russia and other issues.
Conor Lamb, Democrat
He's a congressman from a very red congressional district in Pennsylvania. Democrats hadn't even bothered fielding a candidate in recent years before this one. He's very union friendly and a perfect Democrat to win back white, working-class voters.
Will Hurd, Republican
Representing San Antonio, he is the first African American Republican congressman elected in Texas. He put in nine years with the CIA, serving in the Middle East, and speaks Urdu. Hurd opposes Trump on immigration and banning Muslim entry.
Nikki Haley. Republican
A recent poll showed the former South Carolina governor to be the most popular politician in the country. She serves prominently in the Trump administration as ambassador to the United Nations but manages to keep her distance and her own identity. She is the GOP's best hope and Democrats' worst nightmare in 2024.
Mia Love, Republican
The first African American female Republican elected to Congress, the Utah representative is conservative across the board but focuses on economic issues.
Nanette Barragán. Democrat
A first-term congresswoman from Louisiana, she's already making waves in the Congressional Hispanic Caucus. She is the US House freshman class president and has forged a reputation for bipartisanship.
Eric Garcetti, Democrat
The telegenic Mexican-Italian-Jewish-American is mayor of Los Angeles. He's a naval reservist, jazz composer, and former Rhodes Scholar. Viewed as a successful mayor, he's a possible presidential candidate.
Mitch Landrieu, Democrat
The popular mayor of New Orleans received a lot of attention for removing Confederate statues last year and writing a well-received book about race relations. He's a possible presidential candidate who can win votes in Red America.
Beto O'Rourke, Democrat
This upstart is similar to Lamb, except on a grander and more improbable scale. He's a Senate candidate in Texas who is challenging—and massively out-fundraising—Ted Cruz and is within striking distance in the polls.