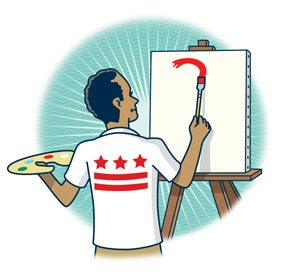 Cheryl Holcomb-McCoy, dean of AU's School of Education, envisions a bold new partnership with District of Columbia Public Schools (DCPS) to address a growing teacher shortage and increase diversity among their ranks. Graduates of DCPS admitted into the Teacher Pipeline Program will earn a bachelor's in education and progress along a professional development track that culminates in a guaranteed five-year, full-time teaching position in 1 of 115 public schools across Washington. "We will help the city fill a significant need—teachers—and participants would give back to their own communities while securing a great career in education," Holcomb-McCoy says. Backed by generous philanthropic support, the program will provide homegrown talent with the rigorous education, career training, and field experience to help them become exceptional teachers.
Good Neighbors
American University must be "a part of, not apart from" DC's people and neighborhoods, President Sylvia Burwell said during her inaugural speech in April. Faculty and students are taking part in a variety of projects that connect AU with every corner of the District—many of these partnerships made possible by the university's visionary donors.
Here are a few of the inventive ways AU is engaging with DC's people and places:  
•   Founded four years ago with the support of AU trustee Jeff Sine, SIS/BA '76, the Community-Based Research Scholars (CBRS) program is a living-learning community for select first-year students and certificate program. The student researchers fan out across all eight wards, partnering with nonprofits to explore community problems, identify avenues of change, and evaluate program impact. Led by program director Jane Palmer, SPA/PhD '13, students have explored food access with the Latin American Youth Center and focused on education  at the Maya Angelou Public Charter School. "Before CBRS, my idea of DC was the monuments and tourist attractions," Brandan Persaud, SPA/BA '18, says. By engaging with organizations that are immersed in community issues, "CBRS has shown me a DC that I otherwise wouldn't have been exposed to."
•   AU will soon be taking it to the streets in the new DC Humanities Truck. Funded by a $225,000 grant from the Henry Luce Foundation, the delivery vehicle-turned-mobile workshop, recording studio, and gallery space will allow AU researchers to document and share Washingtonians' stories. Dan Kerr, director of AU's public history program, says the truck will facilitate "longer-term projects in communities and enhance our ability to build a rapport. We don't just take stories and disappear—we reflect on what's gathered. Oral histories are a starting point from which we can build archival research and workshops, then return to the community with mobile exhibits." The truck will make its debut appearance as a pop-up exhibit space at the Adams Morgan Day community festival on September 9.
•   The School of Public Affairs is a leading academic partner in The Lab @ DC—an innovative agency within Washington's Office of Budget and Performance that uses scientific methods and insights to test, improve, and analyze policies that impact the city's nearly 700,000 residents. "The Lab @ DC allows us to know how well our policies and programs are working and provides us the opportunity to learn while we act," said DC mayor Muriel Bowser, SPA/MPP '00, last summer. Government professor Ryan Moore is a senior social scientist with the lab, which used his statistical software to study the Metropolitan Police Department's use of body cameras. "DC's an amazing place for the lab because the breadth of the policy domains penetrates every aspect of the District. DC functions as a city, as a county, as a state—so we fix the potholes and we also run Medicaid," Moore says. AU's connections to the lab run deep: faculty serve on the research council and make guest appearances on Podcast @ DC; graduate students work as research assistants; and undergrads present their final projects based on DC open data to lab staff.
For information on how to support AU's big ideas in DC, contact Courtney Surls, vice president of Development and Alumni Relations, at 202-885-5900 or vpdar@american.edu.
Innovation in the Capital
Brett Gilbert knows what new businesses need to thrive. A leading entrepreneurship researcher, Gilbert is AU's inaugural Kogod Regional Innovation Chair. She joined the business school's management faculty in January 2018 and is associated with the American University Center for Innovation.
Trustee emeritus Robert Kogod, Kogod/BSBA '62, and his wife, Arlene, established the Kogod Regional Innovation Fund to advance regional economic development and to leverage AU's Washington location. 
"Holding the chair is very important to me," Gilbert says. "It gives me the license and resources to develop my research—not just internationally, but domestically—and to focus on the Washington, DC, area to better understand capital cities."
Gilbert, who comes to AU from Rutgers University in New Jersey, researches technology clusters to determine how geographic regions foster startups. "I've been most interested in understanding how these regions develop. What are the components that ultimately make these technology regions work, and what are some of the barriers that keep them from emerging?" Gilbert's current work focuses on fostering economic development and dynamic technology environments in cities with troubled economies and underdeveloped tech sectors. 
According to Gilbert's previous research in Brazil, South Africa, and India, the capital cities of states behave differently from federal capitals because government's dominance as an employer influences the career trajectory of citizens. Gilbert and her AU colleagues hope to collaborate with researchers at a British university to compare DC and London as hubs for innovation.
Last semester Gilbert taught an undergraduate course in global corporate citizenship and she's planning an immersive graduate program for the fall. "I love being back in this type of environment where students are really encouraged to be critical thinkers," she says. "I was so impressed with the students I had this semester—their maturity and engagement. I am excited to be here."