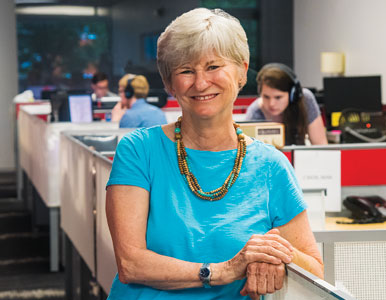 Global health consultant Christy Gavitt has spent more than three decades living abroad in 15 countries, including South and North Korea, Rwanda, Haiti, Tunisia, Somalia, and Pakistan, working with the Peace Corps, CARE, and other international development organizations. One thing she's always looked forward to about getting home is tuning in to her local public radio station.
Gavitt, who was introduced to that station by her mother, appreciates the in-depth coverage devoted to places where she has lived and worked. When she moved to the Washington area in 2007, she became an avid listener and supporter of WAMU 88.5. She commends the station's balanced and nuanced reporting and appreciates that "WAMU is so good at appealing to our intelligence and not oversimplifying or focusing on the sensational."
Now based in Fairfax, Virginia, Gavitt is a cheerleader for public radio, encouraging friends, family, and colleagues to listen. When she hikes in Europe, her NPR T-shirts spark conversations about news coverage. Many Europeans are surprised to learn that WAMU carries BBC programming, one of Gavitt's favorites, along with Morning Edition, Fresh Air, On Being, and 1A, WAMU's new program distributed by NPR to more than 200 stations across the country.
A member of WAMU's Leadership Circle of generous annual supporters, Gavitt named the station in her estate plans to deepen her investment in public radio. "WAMU needs to continue. I contribute now, and I also acknowledge that I'm not going to be here forever. I reflected upon my priorities; good quality information is essential. It gives me comfort to contribute to WAMU's stability," she says.
"Because I've lived overseas, I know I'm lucky to be an American," Gavitt continues. "We are only 4.5 percent of the world's population, yet our influence far outweighs that number. We have a responsibility to have an educated population to promote intelligent decision making. WAMU and NPR get to the heart of what's needed to maintain a well-functioning democracy."
For information on how your charitable estate planning can create a legacy at American University, contact Kara Barnes, director of planned giving, at 202-885-5914 or kbarnes@american.edu; or visit american.edu/plannedgiving.