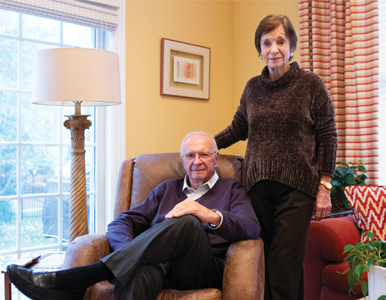 When Hal Shupack first arrived at American University from Forest Hills, New York, he was struck by the incredible diversity on campus. "There were people of all faiths and walks of life. Growing up in Queens, I had never experienced such an international community," he says. Hal embraced university life, majoring in industrial engineering, serving as business manager of the Aucola yearbook, and playing basketball—until he was sidelined by a broken ankle. He also volunteered at the then student-run WAMU radio station with classmates Willard Scott and Ed Walker.
"AU prepared me for my career and opened my eyes to a world of possibilities," Hal says. After graduation and following service in the US Army, Hal returned to New York in 1958; three years later, he took over the family business. He credits AU with giving him the skills necessary to expand and diversify the American Hinge Corporation, which got its start making trimmings for women's handbags and later manufactured parts and assemblies for the medical industry. Hal retired as chairman and CEO in 2007. 
He and wife, Sheila, have been married for 52 years. They are longtime residents of Fairfield County, Connecticut, where Sheila has worked as a real estate agent for more than 30 years. Hal's career in local government, which began in 1976, culminated in 1999 when he was voted first selectman of Weston, Connecticut—a position he held until 2001. He serves on the boards of Visiting Nurses and Hospice of Fairfield County and Homes with Hope, a shelter in Westport.
After celebrating Hal's 60th college reunion in 2017, the Shupacks established an endowed scholarship for AU students with financial need. "We have always valued education and wanted to do something in honor of our son," Sheila says. Named after the late Kevin Ross Shupack, the scholarship was funded through gifts from an individual retirement account. 
The Shupacks have enjoyed seeing the impact of their philanthropy. Says Hal: "AU was the place where we wanted to make a meaningful gift, and the time was now." 
For information on how your charitable estate planning can create a legacy at American University, contact Seth Speyer, executive director of planned giving, at 202-885-3411 or speyer@american.edu; or visit american.edu/plannedgiving.