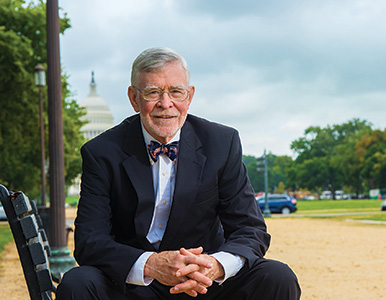 In an era when partisanship and gridlock characterize Congress, former US representative David Skaggs (D-CO) and his wife, Laura, hope to encourage cooperation and compromise on Capitol Hill.
"I have a deep affection for the ideals of American government," says Skaggs, who served in the US House of Representatives from 1987 to 1999 and in the Colorado House of Representatives from 1980 to 1986. "As a creature of the legislative branch, I respect and appreciate the wisdom that can emerge from the effort of legislators to listen to each other and work things out."
Through a gift to American University, David and Laura Skaggs have established the James Madison Prizes for Constitutional Excellence to be administered in partnership with AU's School of Public Affairs. The prizes will be awarded to one representative or senator from each political party after each biennial Congress. The awards will recognize those whose public service exemplifies the practice of compromise in making policy for our diverse society. "David and I want to help our government work the way it's supposed to," Laura Skaggs says. "Our gift is meant to reward constructive politics."
The Skaggses have named AU a beneficiary in their wills to ensure that the prizes will continue to recognize bipartisan leadership in Congress for years to come. 
"A lot of people care deeply about making our democracy work better," David Skaggs says. "However, many no longer see political compromise as the essential element it is in our constitutional system." In reviewing the writings of the country's founders, he was struck by the reasoning in Federalist 10 essay, where Madison explains the virtue and necessity for compromise in the new Republic and why the public interest must transcend "faction," or these days, partisanship. 
The American University community is grateful to David and Laura Skaggs for their support through their estate plans to recognize and honor members of Congress who follow Madison's admonition for good governance.  
For information on how your charitable estate planning can create a legacy at American University, contact Seth Speyer, executive director of planned giving, at 202-885-3411 or speyer@american.edu; or visit american.edu/plannedgiving.