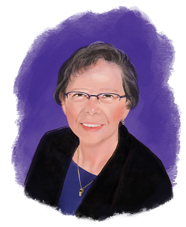 Long before she joined the staff of the American University Library, and later the faculty, Janice Flug was a student in the Washington Semester Program in 1969. Enamored with DC, the Hamline University undergraduate knew she'd be back. In 1972, she joined the AU library staff and a year later began pursuing a graduate degree in library science at the University of Maryland. After she was named to the faculty, Flug's continued thirst for knowledge inspired her to accept the AU provost's challenge to librarians to pursue studies in one or more of the university's academic units, and in 1980, she earned a master's in public administration from the School of Public Affairs.
During her 37-year career at AU, Flug exemplified the spirit of service. She represented the library on the Faculty Senate and the university budget committee, and today, Flug volunteers on the AU Librarian's Advisory Council and with AU's Office of Human Resources, sharing her experience with staff preparing for retirement. She also remains active in the American Society of Public Administrators and serves as financial secretary at her house of worship and on the Library Campaign Council at the University of Maryland—a client of her post-retirement consultancy.
Flug's desire to serve informs her philanthropy. An annual supporter of both her church and the universities that helped shape her life, the Silver Spring, Maryland, resident has named each with a beneficiary designation in her estate plans. "It couldn't be simpler," she says. "Naming my favorite charities as beneficiaries of my retirement accounts was an obvious choice." And her support has grown in real time as she utilizes the charitable IRA rollover to forgo the income tax burdens, instead gifting some of her annual required minimum distributions to AU and others. Flug's provision for AU in her estate will create an endowed fund supporting the University Library's history and political science collections, enabling her passions for service and knowledge to live on in perpetuity. 
"I was moved to meet Janice and learn of her generosity," says University Librarian Jeehyun Davis, who joined AU in 2021. "We are fortunate for her example of serving the library, and I look forward to partnering with her and all of our library friends on behalf of AU in the seasons ahead."
For information on how your charitable estate plan can create a legacy as part of American University's Change Can't Wait Campaign, contact Seth Speyer, executive director of planned giving, at (202) 885-3411 or speyer@american.edu; or visit american.edu/plannedgiving.