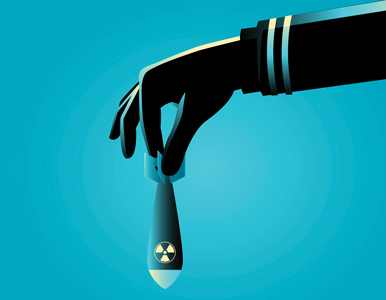 From North Korea to Iran, US efforts to curb nuclear proliferation are constantly in the news. There's another story—an alarming one, depending on your perspective—that's received far less ink and airtime: the United States is poised to spend roughly a trillion dollars modernizing its own nuclear arsenal.  
 
That investment wasn't inevitable, says Sharon Weiner, a top scholar on American nuclear weapons policy; rather, it was the result of conscious decision-making. Now, the School of International Service professor is embarking on a prestigious two-year fellowship in hopes of understanding how we got here.  
 
Weiner is among 31 recipients of the 2018 Andrew Carnegie Fellowship. Established in 2015 by the Carnegie Corporation of New York, the award offers grants of up to $200,000 to support the publication of humanities and social science research.  
 
Weiner's project focuses on the history of US decision-making and perceptions of deterrence among nuclear-armed states: it includes a virtual reality experience that explores problem-solving methods that might be used by world leaders during a nuclear crisis. 
 
"The US has made consistent choices, and I'm trying to look at those choices and [ask], 'What bureaucratic, societal, and cultural factors influenced us to choose this answer, as opposed to another answer?'" says Weiner, who will spend her first sabbatical year as a visiting researcher at the Program on Science and Global Security at Princeton University's Woodrow Wilson School of Public and International Affairs.  
 
"This is a real luxury—to think about just this and only this." 
 
Fifty-five years after President John F. Kennedy eloquently called for a nuclear test ban treaty in a speech delivered at AU's 49th commencement ceremony, the United States and Russia still possess thousands of nuclear warheads—the largest stockpiles in the world.  
 
Why? 
 
"The simplest reason is power," Weiner explains. "Nuclear weapons are used as a currency of power, and until something else replaces them, people don't want to give them up."  
 
In addition, nuclear weapons—while far from cheap—are often viewed as more cost-efficient than other forms of defense. And the weapons ultimately arm the commander in chief with more agency and independence. 
 
"The president of the United States can sit at his desk, and in about 10 minutes, without consulting a single human being, launch a third of our nuclear weapons. So if you're the president and you're responsible for the security of this country, it's kind of in your best interest to have that capability. You don't have to negotiate with anyone," Weiner says.  
 
Although fears of nuclear annihilation abated in the decades following the Cold War, Weiner believes President Trump's rejection of the Iran nuclear deal and his willingness to tweet casually about WMDs has put the world back on edge. 
 
"I think the sheer size of the [potential] devastation causes some people to put it in a box and say, 'This is so horrible, I can't contemplate it—so I'm not going to engage with it.' But others have the opposite response. They see tremendous danger in nuclear weapons and that motivates them to do something to get rid of them."