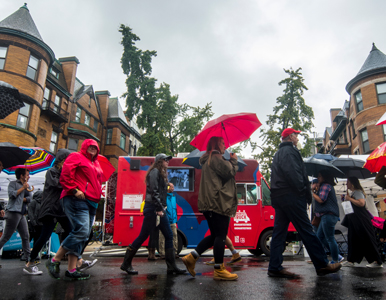 Researchers: Start your engines. The new DC Humanities Truck is gassed up and ready to hit the road.
But the converted delivery vehicle isn't just any truck—it's a recording studio, mobile workshop space, and pop-up gallery designed to facilitate collaborative, community-based research projects. The brainchild of CAS professor Dan Kerr, director of the public history program, the truck is outfitted with built-in speakers, a flat-screen TV, a screen and projector, and a magnetic exhibit wall. 
Funded by a $225,000 grant from the Henry Luce Foundation—and featuring eye-catching graphics in AU red and blue designed by Carly Thaw, CAS/BA '18—the truck made its DC debut at Adams Morgan Day in September. 
This semester, faculty and students will hop behind the wheel to interview Washingtonians on their own turf, exploring such issues as homelessness, immigration, and gentrification.    
"What makes the truck project [unusual] is that scholars and city residents can work together to interpret and curate these stories—to create web-based projects and a digital repository," Kerr says. Those projects will then be exhibited within—and beyond—the neighborhoods where they were created.
"People everywhere are engaged in understanding the world around them and their place within that world. They bring their own insights and knowledge to their explorations," Kerr continues. "By using the truck to create new conversations that bridge the chasm between the university and communities, both sides can gain from learning from each other."