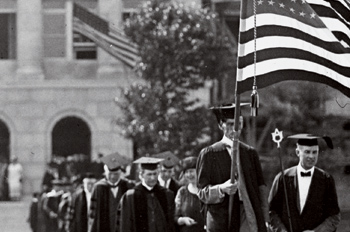 1931: Scores of Eagles can trace their love stories to AU, but George Sixbey '30 and Helen Hope '31 were the first AU lovebirds to marry upon completion of their undergraduate degrees. The couple wed in the Women's Residence Hall on the eve of commencement. The Sixbeys, who settled in the Maryland suburbs, were married for 47 years before George died in 1978.
1943: Two years after the United States' entry into World War II, a squad of seven would-be graduates—Ozzy, Phil, Herby, Darb, Tex, Burke, and Tommy—spent commencement in the service of Uncle Sam. According to the Eagle, the Army was going to make welders out of three of them, while "lucky Herby was chosen for a specialized course in war administration . . . in Fresno, California, where it is as hot as Hades."
1963: President John F. Kennedy delivered one of the finest orations of his short term, "A Strategy of Peace," during AU's 49th commencement, June 10. For 27 minutes, Kennedy spoke eloquently of peace—"not merely peace in our time but peace for all time"—and called for a nuclear test ban treaty. A plaque marks the spot on Reeves Field where Kennedy delivered his speech before 991 AU grads.
1969: For the first time, AU held separate ceremonies for all seven of its schools (including the defunct Lucy Webb Hayes School of Nursing and the College of Continuing Education). The aim, said AU president George Williams, was to "concentrate on a more personal ceremony in which the graduate is most important." Elizabeth Duncan Koontz—the first African American female to lead the Women's Bureau of the US Department of Labor—spoke at the all-university convocation, which kicked off the weekend festivities.
1979: The debut of the now-beloved bagpipes at commencement came as a complete surprise to grads. The plaid-clad pipers replaced the seemingly endless loop of "Pomp and Circumstance," which was deemed "too reminiscent of high school graduation." The Scottish tradition is now one of AU's most cherished; bagpipers lead freshmen into the convocation ceremony every August, bookending the AU student experience.