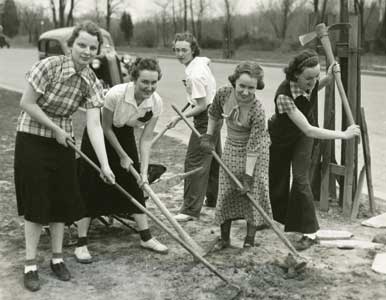 1933: Shouldering shovels, saws, and spades, would-be gardeners fanned out across campus for AU's inaugural Arbor Day celebration, April 27. "Clad in beach pajamas, overalls, and knickers (the latter especially prevalent among the faculty)," the green thumbs tended trees and groomed gardens—including a patch of poison ivy planted by mistake instead of honeysuckle on the football field. Despite the itchy situation, an annual Arbor Day celebration was added to the college calendar in 1936.
1943: Four Korean cherry trees were presented to AU by the Korean Women's Relief Society of Honolulu as part of the Arbor Day festivities. AU president Paul Douglass read the Korean Declaration of Independence while Syngman Rhee—who in 1948 became the first president of South Korea—broke ground, planting the first flowering tree near the School of International Service. That day, a tradition took root: the South Korean ambassador visits SIS every spring when the pink blossoms are at their peak.
1970: AU students were among the 20 million Americans who rallied on behalf of Mother Nature during the first-ever Earth Day, April 22. The brainchild of Sen. Gaylord Nelson (D-WI)—who wanted to harness the energy of the student antiwar movement to promote environmental issues—the day featured a "teach-in on the environment" at colleges across the country. AU's eco-friendly activities included guest lecturers, a film about noise pollution, a folk concert, and a demonstration of a "portable waste disposal unit."
1994: After a particularly brutal winter, 600 volunteers crept out of their cubicles and residence halls to do some spring cleaning. For six hours, students, faculty, and staff gave the campus a little TLC, sweeping sidewalks, raking mulch, and washing the university's fleet of vehicles. And with that, Campus Beautification Day was born. The celebration of sustainability, an early April tradition, during which volunteers plant thousands of perennials, hundreds of shrubs, and dozens of trees, is now in its 21st year.
Helping Hands
In the photo above, five plaid-clad, pickax-packing coeds pitch in to build a new stone walk on campus during AU's Arbor Day celebration, April 14, 1937. They are, from left: Ella Harllee, Margaret Snavely, Margaret Warthen, Florence Yeager, and Ruth Hudson. Green thumbs gathered every year for AU's Arbor Day festivities from 1933 to 1945; students got the day off from classes to help build bridges, fireplaces, and walkways.