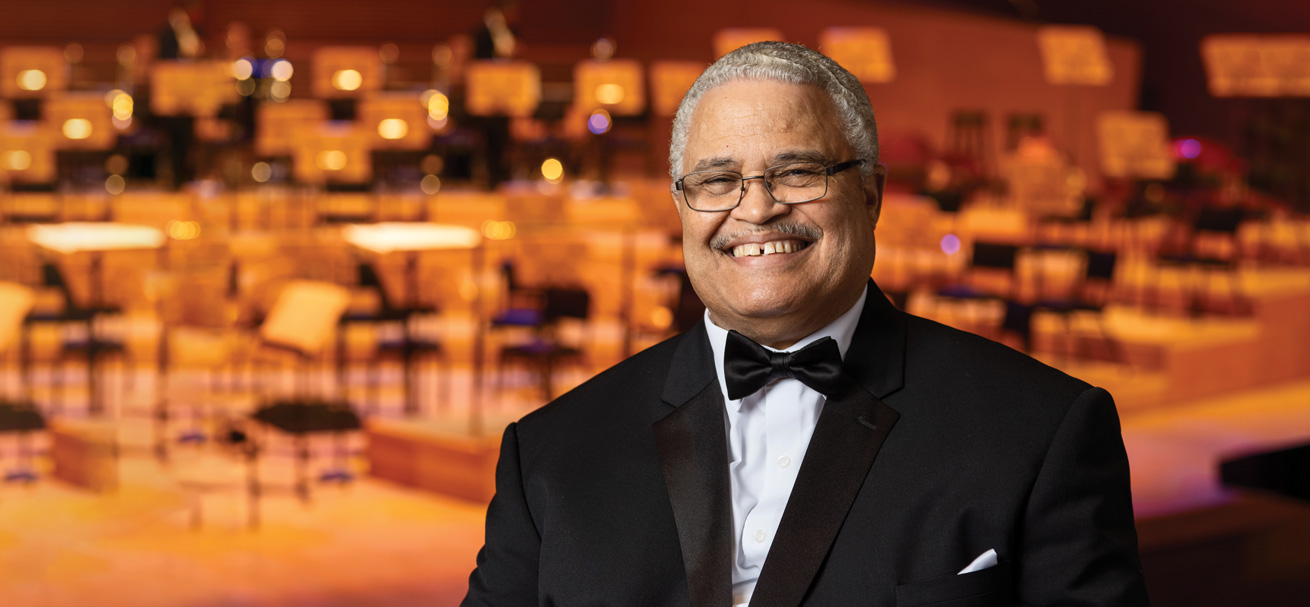 Chuck Dickerson was on the verge of calling it off. 
His predominantly Black youth orchestra—billed as the largest of its kind in the nation—was slated to return for the first time in two years to Walt Disney Concert Hall in Los Angeles for a season-capping performance this July. Its music would once more ride the contours of Frank Gehry's temple to sound; its players would keep time on the same cedar floorboards as some of classical music's greatest practitioners. It would also mark the return of the orchestra's annual fundraiser, made up of ticket sales to the event. 
Only, by early May, the interminable COVID pandemic was swelling again. Dickerson, WCL/JD '78, couldn't justify asking LA's Black community, already so disproportionately taxed by COVID, to spend money to breathe indoors with 2,000 others. So he called the venue to let them know he probably would be canceling the event.  
"It looks like we'll have to wait until next year," Dickerson, the executive director and conductor of the Inner City Youth Orchestra of Los Angeles, tells me a few hours after that call.
But when we talk two weeks later, the show is back on. It's as if Dickerson, 69, has turned the page on a musical score, launching the next movement with resurgent brio. 
The core players—about 60 students this year, mostly high-schoolers, plus more than a dozen mentors—were navigating toward this culminating show at the prestigious venue since resuming rehearsals in September 2021 after a year-and-a-half-long shutdown. They came back at a deficit from players who didn't return, from practice time lost and momentum stunted, and still they pushed ahead. Then a COVID surge in December scattered the orchestra again until late February. More time lost, more musical footing to regain. 
But Dickerson decided the orchestra would take to that Walt Disney Concert Hall stage because its kids and young adults had earned this shot, and because Black classical musicians still have doubters to disprove, and because problems have more than one solution, and he has spent a career learning to spot them.
Instead of being a fundraiser, though, the concert would likely come at a loss. It would be presented as "a gift to our community," he says. They'd give tickets away instead of selling them. 
But, I ask, isn't he worried about that? Personal donations dried up during the pandemic, and now he was forgoing the year-end fundraiser.
"Worried about that," Dickerson repeats flatly, letting it dangle for a moment. "Truth of the matter is, it's like anything else in life: You have to roll with the punches, man. So yeah, we're worried about it. It's hit our pocket," he says. "But what are we going to do? Just say, 'Okay, we're done. We're not going to play anymore. We're done with this orchestra'? The only option that we have is to find a way to crawl out of the hole that nobody asked for . . . and we're in the process of doing that."
I ask him if there was a point in the past two years when he was concerned his small nonprofit might not outlast the stranglehold of the pandemic.
The answer comes swiftly: "You're talking to the wrong guy." 
Dickerson frames it, as he sometimes does, in a baseball metaphor: "When you strike out, guess what? You probably have another at-bat coming. If your perspective on life is [that] you're only going to have one at-bat and you [might] strike out, then yeah, I guess you would be really, really frightened about going up there. . . . But I don't look at it with such trepidation. . . . Those kinds of thoughts don't even enter my mind. The thought that enters my mind is: When the hell are we going to get done with this so we can get back to what we were doing before?"
It's a perspective that has had a much wider effect the past few years, well beyond rescuing this summer's marquee performance. 
A soloist knows that the right note sustained on and on, at the right time, gathers intentionality and intensity and anticipation as it pulls against the chord progressions that continue to reshape the sound all around it. And in a similar way, Dickerson's outlook has brought his Inner City Youth Orchestra of Los Angeles some of its highest-profile national exposure even as the pandemic stretched and distorted life around it.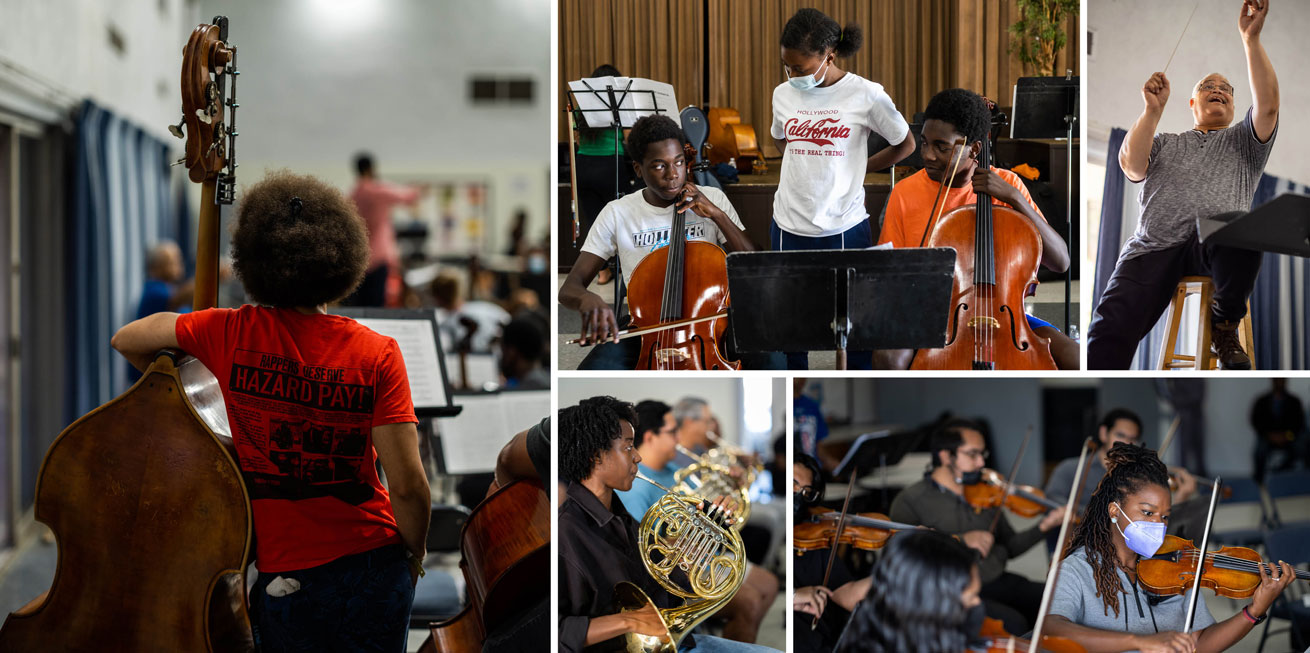 On Sunday evenings, the cellists may be in the kitchen. The flutists and woodwinds may be tucked in a side room or hallway, and the brass blowing outside. In the church's event space, among practicing violins, Dickerson is probably lining up his conductor's podium before a semicircle of folding chairs he arranged for when the musical sections commune. 
The rented rehearsal space at Knox Presbyterian Church is about a mile away from the offices of the Inner City Youth Orchestra of Los Angeles, or ICYOLA (pronounced EYE-see-O-la). It's a section of Greater LA that's in immediate reach of a large Black population spread widely along the rungs of economic status. The office is just inside the LA line at its border with Inglewood, a city with a population that is 40 percent Black and with a median household income of about $60,000, while the church lies just beyond the city limits, in the tony and mostly Black enclave of Ladera Heights, where the median household income is just over $100,000, according to US Census data. 
Dickerson has known this region almost as long as he's known classical music. His family moved to Compton, California, about 15 miles southeast of ICYOLA's office, from Philadelphia when he was 7, and he was steeped in piano lessons and the classical strains of anthemic church music from nearly the start. His father, a teacher, was also a church choir director, and Dickerson's mother, a nurse, sang in the choir. Dickerson studied music through high school, becoming a perennial trumpet player and choir singer in school groups. He spent a year at a local university as a music major, then auditioned for the Julliard School only to be waitlisted, so he came to DC in 1971 to bide time visiting a cousin. But Dickerson ended up getting a full-time job in a US senator's office and putting himself through a bachelor's degree in psychology at Howard University. Then he did the same for law school in the evenings at the Washington College of Law. 
When he returned to California after AU, he largely held public-service jobs in the '80s and '90s, including as president of the board that oversees LA's Department of Public Works and as city attorney of Inglewood. He'd also consistently led music or choir operations at churches since he was 22. And when he took up the conductor's baton full time in 2003, Dickerson brought with him a lawyer's pragmatic problem-solving, which proved helpful in establishing ICYOLA.
While hundreds of youth orchestras exist nationwide—including the LA Philharmonic's Youth Orchestra Los Angeles, which last fall opened a Gehry-designed, 25,000-square-foot center in Inglewood that cost $14.5 million—none, Dickerson says, is quite like ICYOLA.
For starters, he says, the orchestra began with "an ambush."
"We need something that's going to push us, we need something that's going to stretch us, something that's going to challenge us," pianist DaQuan Robinson, 28, remembers thinking in the summer of 2009. "And Chuck was the one that was going to bring that out of us."
At the time, Robinson played bass in a performing arts high school and knew Dickerson as the conductor of the Southeast Symphony—a pioneering, mostly Black orchestra created in 1948. Robinson's aunt, who raised him and had him in piano lessons from age 5, would take him to hear the orchestra. By age 10 he found himself admiring the ensemble from the front row and thinking, "This is what I want to do."
At 16, Robinson was cajoling his aunt to arrive hours ahead of performances so he could lobby Dickerson for a spot in the symphony. That didn't happen, but the two did make arrangements for Robinson and eight friends, all in search of musical growth, to spend the summer rehearsing under Dickerson outside the symphony. 
Over the weeks the informal gathering grew, by word of mouth, into a de facto orchestra of two dozen musicians. 
They put on a concluding concert in August, and around that time Dickerson attended a birthday party for a member of the group. "I felt like I needed to just show up out of courtesy, so I did," he says. "But when I got there, all 24 kids were there, all sitting in the backyard waiting for me."
They wanted to keep this going. So did he.
"When they came and worked with me that summer," Dickerson says, "all these kids were Black, and they kind of felt a sense of home."
Historically, he says, youth orchestras have tended to be located in affluent neighborhoods that lack a large Black population, where the kids there may have earlier access to music lessons. For young Black musicians that often means traveling to an unfamiliar part of town to be in a competitive environment with people who may already know each other, and where few others, if any, look like them. "So you automatically are walking into an environment where you're going to be apprehensive," Dickerson says.
It's a similar picture at the professional level. A 2016 study by the League of American Orchestras, examining survey responses from more than 500 orchestras, found that Black musicians accounted for 1.8 percent of orchestra personnel in 2014, which was essentially unchanged going back to 2002. (Nationwide the Census estimates that 13.6 percent of the population identifies solely as Black; in LA it's 8.8 percent.) 
The survey found that the proportion of Asian/Pacific Islander musicians in orchestras increased to just over 9 percent in 2014, up from 5.3 percent in 2002. For Hispanic/Latino musicians it was 2.5 percent, up from 1.8 percent.
In the years since, the situation has improved—though it's nominal, says Dickerson, who is on the League of American Orchestras's board of directors. "Orchestras at least now recognize that there's a problem, and they want to take steps to try to solve [it]," he says. "They're not doing a hell of a good job on it yet. . . . Like many other industries, we're still struggling."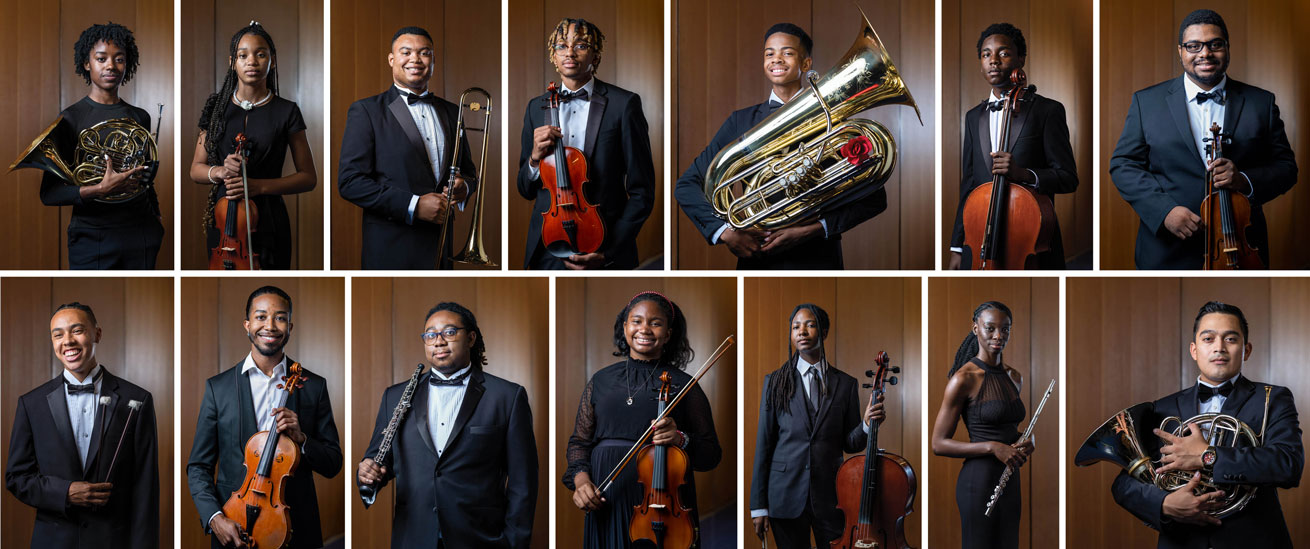 Akilah Morgan, 29, who is director of programs for ICYOLA, is one of the orchestra's nine founding members and says that, as a teenager that first summer, the environment Dickerson fostered was refreshing. She grew up in South LA playing flute for a number of orchestras, and she often needed to leave her community to participate, and found a palpable—and, at times, insulting—sense of otherness. In music, and other aspects of life, Morgan says she and her peers were wracked with the feeling "that you have to be 10 times better than everybody else to even feel like you deserve to be there."
Braxton Porter, a musician and elementary school music teacher, grew up hearing his mom say that "to get half of what they have, we have to work twice as hard," and he finds there's still a heavy truth to that. "There are no off days in the professional world, in professional music, and especially not for a person of color," says Porter, 27, who performs mostly on bassoon and violin, among a handful of other instruments. 
He joined ICYOLA at the start of high school even though it meant traveling from Bakersfield, more than a hundred miles north—a two-hour trip each way. But he did it, in part, for the chance to improve his bassoon playing with a group that was both collaborative and tackling challenging orchestral literature. And he also went "to see people that looked like me." 
Those are, for many, the principal lures of ICYOLA. It does have a fellowship program, run in collaboration with the Los Angeles Chamber Orchestra and the University of Southern California's Thornton School of Music, that launched in 2018 to train small cohorts of emerging, underrepresented talents to audition for professional orchestras. But for most of those in ICYOLA, Dickerson's goal is no less challenging if perhaps more attainable: to build self-esteem, to learn to adjust, to feel what it is to hone something. And through that, to become adults who appreciate music.
ICYOLA doesn't hold auditions. Instead, Dickerson says, "the minute they walk in the door they're family to us, and we take care of them." 
He practices this role with candid but gentle authority.
"They're giving you the opportunity to lead them in the creation of music. That's an honor." But, he adds, "I'll tell you this: I demand of them." 
Older and more experienced members of the orchestra are expected to help guide the others. Everyone needs to be present for rehearsal, including mentally, and must learn their parts.
"We do not play reductions, we do not play simplifications," Dickerson says. "What Mr. Beethoven and Mr. Mozart wrote is what we play. I am a strong believer that if you put this in front of the child and say, 'This is what we're going to do,' the child will rise to that level."
The orchestra meets from September to July, and prepares a couple dozen songs for eight or so concerts and the season-ender at Walt Disney Concert Hall.
For this year's finale the group is working on a characteristic mix: Beethoven's "Moonlight Sonata"; a John Williams composition from the film Hook; Dickerson's own arrangement of James Weldon Johnson's "Lift Every Voice and Sing"; a new piece composed by two brothers in the orchestra in tribute to US Supreme Court Justice Ketanji Brown Jackson; the Black spiritual "Here's One," which will be dedicated, as one song is each year, to victims of gun violence; Modest Mussorgsky's "The Great Gate of Kiev"; and a compilation of 13 Marvin Gaye songs. 
"It is important to me that the young people in my orchestra play the canon," Dickerson says, because people—particularly some White people, he says—doubt their ability to do it well. But he does it equally for the pride of those who surround the orchestra and for the musicians to see "that they are capable of being on one of the world's greatest orchestral stages and playing the music that the world's greatest orchestras would play."
They get one chance, he says, to free an audience from their preconceived notions about the orchestra or its music. "When we first started doing this, I had a mother of one of the young people who told me, 'Chuck, the first concert that you guys did that I came to, I brought a pillow in the car.' And she was being serious." 
So he tries to cover the range of what an orchestra can do. This year's tribute to Gaye follows past paeans to artists like Aretha Franklin, Michael Jackson, and Whitney Houston. "People actually get up in the aisles and dance," he says. And the tributes are scarcely an option anymore. "Now they expect it."
Most Fridays, Dickerson boards an early-morning flight at Los Angeles International Airport that lands two time zones away in Chicago, around lunchtime. He spends the day attempting to repair part of what the pandemic broke, and then he boards the last flight to LA that night around 9:30. 
"COVID essentially destroyed everything that we'd started" in Chicago, he says. "So we're back to ground zero." 
Dickerson and local partners founded the South Side Chicago Youth Orchestra in 2019 to provide the same opportunities as ICYOLA. In June of that year, the orchestra put out a call for musicians on social media, and by late August, it staged its first concert. In early 2020, it caught the interest of Good Morning America before the orchestra splintered during the long shutdown to come. The group is now rehearsing again, even as the organization tries to recollect musicians and attract new ones. "It's a lot of work," Dickerson says, but he's optimistic.
The situation is bleaker for the youth orchestra he launched in a South African town called Tsakane, about 30 miles from Johannesburg. Dickerson visited around 2018, though not with the intention of expanding. But as he struggled to process the lasting stains of that country's racist past, a new South African acquaintance asked him about ICYOLA.
"He said, 'Do you think you could start something like that for us down here?' Man, just telling you this story almost makes me cry," Dickerson says, and a deep exhale blows into the phone. "The need is so overwhelming just for there to be something, anything, for these kids to do. . . . There was no way I could say no."
Students were gathered, a teacher was hired, and in 2019, Morgan, the ICYOLA program director, flew there with 24 violins. But when the pandemic shuttered the schools, the program collapsed.
That effort is not over, Dickerson says. It's on hold while he stabilizes ICYOLA and the Chicago orchestra.
The setbacks weigh on him, especially following the pace of the progress ICYOLA made during the preceding decade. It grew from a nonet of bored teens into an orchestra that, early on, performed for then First Lady Michelle Obama in California, and in Washington as part of the celebrations surrounding the new Martin Luther King Jr. Memorial. It became a staple of local MLK Day celebrations, Easter services, and Christmas concerts. In 2017, it played a stadium show with MC Hammer. It secured grant funding, including more than $1 million from the Andrew W. Mellon Foundation for the fellowship program. And it found its way, consistently, to Walt Disney Concert Hall.
All of that seems to have provided momentum and optimism enough to simply hang on through the storm. Slowly things began to happen.
In September 2020, Disney+ was reportedly developing a live-action movie about the orchestra—which fell through, but not before Maryann Garger caught wind of it.
"I called them that night. I just called all the numbers on their website and I actually got somebody. It was like 10 o'clock at night," says Garger, a movie producer whose credits include work on The Lego Ninjago Movie, Shrek, Madagascar, and Pocahontas.
Time was a factor. She was producing a 12-minute animated film about a family's grief after a school shooting, which would be released on Netflix just two months later. The film, called If Anything Happens I Love You, had a part for an orchestra to play a brief rendition of Stephen Foster's placid "Beautiful Dreamer," and when Garger learned of ICYOLA, it all clicked. But they needed to be in the studio in a few days. Dickerson made an arrangement of the song, and 16 of his musicians recorded their parts—separately, to provide distance—which were combined into a lush, melancholic whole. 
The film went viral on TikTok and reached number one on Netflix in dozens of countries, Garger says. Then on April 25, 2021, it won the Academy Award for best animated short.
That night, at a party celebrating the win, Garger was already wondering what her next project might be. "I look up and there's Chuck, and I'm like, 'Oh my God: ICYOLA.' . . . I remember saying to Chuck that night, 'I want to do a documentary about you and the orchestra.'" 
"Fantastic," she recalls him saying. "Let's do it."
The film, directed by Christopher Stoudt, got underway by winter. Garger says it could wrap in the fall, then head to festivals.
"Everyone's welcome in Chuck's orchestra, and that's one of the things I love the most about it," she says. "The foundation of the orchestra is inclusivity."
In February of this year, ICYOLA appeared on prime time as the house orchestra for the NFL Honors, where awards like the league MVP and coach of the year are presented as part of the lead-up to Super Bowl Sunday. 
At one point in the program, the host, actor Keegan-Michael Key, asks the crowd to give a round of applause to ICYOLA. A masked, tuxedoed Dickerson turns to the audience in gratitude, and when he turns back to the band, a TV camera is trained on him. In an instant Dickerson gamely, effortlessly points at the camera and shoots it a thumbs-up. You can sense the smile there behind his mask. It's one second of live TV that feels somehow like a molecule of fun had been bottled.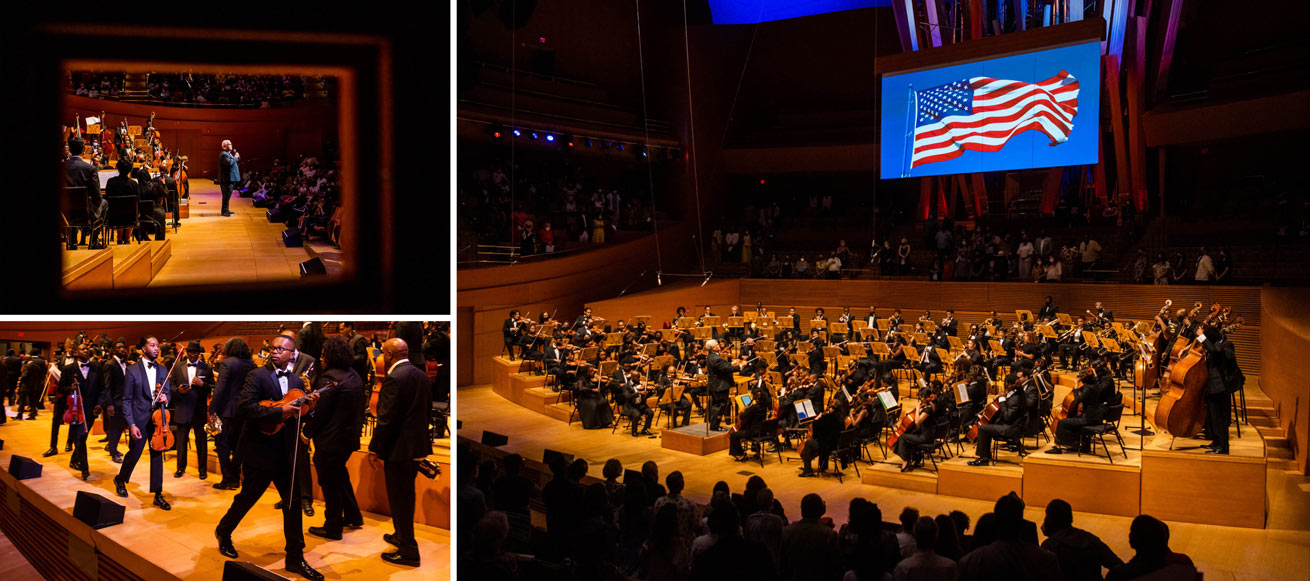 As the calendar melts toward July's season-ending performance at Walt Disney Concert Hall, Dickerson and I talk in late June, 10 days before the show and just as an unexpected issue comes up: ICYOLA is besieged with requests for free tickets. The crowd is in overflow territory, halfway to filling the concert hall again—so Dickerson decides that's what they'll do. He rents the hall for a second time to add an evening show. "These are good problems to have," he says.
Though he has no idea whether donations will make up for the tickets being given away instead of sold, Dickerson seems at ease. "I have some news," he says. He learned two days prior that the state's budget legislation (which the governor would sign the day we spoke) includes a $7 million grant for ICYOLA. The funds are to purchase a building for the orchestra's operations—"our own place," Dickerson says. 
It means freedom from rent and from others' schedules in booking rehearsals and lessons. It means room to store large instruments and to keep chairs and music stands in their semicircle around the conductor's perch. But mostly, he says, a paid-for building means that ICYOLA's existence can be ensured far into the future.
For a conductor, that seems to be mostly where their focus is pointed. In one of our conversations, I mention that the act of conducting seems physically demanding, but Dickerson rejects that. On the podium, he's listening, he's making adjustments, but there's not much he can do other than go along for the ride. By the time that he's up there, the work has already been done in the years, months, and minutes leading up to it.
A conductor's job is to nurture people, he says, through rehearsal and preparing them to take the stage. And just before they do, he tells them to enjoy themselves.