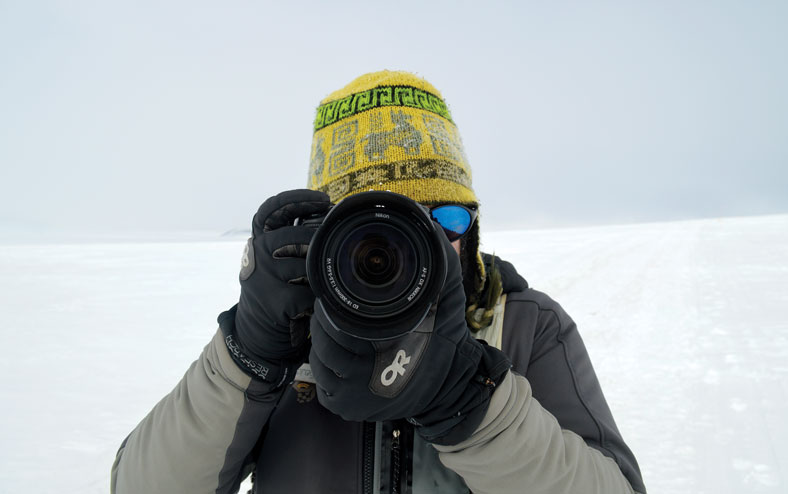 When Mike Lucibella shares the details of his work as editor of the US Antarctic Program's Antarctic Sun, the responses are polarizing.
You get to go to Antarctica?
Lucibella, SOC/BA '08, SOC/MA '15, spends the austral summer—October to February—chronicling research funded by the National Science Foundation (NSF) against backdrops most people only see as screensavers, from craggy landscapes to Antarctic water bathed in the light of a low-sitting sun.
As the editor of the world's southernmost news site, his angles—including downward from an airplane full of penguin-counting ecologists—are rarely stale. He has pressed his Nikon D7100 to the window of a DC-3 as it chugged for hundreds of miles along the coastline abutting the Ross Sea, training his lens on the tens of thousands of emperor penguins peppering the snowy terrain below.
He has helicoptered to the nexus of the McGregor and Shackleton Glaciers, camping for a week in the Transantarctic Mountains as paleontologists used drills and rotary saws to excavate the fossils of 250-million-year-old vertebrates.
And on his last trip to the 5.5 million square mile continent, the astronomy and astrophysics geek caught an LC-130 to the NSF's Amundsen-Scott South Pole Station, where he reported on upgrades to the facility's telescope array that—thanks to the 9,000-foot elevation and dry air—will allow scientists to peer deep into the heavens to unlock the secrets of the universe's oldest light.
You have to go to Antarctica?
At McMurdo Station, the primary home of the US Antarctic Program (USAP) on "the Ice," 900-plus scientists and support staff share an internet connection so slow that it conjures nostalgia for '90s dial-up. 
Four months away from home means Thanksgivings, Christmases, and New Year's Eves without loved ones; few fresh fruits and vegetables; and a difficult adjustment back to city life after a season in the confines of a small, tight-knit community.
Weather on the world's largest ice sheet can also be inhospitable, with summer highs at McMurdo averaging 32 degrees Fahrenheit and 45 mile-per-hour winds causing the temperature to feel like a bone-chilling minus 40. But the Needham, Massachusetts, native is used to bitter cold—and the havoc it wreaks. 
"The best laid plans of mice and men are always changing down there," Lucibella says. "One thing you're guaranteed of is that your plan A is never going to work 100 percent, so you have to come up with plans B through R."
Those who thrive on Antarctica, says Elaine Hood, Lucibella's boss and a 22-year USAP veteran, are adaptable to Mother Nature's whims.
"Things change hourly in Antarctica, and maybe your plan for today was thwarted because there was a blizzard that wasn't predicted, or the helicopter schedule got changed at the last minute," she says. "If you're a person who needs everything to be laid out cleanly in a straight line with no hiccups, you're not going to do well. You have to just go, 'Oh well, that's the way it is.'"
Lucibella knows a story can be even more compelling when researchers manage to turn "oh, well" into "oh, neat." During his first season with the 24-year-old Sun, he came to grips with GRIPS, a NASA-funded gamma ray telescope and polarimeter built to study solar flares. Designed to dangle beneath a long-duration helium balloon near the top of Earth's atmosphere, it first needed windless conditions to get off the ground—a difficult proposition on the world's windiest continent.
The team of scientists endured nearly a month of weather delays and seven scrubbed launch attempts. On January 19, 2016, Lucibella stood nearby as their luck finally turned. NASA contractors filled the balloon with two-thirds of a ton of helium and it lurched upward into an overcast sky, lifting the instrument toward its cruising altitude of 130,000 feet.
Deconstructing their scientific focus—ions accelerated by solar flares—for the masses required more than 2,000 words of meticulous explanation from Lucibella in an article published later that year. He nailed their jubilation in a tidy 28. 
The team of researchers, who had spent seven years working on the project, jumped for joy and snapped photos of their experiment in the air for the first time.
Lucibella threw his name in contention for the Antarctic Sun editorship in 2015, figuring a rejection letter from Antarctica might make a fun keepsake. 
But it never came, and he landed a job for which he had the prerequisites—including a love of the outdoors—down cold. As an AU student, he worked at the now-defunct Hudson Trail Outfitters in Tenleytown, fixing bikes and fitting hiking boots. And in his first job after undergrad, he guided a team of high school students on a bike trip from Portland, Oregon, to San Francisco.
Lucibella also hypothesized that his interest in science would give him an advantage. The journalism major took on applied physics as one of his three minors, and he served as coeditor of Catalyst, the College of Arts and Sciences' student-run science publication. "My journalism major taught me how to write," he says. "My minors gave me something to write about."
Science reporting is a tricky trade because of the chemistry it requires one to develop with an audience's comprehension level. Diving too deep into scientific methods makes eyelids droop; oversimplifying the material risks cheapening research months or years in the making.
Lucibella's a natural now, writing for a general audience and giving presentations about the Antarctic Sun to children and astronomical societies alike. He first found that equilibrium as a staff writer for the American Physical Society, where for six years he penned APS News, a monthly newsletter read by 50,000 physicists with specialties ranging from acoustics to cryogenics.
"Physics isn't a unitary field. People who may know a lot about fluid dynamics aren't always up-to-date on their astrophysics or plasma physics or quantum dynamics research," says Lucibella, who returned to AU part-time in 2013 for a master's in digital journalism. "The balance was to find a level that most physicists would have a comfort with without diving too far into any particular field's jargon."
As Antarctic Sun editor, he regales the science-hungry public with tales of NSF-funded research—mosses and midges, cracking rocks, and floating, autonomous robots—that materialize with rigid preparation. Back in the Northern Hemisphere, he works on stories reported during a previous trip and pores over the list of funded projects so that when his C-17 touches hardpacked snow in October, he has both a plan and a rapport with researchers.
Lucibella wears many wool hats during Antarctica's six-day, 54-hour work week. He's a "fixer" for the Antarctic Artists and Writers Program, connecting grantees—humanities scholars—with the people and places that will help them creatively share the Antarctic experience with the world. When he's not holing up in his cubicle to write, transcribe interviews, and edit photos, he takes field trips to research sites, donning his standard-issue extreme cold weather gear: waterproof "bunny boots," black snow pants, and a down parka with extra batteries, a notebook, and a digital recorder tucked in the pocket of one of his many layers. If Lucibella's lucky, the latter two are already filled with interviews conducted in research labs or over lunch in the galley, before he sees the research in action. 
Without the ticking clock of a field interview, it's easier for him to get the answers he owes readers of antarcticsun.usap.gov. He does his homework—but, like any good science journalist, he's not afraid to circle back to the basics.  
"It's tempting to want to show off or make it seem like you know as much as [the scientists] do, but the number one reason you're doing this is to communicate to your readers. It's in their interest for you to say, 'Stop. I don't understand this term or this concept,'" he says. "Scientists are great to interview. They're passionate people and you're asking them about their favorite subject. Usually, when they nerd out, it's with people who are already in the field, so it's cool to be able to say, 'Hey, tell me all about this, but I'm going to ask a lot of dumb questions.'"
Lucibella has a gift for earning scientists' trust. He's a savvy outdoors enthusiast who isn't a liability on a snowmobile or near a crevasse, he's willing to pitch in if something needs lifting, and he has a quick wit. 
"Mike's sense of humor is one of the things that helps him a lot because he's able to bond quickly with people," says Ralph Maestas, a USAP videographer who works closely with Lucibella. "There aren't that many people down there who are looking for glory. They just want to be helpful, and so Mike's personality works really well in opening doors for stories and getting him out into the field."
His good humor also trickles into his writing, where clever headlines—"Larvae La Vida Loca" for an article about critters at risk due to ocean warming and "Tag! You're It!" for one about electronic monitors that analyze the movements of Adélie penguins—help bring stories to life.
Lucibella has even saved a few jokes for the stage, trying his hand at stand-up for the Peer Revue comedy show hosted by Science Riot, a nonprofit that uses humor to expand the reach of science. In one bit, he takes aim at the poor Antarctic midge, the continent's (thumbnail-sized) largest terrestrial animal that "spends the majority of its life underground, contemplating its ancestors' many poor life choices that evolved it to where it is now."
There are clues in Lucibella's work that hint at the scientific phenomena we're up against. Changing migration patterns of Adélie penguins and fur seals indicate the threat of climate change, just as the booming sound of glaciers calving at Palmer Station brings the realities of disappearing ice into sharp relief.
This austral summer, the worldwide fight against COVID-19 is marked by his not being austral at all.
In February 2020, Lucibella came home and almost immediately repacked his bags. He spent the next six weeks aboard the Laurence M. Gould, one of the NSF's two research vessels, snapping photos and reporting on research experiments along the Antarctic Peninsula, disembarking at Punta Arenas, Chile, as the coronavirus began to shut down the globe. "It was a little bit of a nail-biter," but thanks to the USAP travel team, he snagged what was then one of the last commercial flights back to the US.
To avoid the potentially devastating impacts of a COVID outbreak on an isolated continent, NSF announced scaled-back plans for USAP's 2020–21 summer research season in June, ending Lucibella's streak of visits to the Ice at five. That inaccessibility has so far worked to Antarctica's advantage—COVID has not reached NSF stations, and the continent was reportedly virus-free until an outbreak on a Chilean base in December 2020.
Lucibella's coverage of the remote continent continues remotely from 10,000 miles away. From London, where he moved in September for his wife's new job, he has been connecting with researchers as they trickle back from Antarctica. He was also fortunate to enter last spring with a plentiful well of unused material.
"It's a dramatic reduction in the amount of science," says Lucibella of this most recent season, but he's documenting it to the best of his ability. 
Just like an Antarctic December, the Sun refuses to set.