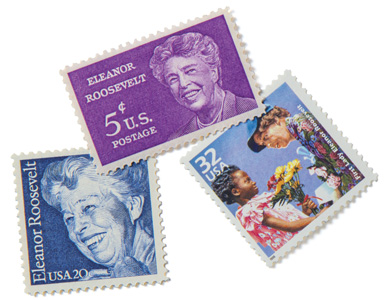 She was married to one of the most influential presidents in American history, but Eleanor Roosevelt was a force in her own right. 
When she came to Washington in 1933, the country was years into the Great Depression. Blinding dust storms battered the drought-stricken Southern Plains. Unemployment stood at a record 24.9 percent, and more than six in ten Americans lived in poverty. Roosevelt's charge was clear: "Do the most good to help the most people." 
Over the next 12 years, she traveled to nearly every state advocating for America's poor and forgotten, shedding light on civil rights issues, drumming up support for the New Deal, and demanding equal rights for women. She held weekly press conferences exclusively for female journalists, comforted American troops wounded in World War II, and served on the board of the NAACP.
This summer, AU launched a first-of-its-kind center devoted to the exclusive sorority of which Roosevelt is a part. The First Ladies Association for Research and Education (FLARE), housed in the School of Public Affairs, brings together scholars, historians, journalists, and former White House staffers to explore the evolving roles and cultural legacies of America's first spouses.
"It is our goal that FLARE will spark interest in an examination of the role these women performed in the White House and in American society, and how first ladies are not only a mirror of their times but have been leaders on issues of national importance," says director Anita McBride, former chief of staff to First Lady Laura Bush and one of the center's seven founding members.
FLARE boasts an agenda as long as Roosevelt's. In addition to serving as a research hub, FLARE will host conferences, produce an online journal, record podcasts, organize a speakers bureau, and publish the first-ever textbook on presidential wives.
It's also considering how another first—the first gentleman—may change its charge. 
"We tackled this in 2008 when Hillary Clinton was running for president . . . and we're watching it now with the spouse of the vice president, who basically has taken on an extraordinarily traditional role, [supporting] the principal, carving out a place of their own, and fulfilling social obligations," McBride says. "Maybe this really is a gender-neutral position." 
Regardless of what future elections hold, "we still have a story to tell of the 40-plus women that have contributed to our nation's history—and I am glad that SPA and American University are at the forefront of telling it."