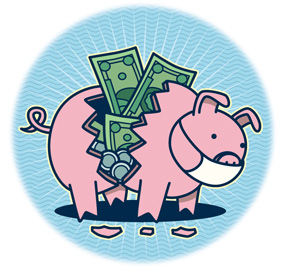 We must act now to keep AU students moving forward. Research shows lower-income students are 55 percent more likely to delay graduation due to the pandemic than their higher-income peers. COVID-19 has changed our lives in countless ways, and AU students continue to feel the impact. To help manage this unprecedented school year, AU dedicated an additional $13 million to financial aid, on top of $100 million already allocated—but this is only the beginning. Philanthropic support for additional financial aid will help remove financial barriers for our students, allowing them to graduate on time and keep their goals within reach.
Tackling shared challenges
The global pandemic has laid bare societal inequities and disrupted industries, including higher education. American University is addressing these challenges with a focus on access through increased financial aid, enhanced student mental health and wellness, and innovations in how we educate our students. 
While COVID-19 poses a multiyear impact on life at AU, we are seizing the opportunity to address these realities to shape the university—and our world—for the better. Dedicated faculty are on the frontlines of online learning, devising creative ways to connect. Students are posing tough questions and examining real-world issues as they unfold. And alumni and donors are helping every step of the way as AU adapts, innovates, and excels. Here are just a few examples: 
COVID-19 and societal unrest have intensified demand for mental health services. The AU Counseling Center worked quickly to provide global 24/7 crisis stabilization and urgent care. Now, with a virtual platform to expand treatment options for those in DC, Maryland, and Virginia, and new support groups to help students of color confront the impact of racial injustice and traumatic events, AU stands ready to meet the evolving needs of our students.  
Our faculty—ranked 25th in the country for undergraduate teaching by US News and World Report—are maximizing new technology and implementing best practices for online learning to effectively deliver curriculum now and in the future. And AU's Center for Teaching, Research, and Learning—a resource for faculty training and development—is offering dozens of new workshops with record numbers of participants. Topics include research-based practices for online instruction, working with first-year students, and increasing student engagement.
AU's commitment to conducting impactful research has not wavered. Our scholars are examining the impacts of COVID-19 through lenses of policy, health, and social justice and collaborating across disciplines to identify solutions. Recently, AU's Center for Latin American and Latino Studies partnered with the Kogod School of Business and the Greater Washington Hispanic Chamber of Commerce to report on how local Latino businesses have been negatively affected by COVID. In addition, in-person research halted last spring has resumed in our new Hall of Science. 
Alumni are showing support for our students in the virtual environment by participating in career forums, virtual job fairs, and more than 130 online mentoring sessions thus far. They also delivered guest lectures in more than 30 classes, joined student reading groups, and shared advice. Engagement through Alumnifire, AU's grassroots networking platform, has doubled during the pandemic. 
The state of the world has made our strategic priorities more urgent. We are committed to creating an equitable future for students and finding solutions to shared challenges. Philanthropic support from the 
AU community is critical to our success.
For information on how to support AU during the pandemic, contact Courtney Surls, vice president of development and alumni relations, at 202-885-5900 or vpdar@american.edu.
Eagles Helping Eagles
The emergence of COVID-19 threatened the health and safety of our campus community last spring, and AU acted quickly—shifting classes online, closing residence halls, and transitioning staff to telework. 
AU alumni, parents, and friends reached out to help, and within three days of the move to virtual learning, the university established the Student Emergency Relief Fund (SERF). In the first days and weeks of the pandemic, gifts to SERF provided an immediate sense of stability amid extraordinary uncertainty. The fund gave AU the flexibility to help our highest-need students cover unanticipated travel costs and helped support about 60 others who remained in emergency on-campus housing. 
"None of us have faced what these students are going through," says Ritanch Hans, SIS/BA '13, Kogod/
MS '15, president of the DC Young Alumni Chapter. "This is a time to give back and be supportive."
Students also stepped up. The AU Student Government made a significant gift to SERF, which helped the university mail personal belongings to those who could not return to campus to retrieve them. Their contribution also supplemented shipping vouchers distributed during move-out and provided resources for the Market—AU's campus food pantry, which has remained operational even after classes shifted online. 
Now, gifts to the fund help ensure that all students have access to a remote education by providing technology tools like internet hot spots, laptops, webcams, and headsets, and supplemental resources coordinated by AU's Student Technology Task Force. SERF continues to support students in emergency on-campus housing and helps DC-based students with local transportation costs. Most importantly, gifts to SERF provide funds that are available immediately, allowing AU to respond quickly as students' needs evolve. 
"The impact of this fund is felt by many," says Fanta Aw, vice president of campus life and inclusive excellence. "The support from our community helps our students feel cared for, seen, and valued."
As our students rise to meet unexpected challenges, we rise with them. When you give to the Student Emergency Relief Fund, you do more than help students meet a need—you demonstrate that the power of the AU community stretches far and wide, no matter the circumstances.
Go here to make a gift.