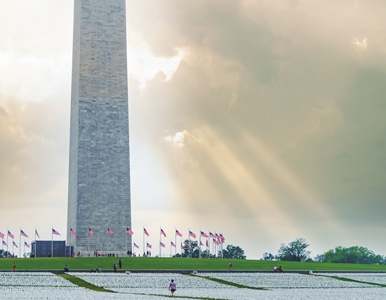 Lauren Shea reminds her children of their fortunes. They have stayed safe and healthy throughout the pandemic, with both parents at home. 
"Even with that, I've noticed how this pandemic has affected them deeply," says Shea, an adjunct professorial lecturer in AU's School of Education.
She thinks often of the children who aren't so lucky. According to the Centers for Disease Control and Prevention, more than 120,000 youngsters returned to school this fall mourning the loss of a primary caregiver to COVID-19. "It breaks my heart," Shea says.
So, she and her SOE colleague Jody Hagen-Smith did something about it, designing online curriculum to help K–12 teachers and students understand, process, and express the magnitude of the pandemic and its impact on their families, communities, and the world. The resources were crafted around In America: Remember, artist Suzanne Brennan Firstenberg's powerful large-scale installation, which blanketed 20 acres of the National Mall with more than 640,000 white flags—one for each life lost to COVID-19. 
"It's important for teachers and schools to acknowledge things aren't back to normal for these children, and that we can build empathy for students in the class who maybe experienced the pandemic differently," says Hagen-Smith, SOE undergraduate advisor. "Looking at Suzanne's exhibit will give us some idea of the numbers and magnitude. We're not just talking about nameless, faceless people. It might be your parent, and that's significant—that's something worth talking about." 
The curriculum—which was created with financial support and guidance from educator, author, and television producer Lynne Brenner Ganek—includes lessons on the science of viruses, the history of pandemics, and a recommended reading list. Children can also create their own artwork inspired by Firstenberg's installation, which ran through October 3 on the mall.
"Now more than ever, children need an opportunity to understand their feelings, express them, and be heard. My art is an expression of our communal loss," Firstenberg says. "I thank and applaud AU for recognizing the underlying opportunity this art offers for healing through our school communities."