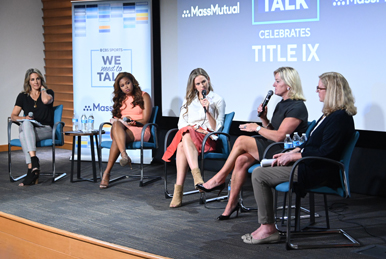 Camera operators assembled their tripods and trained their lenses on the lit stage at AU's McKinley Building. Producers received and relayed a torrent of updates through their headsets, cables carefully coiled in the aisleways, and delivered gentle reminders to the audience on TV broadcast etiquette. The buzz of last-minute checks and adjustments was palpable.
Live from the School of Communication on June 16—nearly 50 years to the day after President Nixon signed the Education Amendments Act into law—it was in-depth look at the landmark civil rights legislation that includes Title IX, prohibiting sex discrimination in education programs and activities receiving federal funding. 
CBS Sports' We Need to Talk, the first-ever, nationally-televised, all-female sports show, taped one of two episodes devoted entirely to Title IX—its history, its impact, and the continuing fight for equality in women's sports— before a packed audience of AU students, faculty, and staff and area high schoolers at SOC's Malsi Doyle and Michael Forman Theatre. The episode, which featured interviews with US Women's National Team and National Women's Soccer League player Ali Krieger, Department of Education assistant secretary for civil rights Catherine Lhamon, global health advocate and Clinton Foundation vice chair Chelsea Clinton, and Title IX lawyer and four-time Olympic swimming medalist Nancy Hogshead-Makar, aired on June 19 on CBS Sports and streamed live on Paramount+.
CBS Sports reporter Tracy Wolfson, three-time WNBA MVP Sheryl Swoopes, and former swimmer and 12-time Olympic medalist Dara Torres handled interviews from New York while Summer Sanders—a broadcaster and former Olympic swimming gold medalist—and former Eagle Jamie Erdahl taped their segments in front of the live audience at AU. Erdahl, SOC/BA '11, who, as a student, hosted AU Athletics' weekly Eye on the Eagles on Comcast SportsNet Washington, now works as a reporter and host for CBS Sports. 
The audience enjoyed live interviews with Lhamon and Hogshead-Makar while gaining a behind-the-scenes look at the flurry of moving parts that make a broadcast and the seasoned professionals that keep them running smoothly—people like Suzanne Smith, a 39-year CBS veteran and the only woman currently directing NFL games for any network, who directed the episode from New York. 
Erdahl pointed out myriad cogs in a well-oiled television machine in an idle moment before the taping began.     
"This is good TV. I know you're watching us, listening to us, but just look around and take a moment to observe how many people it takes to put on something like this. [Additionally] there are anywhere between 15 and 30 people that are in New York right now doing what we're doing," she said. "This is a good cross-section and a way to learn about different paths you can take. . . . Hopefully you'll learn a lot today about Title IX, but also [about careers in TV]." 
The audience absorbed both the live-action job shadow and the legacy of Title IX in several contexts, including a very recent fight for equality in sports. Krieger, a leading voice in the US Women's National Team's push for pay equal to the men's team—one that was realized in May when the two teams signed their new collective bargaining agreements with the US Soccer Federation—called the latest win "incredible."  
"It's about time. That's what I thought, first and foremost, that we finally have gotten what we deserved after all these years. Even on top of winning everything we could have possibly won, to stand on this platform strong and empowered, it's a win for all women," said Krieger, who has appeared in three World Cups with the national team. "This wasn't just about our soccer team or sports in general. This is a win for all women in all industries, and that's what our team was constantly fighting for." 
Clinton provided a contrast to the national team veteran, speaking with CBS' Dana Jacobson not from a platform built on athletic achievement—"I probably had more enthusiasm than talent" growing up, she joked—but through the lens of lessons learned in sports about camaraderie and taking losses in stride. 
Clinton recalled the excitement of having attended the 1999 Women's World Cup and thinking that energized stadiums, packed with both women and men cheering on female athletes, signaled "something is changing." And she remained hopeful that future generations of young women would have the opportunity "regardless of ability or zip code, not only to [access] but [engage] in and [be] supported by sports in their schools, all the way through school," she said. "We know that that will serve them well in school, whether they have as much talent as Serena Williams or as little talent as Chelsea Clinton."  
The event continued with a panel discussion featuring Erdahl, Sanders, CBS Sports reporter AJ Ross, CBS Sports vice president of original programming and seven-time Emmy winner Emilie Deutsch, and MassMutual head of marketing and brand Jennifer Halloran. The women covered significant ground, addressing everything from name image and likeness policy in college athletics to supporting other women professionally to finding their voices in male-dominated fields. 
Ross reminded the young women in the audience that individuality "is your superpower. . . . People are going to say things and have their assumptions about women in particular, but own it. You are more than qualified to be where you are and that's going to propel you forward." 
Sanders, meanwhile, stressed the importance of finding joy in making and learning from mistakes. "Don't forget to have fun in this journey," she said.
Erdahl wrapped the afternoon—which also included a networking event for 50 students with about a dozen people from CBS Sports and MassMutual, including Billy Stone, SOC/BA '86, Kogod/MBA '89, former AU basketball player and CBS Sports programming executive—by bringing it back to the historic legislation that changed the lives of millions of women on campuses and fields of competition across the country. Paraphrasing Hogshead-Makar, whom she interviewed earlier in the day, Erdahl said: "Our job now is to educate ourselves about Title IX, the impact that it can have, maybe [the impact] it's not having in your life, and how you can make it better."  
In academia, in sports, and in all other settings, "We all just want a place."