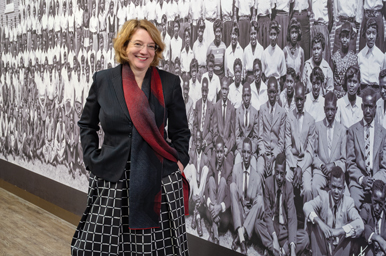 Throughout the twentieth century, thousands of faces patiently looked at the Cirkut panoramic cameras before them, a mix of smiles and stoicism. Today, we look to them for important context about DC's history.
The stunning clarity of images captured by Fred Schutz and Ed Segal's Capitol Photo Service allows them a larger-than-life second life—up to 40 feet wide by 8 feet high—in "The Big Picture," on view at the DC History Center's west gallery. The exhibit's panoramic images span a wide array of scenes, from Amelia Earhart at Bolling Field in 1930 to Game 7 of the 1924 World Series to the 1954 graduating class of Randall Junior High School (including 15-year-old Marvin Gaye) in a Southwest DC undergoing jarring urban renewal.
The black-and-white photos are high-resolution reflections of the DC History Center's mission: "to deepen understanding of our city's past," says Laura Brower Hagood, the center's executive director since March 2020. "We go at that from a serious and often earnest perspective, but we also know where to find the delight."
The 128-year-old organization has had a delightful home—on the second floor of the Carnegie Library in Mount Vernon Square—since 2019, when an Apple-funded renovation was completed. But only now, after a pair of "two steps forward, one step back" pandemic years, can Hagood once again showcase its three galleries and Kiplinger Research Library to the masses.
Hagood, formerly of the National Building Museum, largely focuses on the fundraising and administration that "allows the work of history to happen." But she also thinks critically about the story the DC History Center tells. 
"Washingtonians have been disenfranchised from the moment the capital was established," Hagood says. "The federal government has shaped democracy, citizenship, power, and leverage in ways that make our city unlike any other place."
On the walls of the center's DC Hall of History and in the growing library collections that aid in genealogy, property, and academic research are reminders of Washingtonians, "especially in our communities of color, who have fought tooth and nail for their principles, rights, and values."
A city packed into 68 square miles in the federal government's long shadow provides a panorama of history worthy of exploration.