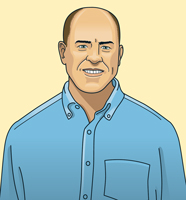 For a guy who spends much of his workday "staring at an Excel spreadsheet," Brad Geene, Kogod/MBA '94, lives one adventurous life. This fall, when he runs another 26.2 miles in Canada, he will have completed 20 marathons. He's also parachuted, bungee jumped, mountain climbed, and dodged some very big mammals in Europe. "I always loved doing adventures, like skydiving and skiing," says Geene, director of planning and budgeting at the American Library Association. "But when my son was born, I wasn't going to be jetting off to Aruba to go scuba diving. Marathoning is a great way to get that adrenaline rush with just a pair of sneakers."
1966: Born in Clifton, New Jersey.
1982: Joined his high school track team as a hurdler. "It was an inauspicious beginning. The coach was more into the strength sports and kind of ignored us."
1989: Earned a bachelor's in economics from Rutgers University—Newark. 
Ran with the bulls in Pamplona, Spain. "It was scary, but more for the crowds than the bulls. You are more likely to get tripped by the crowd, and then trampled, than gored."
1992: Enrolled at AU with plans to earn a master's degree in history. Quickly switched to business. "I found out that certain things are better as hobbies than careers. It's nice to read a book about Abraham Lincoln, but having to read six and then compare and contrast them all—I bagged that after one semester."
1993: Interned in the budget office of the National Museum of American History. "It was the exact blend of what I was trying to accomplish: using business skills in a cultural environment."
1995: Started working for NASDAQ in New York City.
Took a month off work, traveled to three continents, and climbed Mount Kilimanjaro. Roughly half his group summitted after a five-day ascent. "At this time, I hadn't run a marathon yet but getting to the top was a lot like crossing the finish line."
1996-98: Began to dabble in running by completing several 5Ks in Central Park. "You finish and you say, I wonder if I can do a marathon?"
2001: Became a budget analysis and control manager at the New York Public Library. "I didn't have my heart in being a Wall Street banker. This got me back on the nonprofit budgeting track, where I am today. I enjoy museums and libraries—they're more mission-related."
2003: Ran his first marathon, in New York City, a little more than a month after his son, Pierce, was born. He was 37 years old. "Maybe that's why my knees are still good."
2005: Moved to Chicago, where he lived near the seven-mile marker of the Chicago Marathon route.  
2007: Ran his first ultra-marathon, finishing 50 kilometers (about 31 miles) in 6 hours and 16 minutes. "I'm not exactly lightning fast, but I have endurance.
2008: Clocked a personal-best time—4:17:22—at a marathon in San Francisco. "I'm proud of that—it was hilly."
2009: Finished his second ultra-marathon in 5 hours and 45 minutes. 
2010: Everyone has a breaking point. Attempted to run a 50-miler but couldn't finish. "I ran halfway and said, This is not happening."
2018: Will compete in his 20th marathon in Quebec this fall. Like Forest Gump, he has no plans to stop running. "I like the process and the buildup just as much as race day itself. You can solve a lot of problems, or realize that your concern is no big deal, over the course of three to four hours."