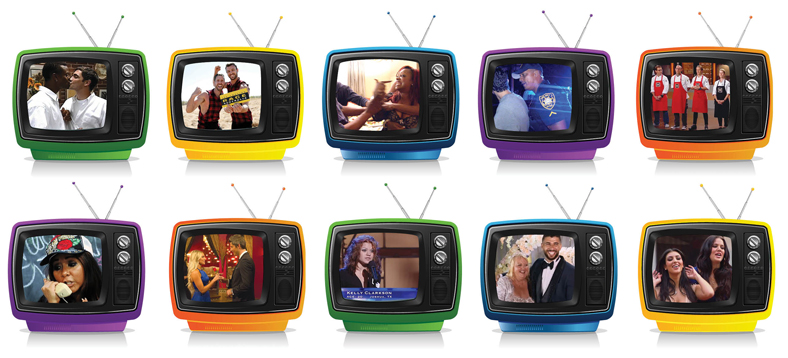 As director of current production at Bravo, Salena Rochester, CAS/MAT '09, SOC/MA '11, has helped turn housewives into household names. 
"I love being creative, shaping stories, and meeting interesting people with such huge personalities," she says from her office on the Universal Studios Lot in Los Angeles. "It's a thrill to tell the true stories happening in these people's lives."
Rochester joined Bravo as a production coordinator in 2012 after completing NBCUniversal's storied page program in New York City. Her meteoric rise at the cable network, which celebrates its 40th anniversary in December, parallels that of the mononymous women—NeNe, Luann, Bethenny—it's turned into stars. 
"I kept moving up and getting promoted," she says. "I've been very lucky." 
The number one cable network among female viewers for three years running, Bravo delivers original programming—about hot cuisine, haute couture, and hot-headed personalities—to 89 million US households. Its staple, the Real Housewives franchise, debuted in 2006 in Orange County and has since expanded to nine other cities, including Salt Lake City, which premieres later this year.
In her role on shows like Million Dollar Listing New York and Married to Medicine, Rochester tracks storylines, keeps filming on schedule and under budget, and screens cuts. She has a hand in everything, from marketing and social media to the housewives' famous taglines. 
"I was a huge Bravo fan myself when I got this job," Rochester says, "and now I'm helping create TV that resonates with millions of viewers." As Atlanta housewife Kenya Moore would say, it's Gone with the Wind fabulous.
Rochester spills the tea on her 10 favorite reality shows: 
The Real World: Season two (San Francisco) was my favorite. Pedro was HIV-positive, and MTV showed him as an out and proud gay man in a relationship, which was not the norm in [1994]. It was revolutionary. 
The Amazing Race: This show features people from all walks of life in all different parts of the world—it's almost a travel show in that respect. It has a sense of urgency that keeps me on the edge of my seat. Among adventure competitions, I also like Survivor and Big Brother. 
The Real Housewives: I know I'm biased, but this franchise has taken reality TV to another level—it's the modern-day soap opera. 
Atlanta, New York, and Beverly Hills are my favorites. Potomac has also come into its own.
Live PD: This is groundbreaking in the reality world: it's basically Cops but A&E presents the action in real-time. It's a hard thing for a network to pull off—risky, too. Others have tried to replicate it, but no one can touch the success of Live PD.
Top Chef: In the reality cooking competition genre, this one is tops. The hosts, judges, and level of production keep viewers really engaged. New York was my favorite season; it was cool seeing them compete in a city known for great food. 
Jersey Shore: MTV did an amazing job casting this show—from Snooki to the Situation, it was lightning in a bottle. I was obsessed with Jersey Shore in high school; it was the first show that made me think, 'reality TV is fun, and I wouldn't mind working in it.'
The Bachelor and The Bachelorette: ABC is the only network that's been able to crack the dating competition nut. This franchise is women's answer to sports, with viewers creating brackets to see who'll get the rose in the end. When a show [spawns] its own "fantasy league," it's a pop culture phenomenon.
American Idol: American Idol is the music competition that started it all, opening the doors for The Masked Singer and Dancing with the Stars. Every day I walk past the Kelly Clarkson Show studio [on the Universal lot] and think, 'good for her.'
90 Day Fiancé:  This is one of our biggest competitors. What TLC has done is genius—they've created all these spinoffs, which keep viewers hooked all year long. Now fans are never without this crazy, outrageous show.
Keeping Up with The Kardashians: This was one of the first reality shows to break the "fourth wall." The Kardashians got so famous that there came a point at which you couldn't ignore the fact that they were on TV. That allowed other networks, Bravo in particular, to do the same thing.