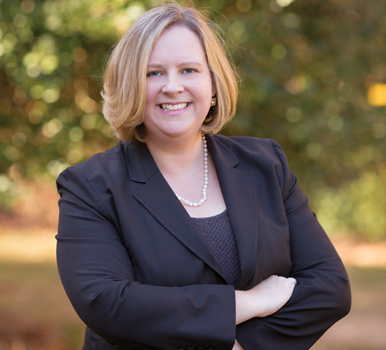 Each year, American museums host 850 million visitors—more than the attendance for all major league sporting events and theme parks combined. 
Laura Lott, Kogod/BS '98, is among those who prefer Cézanne to Six Flags.
Lott serves as president and CEO of the American Alliance of Museums—the first woman to hold the post in the nonprofit's 113-year history. The 35,000-member organization "accredits and advocates for museums from A to Z, including arboretums, science centers, and zoos," which means Lott is never at a loss for things to do.
She spends about one-third of her time on the road and has toured more than 500 institutions around the globe since joining the alliance in 2010. "I can't say, however, that I've visited any of them in their entirety," Lott admits. "There are so many layers to museums." 
Amsterdam's Van Gogh Museum; the State Hermitage Museum in Saint Petersburg, Russia; and the forthcoming Statue of Liberty Museum remain on Lott's curated to-do list, as do these nine exhibits:
Rightfully Hers: American Women and the Vote
National Archives
March 8 to September 7, 2020
I can't wait to see the latest in 
the Archives' series of exhibits on the suffrage movement, which aims to offer a more robust retelling of the struggle for women's rights. This DC exhibit coincides with the 100th anniversary of the 19th Amendment on August 18.
Dogs! A Science Tail
California Science Center
March 16 to January 5, 2020
I love how creative museums use the universal appeal of something like dogs to teach visitors about science. This traveling exhibit includes hands-on activities that explore the bond between humans and their four-legged friends. 
Empresses of China's Forbidden City, 1644–1912
Freer|Sackler
March 30 to June 23, 2019
A feast for the eyes, heart, and mind, this Smithsonian exhibit features royal portraits of the Qing dynasty empresses, along with costumes, jewelry, tableware, furniture, and religious artifacts. Many of the pieces in this stereotype-shattering show are from the Palace Museum in Beijing and have never been exhibited outside of China. 
Testament of the Spirit: Paintings by Eduardo Carrillo 
American University Museum
April 6 to May 26, 2019
I always like to raise up often under-appreciated Latinx artists like Eduardo Carrillo, whose paintings advanced the recognition of Chicano art and culture in his native California.
Destination Moon: The Apollo 11 Mission
Museum of Flight
April 13 to September 2, 2019
In 2017, the Columbia capsule and related artifacts took flight from DC, leaving the National Air and Space Museum for the first time in more than 40 years. Seattle—the final stop on the four-city tour—will host the exhibit during the 50th anniversary 
of the moon landing on July 20.
New Glass Now
Corning Museum of Glass
May 12 to January 5, 2020
The New York museum's global survey of contemporary glassmaking will feature objects, installations, videos, and performances by 100 artists representing 32 nationalities, 25 countries, and nearly every glassworking technique. 
Hearts of Our People: Native Women Artists
Minneapolis Institute of Art
June 2 to August 18, 2019
This museum has been mounting some beautiful and important shows, and I expect this one—the first major exhibition of artwork by Native women—will be no different. Spanning more than 1,000 years, it will feature pottery, textiles, paintings, and photography by more than 115 North American artists. 
Pompeii: The Immortal City
Science Museum of Virginia
June 8 to September 3, 2019
Making its North American debut in Richmond, this exhibit includes 3-D reconstructions and more than 100 archaeological items from Pompeii. 
Monet: The Late Years
Kimbell Art Museum
June 16 to September 15, 2019
This show in Fort Worth, Texas—featuring 60 paintings—is the first exhibit in more than 20 years dedicated to the final phase of Monet's career, which was dominated by his beloved waterlilies.