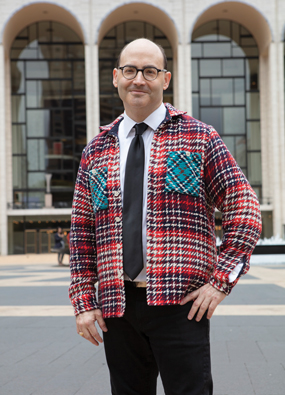 Michael Solomon, SPA/BA '96, discovered opera as a middle schooler in Tyler, Texas. Years later, as senior press manager at the famed Metropolitan Opera in New York City, his passion for the art form continues to crescendo.
"I was struck by the fact that I wasn't listening to an instrument. It was someone's voice: unfiltered, organic, profound."
After collecting his diploma, the CLEG (communications, legal institutions, economics, and government) major pooled his graduation money and bought a subscription to the Washington National Opera during Plácido Domingo's first season as artistic director. Hooked on the "music, stories, and artistry," Solomon began traveling to operas across the US and around the world.
Now entering his second season at the Met, which was founded in 1883, Solomon finds himself at the largest classical music organization in North America. Each year, more than 800,000 operagoers attend 200 performances at Lincoln Center. 
Solomon hopes they're as awed as he continues to be—even after hundreds of operas.
"I remember coming to New York City for the first time as an AU student. [Lincoln Center] was such a magical building—it still is. It's humbling to walk through the same stage door each morning as Plácido Domingo."
Raise the gold curtain for Solomon's 10 favorite operas: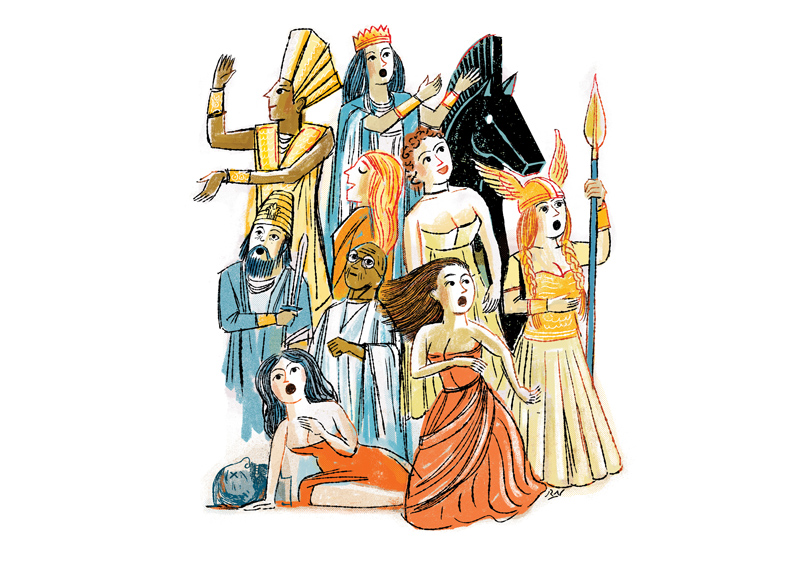 Die Frau ohne Schatten by Richard Strauss: Set in the mythical, fantastical world of the Southeastern Islands, this opera is very rarely done. I bought a plane ticket to Chicago to see it in 2007 and the Met revived it in 2013. If there's a new production anywhere, I'll be on a plane to see it. 
Nabucco by Giuseppe Verdi: This was the first new production that I worked on at the Kennedy Center, so it holds a special place in my heart. Nabucco is a political opera about the Austrian occupation of Italy—but set in biblical times. It's very rarely done in the US, so I was lucky to see it.
Satyagraha by Philip Glass: This is my absolute favorite opera with a libretto in Sanskrit. I can't say I understand a word of it, but the beauty of the story—which focuses on Gandhi and, at the end, Martin Luther King Jr.—shines through. 
Salome by Richard Strauss: Salome is Game of Thrones. It starts intensely and never lets up. Strauss was a real innovator of orchestration—there
are sounds in Salome that you won't hear 
in any other opera. 
Aida by Giuseppe Verdi: Aida is Verdi's grandest opera. In the popular imagination, there are elephants on stage, but at its heart, it's a love story and the story of a father and daughter. I love Aida for its grandeur and its intimacy.
Elektra by Richard Strauss: Elektra is an explosion of an opera. Based on a Greek myth, it's bloody and features lots of experimental music. And any time an opera's final scene is a woman dancing with an ax until she drops dead, I'm there
Les Troyens by Hector Berlioz: This epic French opera about the Trojan War has everything: beautiful love songs, tragic deaths, and two ballets. Uncut, it runs five to six hours. It doesn't come around often; I've been lucky to see it three times in the last 10 years. 
La Traviata 
by Giuseppe Verdi: This is the opera that makes Julia Roberts cry in Pretty Woman—a scene that conveys the power of opera to move people through storytelling. Told in three acts, it's about a woman dying from a tragic disease. Love lifts her up but, ultimately, it won't save her. 
Der Ring des Nibelungen 
by Richard Wagner: If HBO was around in Wagner's day, this would be the signature Sunday night series. Der Ring is the ultimate work of art: a four-part opera, it takes 17 to 18 hours and can be told 1,000 different ways. There are feminist, political, and environmental Rings—all wrapped in the most fantastic music you've ever heard.
Carmen by Georges Bizet: This was the opera that hooked me. The recording—which I bought on cassette, then on CD—is still fully imprinted on my brain. Carmen wasn't a big success when it premiered in 1875, but it's since become one of the most popular operas ever.