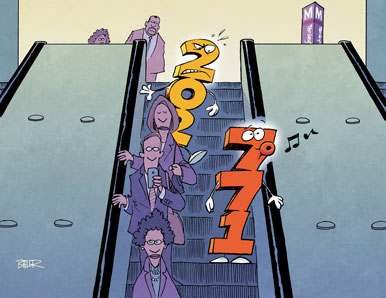 Here's the 411 on the 202: Sometime in 2022, we'll zero out the available phone numbers in the District of Columbia's iconic area code.
Last March, the North American Numbering Plan Administrator (NANPA), which manages area code assignments in the United States and 19 other North American countries, projected that "the 202"—one of 86 originals introduced in 1947—will exhaust its reserve of numbers in the third quarter of 2022. Its run as the District's lone three-digit identifier will come to an end at three-quarters of a century, but its cultural significance will extend far beyond.
In fall 2020 the DC Public Service Commission (PSC) began preparations to retire 202 by assembling an area code implementation working group and approving a 13-month rollout for Washington's NANPA-assigned newcomer: 771. Following industry best practices, 771 will be "overlaid" onto the existing 202 area code boundaries and distributed citywide once new 202 numbers are no more. After six months of network preparation, six months of customer education, and a one-month transition to (pesky but mandatory) 10-digit dialing, Washington will be set for a second area code by early 2022.
Richard Beverly, WCL/JD '81, who was appointed as a PSC commissioner by Mayor Muriel Bowser, SPA/MPP '00, in 2016, says that while an area code transition doesn't require the same mental bandwidth as learning the ins and outs of fiberoptic cables, it will be important this year to educate DC residents and workers about the impending switch to 10-digit dialing. Beverly says it has little to do with technology—people just need to tap three more numbers—but it does dial into issues of inconvenience, like updating stationery to specify an area code, and perception.
"Initially, there's not going to be any association with the 771 number because it doesn't mean anything, but in time, [people will accept it]," says Beverly, who has had a 202 area code since moving from the 504 (New Orleans) in 1975. "The alternative is just running out of numbers."
Part of Beth Sprague's job as NANPA director is avoiding that scenario. Twice a year, her organization collects from service providers the projected demand for phone numbers for every area code. If a code is forecasted to run dry in the next 10 years, NANPA designates a backup. Once the expiration date creeps to within 36 months, the relief planning process begins. 
Sprague says NANPA often receives area code requests (wouldn't 451 be a cheeky new area code for DC, with its sights set on statehood?) but doesn't consider them. Instead, it relies on a tried-and-true methodology that considers factors like customer confusion. For example, while 723 is available, it wouldn't have been suitable for DC with Northern Virginia's 703 just on the other side of the Potomac.
"We don't just pick the numbers out of a hat," says Sprague of area codes, each of which encompasses 8 million phone numbers. NANPA projects DC's new duo will last 51 years, and the rest of its more than 200 remaining area codes won't be assigned until 2049—"I might be retired by then," Sprague jokes—after which the industry will transition to expansion measures like additional digits.
That leaves us time to chew on 771, and what it means in the context of a changing DC.
Area codes speak to some aspect of our identity, whether signaling our current city or feeding our nostalgia for a former home, says anthropologist and AU professorial lecturer Anthony Gualtieri, CAS/PhD '16. A DC area code reveals nothing about where someone lives or works in the city, but in time, 202 or 771 might hint at when a person's relationship with the District began. That distinction—longtime Washingtonian or recent transplant—could prove prickly in a city where newness is often synonymous with the displacement of people of color.
"DC is going through so many social changes, namely a massive influx of young, college-educated, predominately white men and women," says Gualtieri. "We need a new area code because people are coming in and new businesses are opening up. There's demand, and that's great, but at the same time, there are a lot of negatives to those changes."
For that reason, hanging onto a 202 number might carry social prestige. "It was one of the originals, and not many of the originals have lasted this long, especially in major cities," Sprague says. "It's had a pretty good run."
NUMBER THEORY
As of late 2020, there were 238 area codes that had yet to be assigned, and another 121 that were unavailable for use, including service code numbers ending in 11, numbers set aside for NANPA expansion, and easily recognizable codes like 777. Get dialed in with a few tidbits about those unassigned codes, as well as the remaining 641 (and no, we're not referring to central Iowa): 
On an alphanumeric keypad, southwestern Ontario's 226 puts the "CAN" in Canada. The 876 area code—"USA"—is used in Jamaica.
New Mexico underwent the last split, in which a new area code serves a different geographic area from a retiring one, in 2007. The northwestern part of the state, which includes Albuquerque and Santa Fe, kept its original 505 area code, while the new 575 served the rest of the state. All area codes introduced since have been overlays.
When the North American Numbering Plan was established, Ohio had more area codes (216, 419, 513, and 614) than California (213, 415, and 916). By the end of 2021, California will boast 36 to Ohio's 13.
Two numbers—0, traditionally used in operator-assisted calls, and 1—cannot be used as a code's leading digit.
There are eight area codes with the same leading and trailing digit split by 0. When DC's 202 is overlaid later this year, 707 (Northern California, created in 1959) and 808 (Hawaii, assigned in 1957) will be the last two not yet split or overlaid.
Eleven US states are served by just one code. 
The first split occurred in 1948. AT&T, which devised the area code system, assigned 219 to northern Indiana, retaining the existing 317 for Indianapolis and the rest of central Indiana.
New York City underwent the first area code overlay in 1992 when cell phone users were assigned 917.
The lowest assigned area code, 201, serves northeastern New Jersey, including Jersey City. The highest, 989, was created in 2000 for Saginaw, Michigan, and the northeastern lower peninsula.
The toll-free 800 number was created in 1966.
Established in 1997, the 867 area code services northern Canada all the way to the Arctic Circle and covers more than 1.5 million square miles.
Area code 321 launched in 2000 on Florida's Space Coast, thanks to a successful petition led by local resident Robert Osband.
DISTINGUISHED DIGITS
Jenny forgot to provide her area code, so a call to her 867-5309 would not be completed within the boundaries of an overlaid numbering plan area. (But the band Tommy Tutone got its start in San Francisco, so 415 is a decent guess.) Area codes are sprinkled across our culture, appearing in cinema, appeals to civic pride, and on the occasional chest, calf, or collarbone. Here are some noteworthy numbers:
Eminem's B-Rabbit starts his rap battle finale in 8 Mile with, "Now everybody from the 313 . . ."
Singer Ariana Grande hails from Boca Raton, Florida, and has "561" tattooed on her left thumb.
The lower portion of Las Vegas Raiders quarterback Marcus Mariota's facemask design resembles "808." He's a Honolulu native.
In a 1998 episode of Seinfeld, Elaine gives a man her number. Upon learning she has a 646 area code, he says, "I'm really kind of seeing somebody."
Pitbull's Mr. 305 record label and nickname are a nod to his native Miami.
Homer Simpson is appointed mayor of New Springfield in a 2000 episode of The Simpsons after pointing out that the wealthier half of Springfield kept its 636 area code while the other side of town switched to 939.
In 2018, Memphis fielded a United Soccer League expansion team: Memphis 901 FC.
The video for rapper Wale's "Sue Me," which stars actor Lucas Hedges and focuses on racism and white privilege, was released on April 22, 2020, at 2:02 p.m., a nod to his native DC.
The Los Angeles Clippers mascot, Chuck the Condor, wears a jersey with the number 213.
Patrick Bateman's "bone"-colored business cards in American Psycho list phone and fax numbers with 212 area codes.