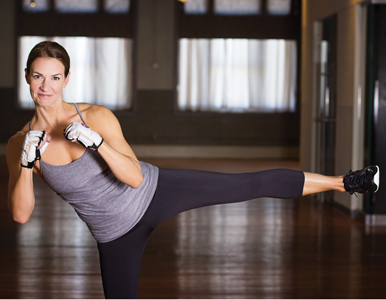 Nicole Nason might be the most dangerous civil servant at the State Department. Sandwiched between high-powered jobs in the federal government, the assistant secretary for administration founded and ran Project Koe in Connecticut. Named for the Japanese word for "voice," the fitness program is based on the centuries-old traditions of Shorin-Ryu karate and designed to empower women by promoting their inner and physical strength.
"I know Washington and I know politics," she says. "I love it, and I knew I would go back to it, but I thought this was a chance to learn something new."
After years spent studying the discipline, she earned her black belt in karate. In 2014, she started the martial arts program, teaching classes at Wall Street powerhouses, like Goldman Sachs, and high schools in New York. (She also gave a TEDx Talk at AU in 2016.) Now back in the capital, she's leading 1,200 employees and 500 contractors who comprise what she calls the "backbone" of the State Department.
"If the secretary of state is out on stage giving his speech, administration [has done] all of the things that need to happen behind the scenes to make that work," she says. "If anybody needs to move anywhere around the world, we move them. [We] run everything from overseas schools to interpretation and translators."
The department also is tasked with planning and executing travel for the president and vice president. "In some cases we pick out the carpeting for the president to deliver his speech on, and we build the stage," she says.
Nason knew she wanted to work in government ever since she served as an intern for an Ohio congresswoman as an AU undergrad. She went on to earn a law degree and work in the US House of Representatives, at US Customs and Border Protection, and as assistant secretary for government affairs at the US Department of Transportation. In 2006, at age 35, she became the youngest ever administrator of the National Highway Traffic Safety Administration. Whether in the halls of bureaucratic Washington or on the mat at a dojo, Nason's attitude has always propelled her toward success.
"If you're willing to throw yourself in and work hard," she says, "there's endless opportunity."