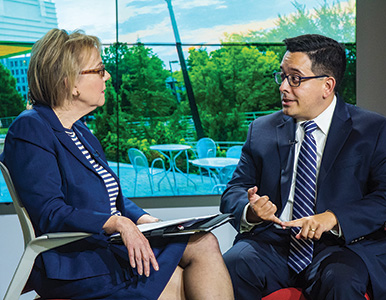 As a kid in Delmar, New York, Ed O'Keefe served as editor in chief of O'Keefe Etc., a family newsletter. Today his byline appears in a slightly more prestigious publication. 
O'Keefe reports on Congress for the Washington Post—a beat he likens to covering a small city. "On any given day, you could go in seven different directions," he says. 
The political science major was bitten by the reporting bug in college, when he spent a summer in the press office of New York's then-attorney general Eliot Spitzer. "That's when I realized I'd rather be asking the questions than answering them," he told his hometown paper, the Albany Times Union. 
In September, O'Keefe returned to AU for a special edition of the School of Communication's American Forum, hosted by his former professor Jane Hall. "Ed has spoken to my Politics and the Media class every year since he graduated from AU in 2005," she says. "He is one of the most respected and thoughtful journalists covering Congress, and he's a great role model for our students." 
O'Keefe traveled to 29 states and Puerto Rico in 2016 covering the presidential campaigns of Donald Trump, Jeb Bush, and Marco Rubio. The election of Trump—an outspoken critic of the media in general, and the Post in particular—"reinforces the need for what I've been up to for the last 10 years: analytical reporting of what the heck is going on in Washington," O'Keefe says. "My boss, [editor] Marty Baron, has always said, 'We're not at war with this administration—we're at work, and we would be, no matter who is the president.'" 
No stranger to Q&As, O'Keefe, a regular guest on CNN, Fox News, and NPR, fielded questions from students, many of them aspiring journalists seeking career advice. "Readers have finally realized there's real value in the reporting that we do. They realized it is worth paying for the news, whether from us, the New York Times, the Wall Street Journal, or wherever else," he says. "That's a reminder for all of you that you have to be willing to pay for this, because if you don't, you won't have a job."