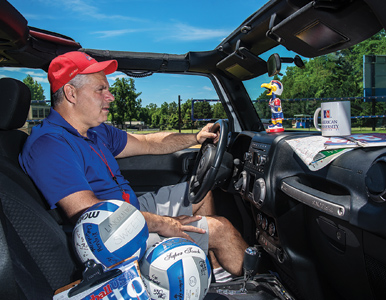 A white dry-erase board with several columns of names written in black hangs seemingly innocuously over Barry Goldberg's desk. But make no mistake about it—the names on that board largely control his fate.
When one of his players graduates, transfers, is injured, or leaves the team, a name is wiped away in an instant—but replacing it can take months, even years of work. The 17 names on the board comprise his volleyball team's roster, and the talent, desire, work ethic, and passion that each of those women possesses to a great extent determines whether he'll have another successful season. That's why adding names to the board—recruiting—is perhaps the most important part of his, or any other college coach's, job.
"There are a lot of variables in recruiting," says Goldberg, who's been doing it for 28 years at AU. "I'm looking for players who are good students, and who are physical and bright enough in terms of having a volleyball IQ. I try to get players within that range, then I have to do a good job with them."
Each year hundreds of players contact Goldberg, hoping to land one of the 12 scholarships he can offer. When he started, he was a part-time employee who had just two scholarships at his disposal. Since then he's built AU into a Patriot League power, racking up 15 NCAA Tournament appearances. He's noticed that potential recruits now know a lot more not only about AU's volleyball program, but about
the school in general.
During the off-season, Goldberg and his assistants scour the country—and the globe—in search of players. He estimates he spends between 30 and 40 percent of his professional time recruiting. In April, he went to California to watch a club team tournament featuring about 600 teams competing on 65 courts in the Los Angeles Convention Center.
"All of my evaluations have everything to do with, who's the best team in the country, and what do they have?" he says.
In LA he had dinner with a potential recruit and her family. He thinks he has a shot to land her, but when you're dealing with teenagers, you never know. A player may want to major in a subject AU doesn't offer, or may have dreams (realistic or not) of competing in a larger, more prestigious conference.
Discussing the highs and lows of recruiting, Goldberg sounds likes he's riding an emotional roller coaster.
"It's so up and down," he says. "You had this good player you really wanted and she says no. You're dejected. And then you get a good player that comes through and you get a yes. But you really don't know how good she is because she hasn't played for you yet."
So Goldberg soldiers on, adding names to his board and hoping for the best.