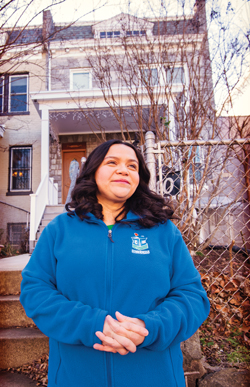 Janethe Peña briskly walks across a barren concrete floor on a humid September morning, her smile widening as she details what this 12,000-square-foot space in DC's Brentwood neighborhood will soon become. 
At the end of a dusty, checkerboard-tiled hallway will be an industrial kitchen, where up to 75 at-risk and homeless 18-to-24-year-olds can enjoy three healthy meals a day and learn the culinary arts. Stacks of plywood leaning haphazardly against an exposed brick wall will soon give way to beds, showers, washers, and dryers. There are plans for every crevice and corner: fully-stocked pantries and closets, office cubicles, a barber shop, a music studio, and—through a proposed partnership with Mary's Center for Maternal and Child Care—a health care clinic and space for mental health case management.
The DC Department of Human Services (DHS) is betting, in a contract worth more than $1.6 million per year, that providing transitional age youths with a safe space, programming, and access to round-the-clock services at Zoe's Doors—named for Zoe Spears, a 23-year-old transgender woman who was killed in Prince George's County, Maryland, last June—will help stave off chronic adult homelessness. And it's counting on Peña, SIS/BA '02, to get youths off the street and on the road to stability.
"This center will allow us to try to tap into the individual much earlier," says Peña, whose housing nonprofit, DC Doors, won the contract in early 2019. "Maybe there's something that can be done earlier as far as reunification with the family [and] mental health or substance abuse counseling for things not to spin out of control."
Peña has worked with housing nonprofits for two decades, including the last nine years as executive director of DC Doors, which she founded in 2011. The organization, funded by the DC government, offers 18-month transitional and six-year extended transitional housing programs for young people; permanent supportive housing for adults battling physical, mental, and substance abuse problems; and an accounting technician training program for food stamp recipients. All told, DC Doors houses up to 150 people at any given time.
It's September 10, a mere 10 days from the targeted opening for the first-of-its-kind drop-in center, but Peña knows that deadline will go unmet. She still needs additional architectural renderings, signatures from DHS officials, and equipment before she can transform this former warehouse into a hub for social services. Peña feels the pressure of the ticking clock, especially with the weather about to turn. 
Yet amid the tightening vise of a looming deadline, Peña calls the opportunity to provide an essential service "a dream." In her life and in her work, she has learned that within potential lies hope.
Born in Nicaragua in 1978, Peña arrived in the United States a year later when her parents fled the Sandinista National Liberation Front's violent attempts to overthrow the Somoza dictatorship.
She grew up in a three-bedroom, two-bath row house on Kenyon Street in Columbia Heights. Adorned with a gray stone façade, its front yard encircled by a chain-link fence, the house is 1,500 square feet, if you include the basement. 
Peña would. 
It was there that she spent much of her childhood, the 500-square-foot space shrinking as her family expanded with the addition of her younger brother and sister. Eventually, 14 family members—cousins, aunts, uncles, and a grandmother—crowded into the house on Kenyon. One person's bad mood became contagious in the confined space. Peña went through puberty, called boyfriends, and completed schoolwork with little peace and no quiet. 
And yet, she doesn't look back on her childhood with sadness. Peña fondly recalls playing basketball on a nearby blacktop and drawing the ire of her grandmother as she slid down the metal stair handrail. She thought her family's living situation—rich in love, but short on space and resources—was normal because that's how her mother, Juana, presented it. 
"She made it seem like it was the most normal thing and a very happy place. I didn't know we were so impoverished," Peña says. "It wasn't until I was much older that I understood that people didn't live that way. You should not have 14 individuals living under the same roof, and you should not have to figure out who should eat today and who shouldn't."
Juana dreamed of buying her own place, where she could arrange her plants how she liked and her children could watch what they wanted on TV. The elder Peña recognized a similar drive in her teenage daughter, who tucked away money from a job at the Cineplex Odeon in Tenleytown and cared for her siblings while their mother worked. "I knew that she would do something with her life," Juana says.
Peña learned about AU's Frederick Douglass Scholarship through a teacher at Wilson High School in Northwest DC. She applied and landed an interview with then associate director of admissions Marquita Lightfoot but was nervous and unprepared. She bombed—but her work ethic still made an impression on Lightfoot, who decided to take a chance on Peña.   
After years of socking away her earnings from babysitting and cleaning houses, Juana—with help from Peña, who pitched in her own savings—had recently purchased a home in Columbia Heights. But as her eldest daughter started college in 1996, Juana still urgently needed her help.  
"At that point my dad was no longer in the house. He was full-blown on crack," Peña says. "I couldn't tell anybody on campus."
She carried a significant load, attending classes, helping her mother pay bills, and working as a shift supervisor and assistant manager at a CVS in Spring Valley, just down the street from AU. But Peña soon realized that juggling long shifts and a full course load was unsustainable. She contemplated dropping out of AU, but Juana objected, asking, "Do you want to be like me?" Her mother had Peña at 18 and immigrated to the United States "mostly for her," to give her child a shot at a successful, stable future. 
"I didn't know the language, but I was eager to conquer it and live my dream here," Juana says. "Janethe was my engine, my motor, and the motivation I needed to say, 'I need to do something with my life and 
her life.'" 
Peña managed to provide for her family and persevere in the classroom—at a cost. She split her shifts at CVS, shuttling to campus for afternoon classes, but dropped to part-time status. With her scholarship gone, she pushed through six years of international studies coursework, graduating in 2002. 
She launched her career in nonprofits riding city buses, passing out literature and educating immigrants on their rights for the Council of Latino Agencies. Peña then moved to the Latino Transitional Housing Partnership, where, as a program manager, she helped low-income families teetering on homelessness secure a permanent place to live. All the while, she kept her CVS job until 2006, when she became pregnant with her first son, Andres. The morning sickness became too much for Peña, who not only worked the cash register, but also stocked shelves and unloaded trucks. 
Peña felt the hours in her joints. When she locked up at night, she would sometimes whisper to herself, "One day I won't be physically tired. I'll be mentally tired."
Thirteen years later, Peña has her wish. Bringing Zoe's Doors online while hiring staff and remaining connected to DC Doors' housing programs is an all-consuming job that frequently leaves her answering emails past midnight. 
Over the course of a career devoted to caring for others, Peña's self-care has suffered. If she arrives at work giddy and giggling, that means she hasn't slept and is running on fumes. But what's left in the tank is used to motivate others. 
"She really makes you feel important, that you're here for a reason," says Alicia Skeeter, a site manager who joined DC Doors last summer. "Her passion is obvious, and she puts her whole self into this. She's reassuring and comforting, and you don't really feel a hierarchy here." 
Occasional comfort is necessary in a business with life-altering consequences. Meeting a voucher deadline can be the difference between securing permanent housing and living in limbo on the streets. DC's homeless population dropped more than 5 percent between 2018 and 2019, according to DHS, but still numbers close to 6,500 Washingtonians.  
DC Doors often crosses paths with people who've hit rock bottom, a tricky reality Peña conveys to applicants during the interview process. She role-plays, cursing at would-be staffers to see how they react. 
"Nobody goes, 'Hey, I'm about to have an episode right now,'" Peña says. "You have to feel comfortable in your skin, because when people have been through so much in life, they are sometimes going to be cruel to you. They're going to want you to hurt like they're hurting, and it takes time for that person to understand that you genuinely care for them." 
Staffers learn to recognize the small victories, like getting a teenager to meet with a mental health professional or helping a family make their new house feel like a home. 
"They helped me get new furniture, new beds, a new dining room set. My kids have something that they've never had," says Darlene Isaac, who worked with Peña to secure an apartment for herself and her four children last summer. "When my kids came home, they were like, 'Wow, we've got furniture, Mom?'" 
Peña celebrates similar successes within her own office.
Dennis Wilson was out of work and applying for food stamps when he enrolled in DC Doors' accounting technician training program, hoping to acquire job skills and a complimentary SmarTrip card. 
Wilson quickly discovered that accounting was not his forte—but Peña was impressed with his creativity and flair for poetry. He was a strong communicator, asked interesting questions, and had a knack for putting others at ease, so Peña hired him as a youth advisor. December marked Wilson's second work anniversary, and when the drop-in center begins operating at full capacity this spring, he will be promoted to shift leader and senior youth advisor.  
"I'll look to be more of a role model for the younger [staff], be that leader that Janethe was to me," he says. Wilson has discovered his passion, something he says he can "do forever." It just took a nudge from Peña to help him find it.
Peña can train new staffers to collect data and navigate mountains of paperwork. But she can't teach compassion. Those who enter the nonprofit housing services field are motivated to make 
a difference, not a fortune.
DC Doors' annual budget has eclipsed $3 million, including the new drop-in center contract. The nonprofit now offers its 30 employees medical, dental, and vision coverage and a 401k package with a 5 percent match. But they are luxuries that follow much leaner times. 
After launching in 2011, DC Doors operated on a shoestring $750,000 budget. In 2017, its federal Department of Housing and Urban Development funding dried up, forcing the nonprofit into bankruptcy. A $50,000 grant from the Inter-American Development Bank kept a three-person organization on life support long enough to land on the city government's radar and earn new contracts.
"There are days that I wake up and it brings me to tears because we've come a long way," Peña said in late November. "We had to start from scratch, and we didn't have a penny to our name. When you're starving and you're in the red, no one will look at you. Now people want to come tour the center before it's even open." 
The first phase of Zoe's Doors opened in January. Permanent showers and a completed game room, music area, and kitchen will come in the next few months, but the once-drab warehouse—now awash in bright orange, green, red, and blue—has come a long way. People can grab a bite to eat and meet with caseworkers and advisors in the privacy of baby blue cubicles.
The last year has been an exercise in patience for Peña, as her proposal for Zoe's Doors has slowly transformed into reality. But she knows from experience that roadblocks are temporary and that transformation is always possible. 
DC Doors has made one. Juana Peña describes it as a "phoenix from the ashes"—a multimillion-dollar operation that, during its financial nadir, was headquartered in her basement. 
"Life is not perfect. Life is not easy," Juana remembers telling her daughter as she worked to return DC Doors to viability. "But never give up. There are days that are going to be bad, days that are going to be good. Sometimes it's nothing but rain, rain, thunder. Then—poof!—there's the sun."
Two Cents on Neighborhood Change
In many American cities, conversations about rising rent and the dearth of affordable housing are long past due.
When the Great Recession hit in late 2007, millions of homeowners rocked by the subprime mortgage crisis transitioned to the rental market. At the same time, some major cities like Washington experienced urban renewal: DC's population has increased by about 150,000 since 2000, becoming both younger and whiter.
The result for many neighborhoods has been a packed and pricey rental market, with costs likely continuing to climb. 
"The population that's coming back to the city can't afford a place around AU, can't afford Foggy Bottom, and can't afford Penn Quarter," so newcomers move to traditionally low-income neighborhoods of color, says Derek Hyra, School of Public Affairs professor and founding director of AU's Metropolitan Policy Center. "When they move to those areas, they may be getting a bargain vis-à-vis other parts of the city, but they're driving up prices in those places."
Gentrification raises rents, property values, and taxes, pricing out existing, lower-income residents—many of whom have called the neighborhood home for generations. A recent study by the National Community Reinvestment Coalition found that seven American cities account for half of the nation's gentrification. DC had the highest percentage of gentrifying neighborhoods between 2000 and 2013, displacing more than 20,000 residents—many of them African American people from traditionally black neighborhoods. 
 "A lot of people who have been pushed out or chosen to move from Shaw-U Street are in Anacostia now. Well, Anacostia is about to gentrify, so where are they going to go?" Hyra asks. "Most of them, when we have this inner-city gentrification phenomenon, are going to get pushed out from the city center and eventually they will likely get pushed out into the inner suburbs."
DC has implemented numerous affordable housing programs and contributes $100 million annually to its Housing Production Trust Fund, which has financed 9,000 moderately-priced units since 2001. In October, DC mayor Muriel Bowser, SPA/MPP '00, announced plans to construct 12,000 units—with rents capped at 30 percent of household income—by 2025, spread more evenly across the city's eight wards. 
While the demand for housing is significant—the Metropolitan Washington Council of Governments estimates the DC area will need 320,000 additional housing units, 75 percent of them affordable, by 2030—so is the need for cultural preservation in gentrifying neighborhoods. In his 2017 book Race, Class, and Politics in the Cappuccino City—which explores the causes and consequences of cultural displacement in the Shaw-U Street area—Hyra found that a drop in crime benefitted everyone, but new amenities like beer gardens and hip coffee shops often weren't spaces where everyone felt welcome.
"Amenities that were coming into the community were catering more to the tastes, preferences, and price points of the newcomers, and those that were leaving were bookstores, black churches, and black barbershops and hair salons," Hyra says. "People were saying, 'We don't even recognize our own community. We can stay here, there's affordable housing, but we don't feel welcomed or feel like this community represents our values anymore. We feel lost in our own community.'"
Therein lies the delicate balance DC leaders must strike: a plan that both bolsters the city's affordable housing infrastructure and, as Hyra says, "greases the wheels of social integration" to help low-income residents feel at home in their communities, even after higher-income people