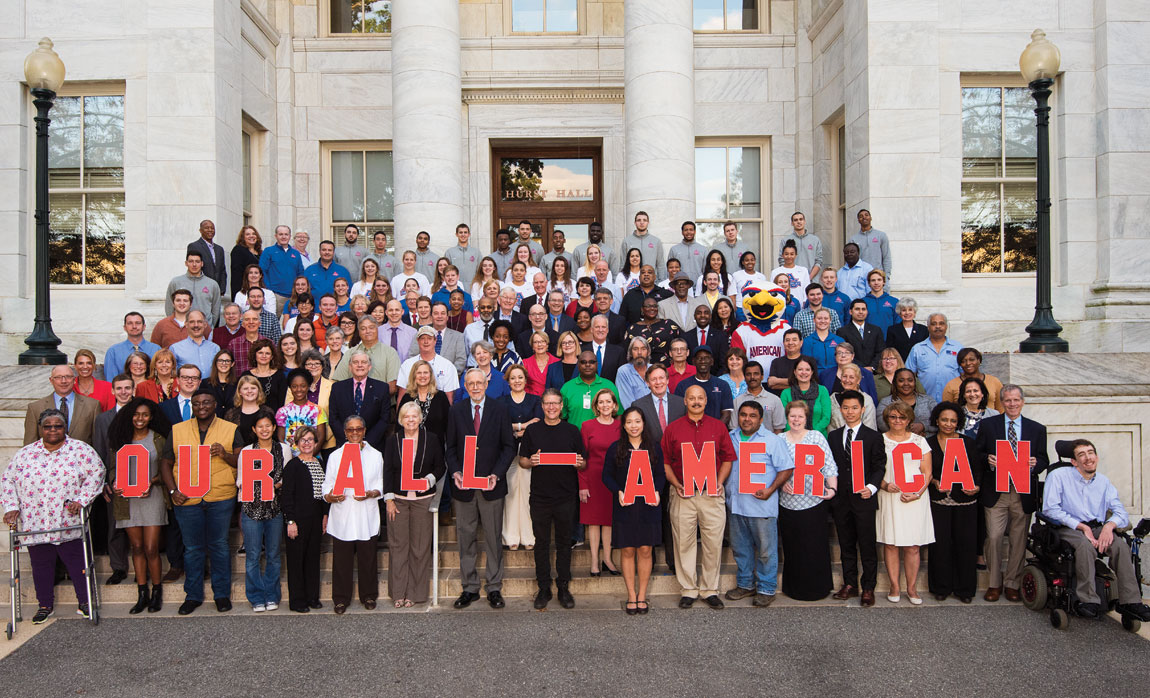 Most people attend a school, work a job, live in a town. Neil Kerwin owns degrees from three universities, has held a variety of academic positions, and has resided in several cities along the East Coast and abroad.
But at his core, he is of American University.
The school's 14th president, Kerwin, SPA/BA '71, will retire in late spring after 12 transformational years in the role. He first arrived on campus in 1967 as an 18-year-old from Waterbury, Connecticut.
"Neither of my parents went to college. I felt that if I was really going to test myself, I needed to [leave home]," he says. "I had one cousin who had been to college, and said if I got into college in Washington I could live with them and basically baby sit their kids for room and board. I got into American, I got [financial aid], and with the money and the housing that was provided by my family, I was able to come. I never looked back."
It was here that he met his wife, Ann, CAS/BA '71, at a party when they were undergrads. A generation later one of their two sons, Michael, also met his wife at AU. In between Kerwin served as a professor, dean of the School of Public Affairs, provost, and ultimately, president.
During his years at the helm, he helped dramatically reshape AU. National scholarships have increased 72 percent since 2009, while student debt has decreased 21 percent during the same period. Since 2005, 14 buildings have been built or renovated (construction on some is ongoing). AU's endowment has increased 113 percent since 2005, while need-based financial aid has more than doubled since 2010.
The 2016 admit rate—26 percent—was an all-time low.
"That's unheard of," Provost Scott Bass says.
It seems that regardless of the metric, Kerwin has presided over its improvement with quiet confidence and a wry sense of humor.
"Neil has moved the university forward in dozens of ways," says Jeff Sine, SIS/BA '76, a member of the Board of Trustees and the presidential search committee that recommended Kerwin for the job. "In terms of scholarship, the quality of the faculty, the quality of the students, our service mission, our diversity mission, the financial position of the university, our reputation. It creates a virtuous cycle."
When his alarm goes off on June 1 (or will it?), Kerwin knows he'll be waking up to a different life.
"You realize that you're in a marathon that's never going to end," he says. "This is really all about the journey, it's not about an endpoint. You simply try to deploy your time and effort in ways that add value to the others who really on a day-to-day basis are running this institution: the faculty, the staff, the students, the alumni, and a lot of friends we have who are willing to get involved. I begin every day with a list of things I want to accomplish. It gets to be sort of a contest to determine how many I can actually get to."
After more than four decades at AU, he's crossed off a whole lot.
Kerwin took over as interim president in 2005 amid a scandal surrounding the former president.
Jeff Sine, board of trustees: "Certainly the university at that point needed a steady hand and needed someone who was competent. We also wanted someone of unquestioned integrity. His integrity is unchallenged. He insisted that everyone, starting with him, focus on the job at hand, which is educating students and creating knowledge. Neil just kept looking forward and insisting that everyone rededicate themselves to that."
Anthony Ahrens, professor and director of the psychology master's program: "I think he did a great job of listening and being calm at a time when it would have been very easy to be anything but. Neil had been a faculty member before being a dean and being a provost, so he really had deep roots at the university and with the faculty. With as many of us knowing him as we did, I think that by itself built a certain amount of trust."
Kerwin: "I felt that the best service I could provide the institution at that time was for the institution itself to return as quickly as possible to focus on the core mission."
In 2007, Kerwin was appointed president. A public announcement was made at the Abramson Family Recital Hall in the Katzen Arts Center.
Kerwin: "A lot of people from the community were there, and I had the opportunity to speak to them about what I thought was necessary right out of the gate. It was to develop a new plan for the university, and approach the planning in a way that we hadn't in the past. That was a much more broadly based, bottom-up type of process. The strategic plan provides the foundation for the work we do here."
Sine: "He knows AU as only an insider could. We felt like we really wanted someone who would not have a learning curve, who would be ready to start immediately because we had been without a tiller for a while. We needed someone to take a grip and lead immediately, and he did that."
Brian Keane, SOC-SPA/BA '89, AU Alumni Board president, 2006—2010: "He was the perfect candidate at the right time. His demeanor and persona were exactly what was needed. Early on in his presidency at what might have been his first board of trustees meeting, there was a break and he was looking out the window. I said, 'It's a beautiful looking campus,' and he said, 'Yes, and we gotta put our heads together to figure out how to make it even better.' It wasn't a throwaway line—he's always thinking about how to make this campus better."
Kerwin allowed staff the leeway to make their own decisions.
Terry Flannery, vice president for communication: "One of the things that I have most appreciated about working with Neil is the freedom and professional respect he extends to those around him. Once you've earned his trust, he gives you the latitude to do what you think is best and the support to see it through. 
We've made some pretty bold moves to elevate the university's visibility and reputation. When I told him I wanted to take AU's KNOW/WONK campaign into a Major League Baseball stadium, he could have told me I was nuts. He didn't. He listened carefully to the case we made for an exclusive sponsorship with the Washington Nationals. He saw the potential that came with doing something nontraditional and the power of being the only university in front of that audience. Still, it required a leap of faith that we knew what we were doing. In the end, it's been one of the most effective decisions we've made to promote AU in DC and around the nation. His support is not a free pass. He's tracked the outcomes every step of the way and expected us to demonstrate the return on our investment. That kind of support is rare, in my experience. It's made it an absolute pleasure to be part of his team."
Scott Bass, provost: "The president has really allowed people to exercise judgment and freedom in taking on difficult challenges. He's always counseled and advised, but he has never said 'Don't do that.' He has mentioned that some of the challenges I've taken on were going to be difficult, but he's been steadfastly supportive once I've embarked on it. You need that."
Sharon Alston, vice provost for undergraduate enrollment: "I can only speak for us in the office of enrollment: we are motivated by the confidence he's expressed in us, his recognition of the work we've done, and the respect he's shown for our knowledge. When someone trusts you and respects you, you never, ever want to let him down."
Sine: "He's not one of these inspirational, messianic leaders—that's not Neil's style. He leads by example."
Ahrens: "Neil is not a micromanager. He has done very well at identifying a team to work for the university and then giving them a lot of room to run with that. That's been a big contribution. That's set us up to be in a position where we could expand the number of faculty, we could start to expand aid to people who were coming from Pell-eligible backgrounds, we could recruit better undergraduates."
Kerwin: "We're blessed with people throughout the organization that share a common vision for academic quality and know the influence that comes with that academic quality in the communities beyond the campus that depend on us: the city, the nation, and the world."
Kerwin and his wife, Ann, recently celebrated their 44th wedding anniversary. She has played an important role advocating for the arts and the arboretum on campus.
Mike Mastrota, landscape architect: "The Kerwins both have the unique perspective of having been here so long that they've seen the transformation of the campus and the way it looks. The arboretum is now 13 years old. I'd say in the last five or six years, with their support and help, it's really taken off as far as some of the donations that we've gotten and its connection with academics on campus. A lot of people now come to AU just to see the arboretum."
Ann Kerwin: "Environment has always been important to me. I think that subconsciously it creeps into everybody's lives and their psyches. Walking across campus, what you see, the peace and the calm that it reflects, it's beautiful. At the Katzen you can look out the window and see straight down the quad to the library. It's amazing."
Kerwin: "I've had a partner in all this. Ann really deserves an immense amount of credit for what she's done. She's been very active in the arboretum, very active with the library, with the arts, primarily with the museum. What I hope is that people acknowledge the hours and time that Ann's put in. She spends an awful lot of time supporting the work of the institution."
In 2014, the Middle States Commission on Higher Education reaccredited AU.
Sine: "I've been told that in the parlance of those reports, which are usually quite dry and academic in their language, that it really read like a valentine to AU. That was a very strong source of validation, but the validation comes in so many different ways."
Kerwin: "I took immense pride in it because of what peers had to say about where the institution now stood in higher ed and how a group of critical outsiders evaluated our work. We're not perfect by any means—there's still a lot to be done. But I feel there's an awful lot that people can take pride in, and should."
Bass: "AU's a different place than it was when I arrived (in 2008). The community sees itself as a different institution. Every measure, from the Middle States review to our Carnegie research classification, it's a different institution. The hiring of faculty, the expectations of scholarship and performance, merit awards for our students—in every respect it's a different place."
Keane: "This university today has a personality that it simply didn't have when I was there. Now it's a nationally-recognized university of proportions we couldn't fathom when I was there. I couldn't get into AU today."
A lifelong basketball fan, Kerwin tried out for the team as a freshman, and frequently is in the stands for men's and women's games. When the men's team won the Patriot League Tournament in 2007 to earn its first-ever berth in the NCAA Tournament, he took part in the postgame celebration.
Kerwin: "I still have the picture of them allowing me to cut down a part of the net at that Lafayette game. It's in my office at the house. It was tremendously gratifying to see that happen because I know how long people worked to make it happen. The game that we played against Tennessee was in Birmingham, Alabama. They gave Tennessee a real scare. The kids performed tremendously."
Emily Yu, SPA/BA '13, 2012–2013 student government president: "One of my funniest memories was a free throw shooting contest. I ended up winning, and he was very gracious and would make jokes about that all the time."
Mike Brennan, head coach of AU's men's basketball team: "He's been very supportive. When you're talking to recruits, or doing your job on a daily basis, just to know that the very top person at the school cares about what you're doing and wants to see you do well, it gives you an extra sense of pride. He's very attached to the institution. He has genuine affection for the place and pride in AU. It definitely comes across whenever you talk to him about it."
Kerwin's legacy will be cemented in the new buildings, diverse and high-achieving students, and leading faculty at AU.
Bass: "I think AU has gone from an institution that had enormous potential to a place that's realized and now is able to take the next step. I think he'll be looked at as someone who has committed his entire career to seeing this institution move forward, and has accomplished that."
Sine, chair of the current presidential search committee: "I've had the opportunity to talk to prospective leaders of AU and to recruit people who we're seeking to get into our presidential hiring process. The awareness of what has been accomplished under Neil's leadership, and the momentum that the school has, is very high. It's gratifying that when you talk to senior leadership at some of the best schools in the country, they're very aware of what is going on at AU, and very aware of the impact that Neil has had on the trajectory of the institution. I think the university owes Neil a tremendous debt of gratitude for leading the university out of a very rough patch and into what I think is its golden age."
Alston: "He was approachable and there was an element of humility about him. He was very straightforward. I will miss his accessibility and the way he would listen. I think I'm really just going to miss the person. I mean this in the best possible way—he never seemed presidential to me. He seemed like a colleague."
Candice Nelson, government professor: "I think because he'd seen AU from so many different perspectives, he was able to get AU to look at itself in lots of different ways."
Keane: "I don't know how we're going to replace his passion. Of course, we will, but it will be a big hole to fill. Ann Kerwin will be sorely missed, too. They've been a team from day one. The work that she's done to elevate AU has been really phenomenal. She just loves this school too. I think his legacy will be [apparent] in 50 years when we have leaders who transform the country based on the university he [helped] create."
Kerwin, who plans to return to the faculty at the School of Public Affairs: "I'm going to miss the day-to-day interactions with absolutely wonderful colleagues. There's not a spot on campus that hasn't been a part of my life. I took a chemistry class in Beeghly for god's sake. There are memories in every building. You're a lucky person when you can say that. I love the place for what it did for me—it gave me an opportunity that I never would have had anyplace else."