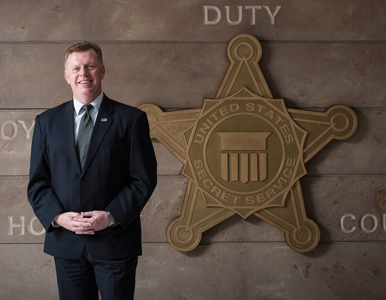 The son of a New Jersey state trooper, James Murray, Key '14, long imagined holding a job in law enforcement. But maybe not this one.
In April, President Trump appointed the 25-year Secret Service veteran as the agency's 26th director, placing Murray in charge of 7,600 agents, officers, and support staff stationed at 115 domestic field offices and 19 overseas.
"No agent or officer or anybody who comes to the Secret Service does so with the express intent of becoming the director," Murray says. "Once the shock wore off, I was exceedingly humbled and honored."
Founded in 1865 to stamp out counterfeit currency, the Secret Service handles a wide range of financial and computer-related investigations. Its other, more well-known mandate—presidential protection—was established in 1901 after the assassination of President McKinley.
Murray, who served in the Army ROTC as an undergraduate student at the University of Scranton and began his federal government career as a special agent investigator with the US Department of Transportation, has been deeply entrenched in the Secret Service's dual missions since 1995. He started as a special agent in the New York field office; spent six years in the Presidential Protective Division; managed the service's training operation; served as a liaison to Capitol Hill; ran the Washington field office; and led protective operations for the 2016 presidential campaign, transition, and 2017 inauguration. 
The director is proud to oversee a traditionally "spartan" organization as it continues to build its ranks and resources. The Secret Service is in the middle of a decade-long hiring push, Murray says, but he offers an honest assessment for those who might consider the agency as a career path: "There's no tougher job in the public sector." When he speaks about the costs of the job with incoming recruits, he does so from experience.
"When I got on this job, the tempo being what it was caused me to invest so much into the job that I sort of lost contact with the people that I came up with through high school and college. That was nobody's fault but mine, and I realize that it didn't have to be that way," Murray says. "I try to talk to the young folks and let them know, 'Do all you can to hold on to those people.' This job is what it is and it's demanding, but if they were there for you then, they'll be there for you now."
Travel, stress, and long hours mean sacrifice for special agents and their families—Murray's included.
"My wife and I have two sets of twins and I am eternally grateful to her," he says. "She is an attorney by trade and agreed to stay home and raise those kids and forgo her own career and allow me to pursue this. I don't know how you express gratitude to somebody for doing that."
Of his 10 very different jobs within the agency—the common denominator among which is a rapid pace—few have been his first choice. The rest have served more immediate organizational needs. Looking back on his 25 years with the Secret Service, he wouldn't change a thing. 
"Any one of us here in the Secret Service, regardless of what he or she does, can go find an objectively easier job, maybe even get paid more," Murray says. "Yet most of us don't, and I think that speaks to a broader commitment to something bigger than ourselves."