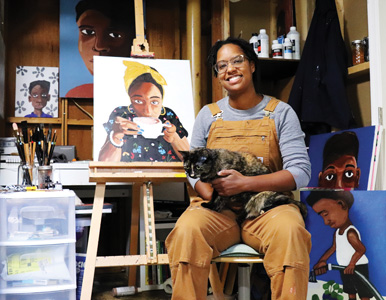 When Jessica Owens-Young, CAS/MS '10, hung up her soccer cleats in her late 20s, the star striker needed a new goal. That she traded shin guards for stretched canvas may seem curious, but the CAS health studies professor says athletics and art share more than one thinks at first brush. 
"It was just magical the way I could paint the field with a ball," says Owens-Young, who played Division I soccer at the University of Maryland Baltimore County. "I see painting in a similar way: as an expression of myself as a person and a way to engage in the world." 
The native Marylander always enjoyed doodling on her homework as a youngster, but it wasn't until she took an oil painting class at Columbia Arts Center in 2018 that a colorful, new world unfolded before her.
"Often as adults, we don't try new things because we're afraid to be beginners," she says. "I wish I had taken art classes in college, so I encourage all of my students to explore and make time for their interests, because you never know where it's going to take you."
It's taken Owens-Young to the basement of the Catonsville home she shares with her wife, Shanté, and feline apprentice, Milo. Stuffed with finished portraits and works in progress, the laundry room studio "looks like a meme with all the Chrome tabs open," she laughs. "It's just how my brain works." Despite the creative chaos—or perhaps because of it—the space has become Owens-Young's sanctuary: an oasis from the stress of virtual learning and a tumultuous 2020.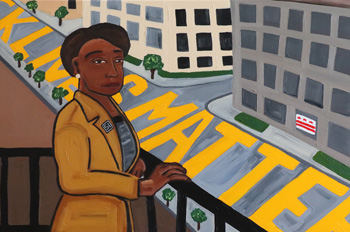 After some trial and error, the artist has discovered that she's most inspired after dawn, as she savors her morning coffee. "I learned from soccer that I have to do this every day to get better. I've also found that the creative exercise fuels my academic work," says Owens-Young, whose research centers on health equity and maternal and infant health. "Often when I'm painting, I'll work out an idea for my writing."
Some of her African American subjects—Toni Morrison, James Baldwin, Shirley Chisholm, Angela Davis, Fannie Lou Hamer, DC mayor Muriel Bowser, SPA/MPP '00 (above)—are famous faces, while others are everyday people: family, friends, neighbors, and even strangers who come to Owens-Young in her dreams or on her Instagram feed. But all share a quiet strength and dignity that have become the artist's signature. 
"A lot of people, when they think of Black art, expect to see Black pain or trauma. That suffering matters, but Black folks have many, many other stories," she says. "I believe the protests [this summer] reflected a love for life. I try to paint that joy and resilience—I want to show how Black folks thrive." 

It's that grace and soulfulness that have drawn patrons like Kathy Buettner. 
"I follow lots of artists on Instagram and that's how I discovered Jess," says the British Columbia collector. "I was immediately drawn to her work because of the rich colors she uses and her ability to convey strong emotions with simple brush strokes. You just have to study the eyes of Jess's subjects to get a sense of what they're feeling.
"The piece I purchased from Jess reminded me of a young man I met while doing some volunteer work in Uganda," she continues. "He's in a prominent space in our home so I walk past him several times a day. He reminds me of my white privilege and that I—we—have so much work to do."
Owens-Young's original works sell for $150 to $500, which includes shipping. And because "every home deserves artwork," regardless of budget, digital illustrations are available at Society6, starting at about $20.
"I hope my art makes people think about their own journey and history, and reminds them that they are the embodiement of their ancestors," she says. "I also hope my art reminds them of being at home, and being cozy, loved, and seen—all those things that humans need to feel affirmed."