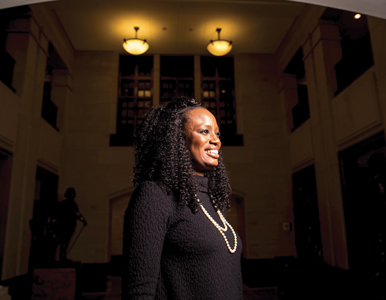 Members of the US House of Representatives usually introduce more than 6,000 bills and resolutions every two years, the vast majority of which die in committee. Scheduling the ones that survive creates a complicated puzzle—one that Shuwanza Goff, SPA/MS '08, pieces together.  
When the Democrats gained control of the House in January, Goff ascended to floor director in House majority leader Steny Hoyer's (D-MD) office, becoming the first African American woman to serve in the powerful, behind-the-scenes role.  
Goff works with politicians and staffers on both sides of the aisle to determine the timing of bills and gauge support for them. A floor director's scheduling duties are exhausting and exhaustive. "You also have to know the policy, because you have to know what bills you're bringing to the floor," she says. 
When Goff started with Hoyer in 2008, she expected to leave Capitol Hill after a congressional cycle. But she continued to climb in title and responsibility, jumping from staff assistant to director of legislative operations for the then minority whip in just five years.  
She credits mentors, including Hoyer, with helping her advance. Now that she's risen to readying bills for prime time, she hopes to empower younger staffers.
"[Congressional offices] need to be serious about ensuring that staff is reflective of this great, new collective class of members that we have, that it's reflective of the country," she says. "That's just something you have to be intentional about."