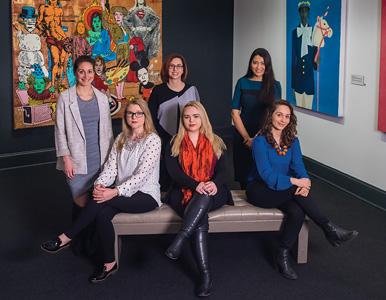 The 5,000-piece collection at the National Museum of Women in the Arts (NMWA) includes a neon sign by Yael Bartana that asks: What if women ruled the world?
At NMWA-the only major museum of its kind in the world, which celebrated its 30th anniversary last year-AU women do rule. Five of the 40 or so full-time staffers and one intern are members of the AU community. They are (clockwise from back left) Dana Sherman Marine, CAS/MA '12, national and international program manager; Amy Mannarino, SIS/BA '93, CAS/graduate certificate in arts management '99, director of communications and marketing; Orin Zahra, CAS/MA '11, assistant curator; Alicia Gregory, CAS/MFA '14, public programs manager; Maureen Smith, SPA-CAS/BA '19, public programs intern; and Ginny Treanor, CAS/MA '01, associate curator.
"We're all here for the same purpose: we're united in the mission," Treanor says.
It's a mission that includes a commitment to activism and social change. Earlier this year, NMWA featured Mónica Mayer's El Tendedero/The Clothesline Project, an interactive exhibit for which more than 1,000 museumgoers shared their stories of sexual harassment and domestic violence. The museum's provocative new offering, Women House, opened in March for Women's History Month, and features 36 works that challenge traditional ideas about gender and domesticity.
"This is a great, progressive place to be right now," says Marine of NMWA, which draws 100,000 visitors each year. "It's a very sisterly environment."