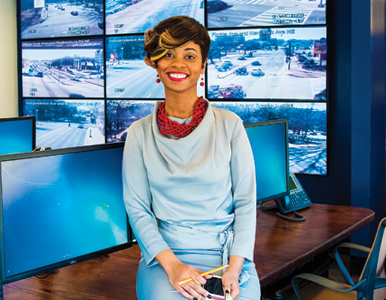 From maintaining DC's fleet of firetrucks to sweeping the streets to, yes, ticketing cars that park where they shouldn't, the Department of Public Works (DPW) keeps the city running like a well-oiled machine.
As director of communications, it's Zy Richardson's job to apprise DPW's nearly 1,430 employees and DC's 658,000 residents of happenings in one of the city's largest government agencies. If you tweet your trash pick-up hiccup, you'll likely get a personal reply from Richardson's team; information about snow events, graffiti removal, and leaf collection also comes directly from her department.
"My hours are long and days are intense, but it's the perfect match for my passion, high energy, and nonstop enthusiasm to serve others," she says.
Richardson, SOC/MA '11, joined DPW in January 2016, the same month winter storm Jonas dumped more than two feet of snow on the nation's capital. She likens a blizzard to the Super Bowl for the 800 DC Snow Team employees involved in snow removal—but this season, DC's plows and salt trucks haven't seen much playing time.
"A snow day has a very different meaning for me than for my kids," laughs Richardson, pictured in dpw's snow command center, which features a video feed from cameras posted around the city. "So I'm not complaining about our mild winter."