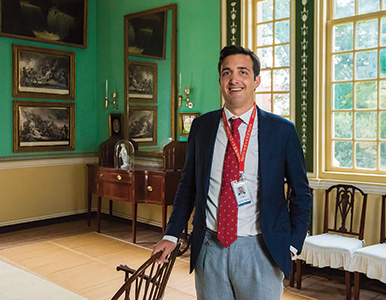 Everyone knows the story of general-turned-president George Washington. Few people know about Washington, the innovative agriculturist. 
The first US president experimented with cutting-edge farming methods on his 8,000-acre Mount Vernon estate, where he built a 16-sided barn to improve the treading process (which uses animals to separate grain from stalk) and shifted his cash crop from tobacco to more sustainable wheat.
These and many more stories about Washington—and the farm he called home from 1754 until his death in 1799—have gone digital, thanks to the talent and energy of Ethan Guralnick and Mount Vernon's new media team. As a digital storyteller, Guralnick spins detailed narratives about Washington's life, enjoying nearly complete creative autonomy in the process. He's donned period garb and camped out with reenactors, who gather every spring for Revolutionary War Weekend, and he's gotten up close and personal with Washington's (handwritten) will. 
All of Guralnick's vlogs are posted on Mount Vernon's YouTube channel, which boasts more than 3,500 subscribers. "I always strive to make something that's engaging, educational, and fun," he says. 
Since 1860, 85 million people have visited Mount Vernon, which is nestled on the banks of the Potomac River, 18 miles south of the city that bears Washington's name. Today, the site draws more than a million visitors a year. "About 600 people work here, and every one of them is personally invested in keeping history alive," Guralnick says. "Their passion is infectious."