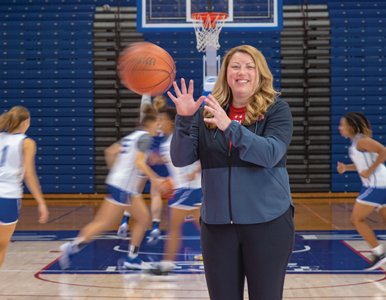 "My downfall," Tiffany Coll admits with a laugh, "is that I don't live in the moment enough." In June, a big-deal moment arrived: Coll landed her first Division I head coaching gig, becoming the 14th to lead AU women's basketball. In diving into the work, though, she didn't have time to be excited, sentimental, or even nervous. Taking over for her boss and mentor Megan Gebbia, who departed for Wake Forest after a successful nine-year run at AU, threw Coll into building mode: of a coaching staff, a roster, a schedule, her program.
On November 9, the Eagles tipped off their season against DePaul. A young, new-look team embarked on a mission of learning how to unlock the many talents Coll believes it has, how to play together, and how to "withstand the mental game when things aren't going our way." Coll, meanwhile, reached another moment worth living in, officially beginning her 10th season at AU, her 18th on a Division I staff, and, finally, her first as a head coach.
"You never know when you'll get your opportunity," Coll said early in the Eagles' preseason. This one comes after a nearly two-decade journey with stops at St. John's, Navy, Lehigh, Towson, and AU, where she served as an assistant and later associate head coach for 160 wins and the program's first three NCAA tournament appearances. In taking the next step, Coll feels "proud of myself" for keeping at it in a profession defined by long hours, miles, and seasons; "excited" to take the reins at a school she knows well; and "ready" to fulfill a dream she's had since college.
When Coll played forward at the University of Maryland, Baltimore County, she prided herself on grit and grind, and the belief that, "I will outwork you. I'll be physical and relentless, and I'll show up and compete," usually with an underdog's chip on her shoulder. Her tenacity remains, but coaching has made Coll better at listening and empowering others.
"She kept my head screwed on straight last year, and she's someone who I've felt very comfortable communicating with," says forward Emily Johns, SOC/BA '24, who steps into a leadership and prominent frontcourt role this season. "We're completely ecstatic and ready to play for her."
Coll is someone "who wants the best for you," adds fellow forward and team leader Lauren Stack, SOC/BA '23. "She'll do anything she can to help you reach your goals because she sees that potential in you," just as players saw potential in Coll, with several emailing AU Athletics leadership in June to advocate for her hiring as head coach.   
A favorite saying of Coll's is, "It's not rocket science." She's not setting out to reinvent the wheel in her first season, and her objectives aren't unnecessarily complicated. "I'm going to do the best I can, I'm going to work hard, and I'm going to put in the time and the effort to help us be the best we can be," she says. "But I have to ride the wave."  
A first-year head coach, she's already learning to live in the moment.