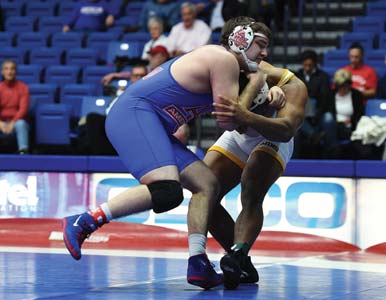 Brett Dempsey recently tore through Blue Collar, Blue Scrubs: The Making of a Surgeon, a memoir about a construction worker turned physician. Too bad the title is taken—it would have been perfect for his future autobiography.
An unassuming Midwesterner with a tireless work ethic best described using a color and a part of a shirt, Dempsey, CAS/BS '16, has established himself as a beacon of consistency, both on and off the mat during his years on AU's wrestling team. As he heads into his final season—and works toward a master's degree in biology—two goals remain: qualify for the NCAA championships, and get into medical school.
"You never have to ask, is Brett doing what he needs to do?" says AU wrestling coach Teague Moore. "He's at every workout early and stays after. The guys on the team see the lifestyle that he leads. He's someone they want to be led by."
Dempsey started wrestling in elementary school as a way to improve his tackling in football, but he quickly found that the individual nature of the sport, and the intense personal discipline it demands, suited him.
"You're on your own out there," he says. "Getting your head snapped down all the time, getting hit in the face, getting bloody noses and black eyes and busted-up ears—it's physically challenging."
Unheralded as a junior, he made a surprise run to third place in the Michigan state tournament, a performance that awakened him to the possibility of wrestling in college.
But athletics alone would not dictate where he enrolled: Dempsey is a serious student—his last B was in sixth-grade drama class. He graduated in the winter with a 3.96 GPA, the best of any AU male student-athlete. Only organic chemistry, physics, and music theory tripped him up for A-minuses.
Dempsey's always been an avid reader and learner, and he's focused on academics because he's long wanted to become a doctor. Recently, he set his sights on doing so in the military. He's already taken the grueling eight-hour medical school entrance exam, and he credits his physical training with helping him get through the test.
"Wrestling has given me stamina that I think a lot of people don't have," he says. "I've made it through three-hour practices and 13-hour days of open tournaments. I know I can handle other things in life."
After redshirting as a junior, Dempsey jumped to the heavyweight division last year. Because of his studiousness and commitment, Moore believes his performance will improve exponentially in his final season.
"He's very analytical," Moore says. "He's starting to put together a game plan and understand how to use [opponents'] size against them. I think he should be at the NCAA championships and make a run at our conference title. Brett's been an incredible leader; he's already left his mark here. When we're recruiting, we're looking for guys like Brett Dempsey."