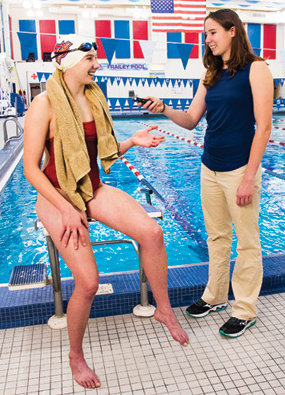 One day Shannon Scovel hopes to carve a career writing this kind of story. But for now, the senior swimmer is content being its subject.
"It's so neat to be interviewed by another journalist," she says, seeming genuinely tickled. Her warmth and enthusiasm are two traits that led her teammates to elect her a cocaptain of AU's swim team, and the eagerness with which she's approaching this new situation—answering questions instead of asking them—offers a clue as to why this 21-year-old already has a Sports Illustrated byline on her résumé.
Scovel, SOC/BA '17, carries both athletics and journalism in her blood. Her father, Curt, wrestled at the University of Maryland, where her mother, Kathryn, was a gymnast—and a journalism major. Scovel wanted to emulate them both.
"I went into high school with a goal of swimming in college," she says. "I was never the standout, but I swam distance and I knew that was kind of my place. I wanted to pick a school where I could be a contributor."
For the Cary, North Carolina, native, that school was AU. During the 2013–14 season she clocked 17:45.45 in the 1,650-meter freestyle at the George Mason Invitational, the ninth-best time in AU history. Last year she recorded three season-best times at the Patriot League Championships. But much of her focus was elsewhere.
As editor in chief of the Eagle, Scovel helped oversee about 75 contributing writers. She read every article posted on the paper's website (up to five a day), devoting roughly 20 hours per week to the job. One of her biggest challenges was working on a story about sexual assault on campus.
"It's always tough when you're writing about college students that you go to class with, or things that are happening in the community that you're a part of," she says. "That was really touchy, and we had to be careful and sensitive with both sides. I'm really proud of the work the staff did."
In the summer, Scovel worked in New York as an intern at the legendary SI. Her timing was fortuitous: in advance of the Rio Olympics, she published stories previewing the women's field hockey competition and decoding the mysteries of the modern pentathlon.
This year, she's planning to host the Eagle's first sports podcast, and after graduating she'll apply for sports writing jobs or look into a master's program.
"Sports is such a huge part of our culture, and I think it's neat that we can use sports as a way to connect with the people around us and build a community," the budding reporter says during her brief stint as an interviewee. "I find the writing process to be exhilarating, and I love interviewing athletes to learn more about their experiences. The whole process from start to finish energizes and challenges me. I love the emotion that comes with sport, the triumph associated with a win and the disappointment in a loss. Sports can bring out the best in people, and it's cool to share those moments with others through my writing."