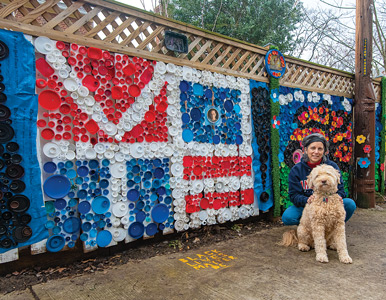 As Karen Lash stood in the kitchen of her Tenleytown home in summer 2019, it looked to her like a scene from a horror movie. Everywhere she turned, she saw more bloody . . . plastic.
Lash—SPA practitioner in residence and director of the Justice in Government Project—had just returned from walking her dog, Lucky, when she heard an NPR report that was anything but for creatures dwelling in the darkest recesses of the ocean.
"Scientists were shocked to discover plastic deep in the ocean," she says. "I started opening the cupboards, the fridge. It was this moment of removing the blinders."
The average American consumes 220 pounds of single-use plastics each year—but only about 9 percent is recycled, as it's simply not economical. Even milk jugs and pill bottles that bear the "chasing arrows" are rerouted from the recycling bin to the landfill or the ocean, where it's predicted that by 2050, there will be more trash than fish. 
Lash is now a woman on a mission, hook, line, and sinker. The Department of Justice veteran swapped berries in clamshells for bananas, pears, and oranges, and eschews carryout cutlery, straws, plastic grocery bags, hotel toiletries, and bottled water. She buys in bulk and seeks out sustainable retailers like Mason and Greens—the DC area's first zero-waste grocer—where she fills her own glass containers with everything from dish soap to olive oil. And before COVID moved AU's operations online, Lash purged the office kitchen of plastic and gave each of her coworkers in the Justice Programs Office a cloth napkin, which she washed each weekend.
As for plastics like bottlecaps, which are too small to recycle in DC, Lash turned trash into treasure. Using thousands of colorful plastics donated by neighbors—"which, I'm sad to say, didn't take long to accumulate"—she crafted four mosaics on the wooden fence in the alley behind her house. 
"People would stop to ask me what I was doing, and they'd get a long answer. I've probably had hundreds of conversations with people, including lots of wonderful kids. Each of those interactions is an opportunity to make a little bit of difference." An added bonus: "I taught all the girls in the neighborhood how to use a power drill," Lash says with a warm laugh.
She continues to add to her creations, including one that encourages people to vote. Ultimately, Lash says, that's the most effective way to rid plastic from our kitchens—and oceans.
"Bit by bit, it feels like this is what's in my control, but I know from my work that we're not going to see real change until there's political will and elected leadership that will make the necessary changes."