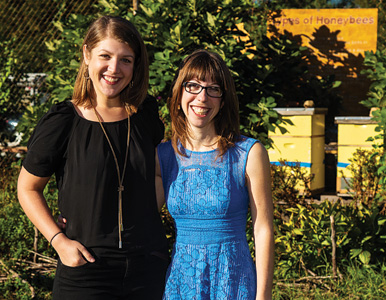 Lillie Rosen and Brittany Stewart have what the doctor ordered: an apple a day—or a pear, or a tomato. The two are colleagues at the food-focused nonprofit DC Greens, whose Fruit and Vegetable Prescription Program provides fresh, local produce to patients with diet-related illnesses. 
"It's an actual physical prescription," Rosen says. Participants bring the Rx to the "farmacy" at their local farmers' market and receive $10 of produce a week for each member of their family. Hundreds of recipients have lost weight, but more importantly, they've started coming back for regular checkups. As Rosen, the group's food access director, puts it, "they're getting a literal carrot to come and see their health care provider."

Stewart, the volunteer coordinator, recruits locals to run the Produce Plus program, which also provides farmers' market vouchers to people in need. It's an enthusiastic corps of volunteers. "Most want to get involved in food access and food sustainability issues, and don't really know how to," she says. Produce Plus was created to keep farmers' markets accessible to everyone in the surrounding community, and there are 50 participating markets across all eight wards. 
Stewart also cultivates volunteers for K Street Farm, a three-quarter-acre plot at the intersection of K Street and New Jersey Avenue. The farm provides job training, and produces vegetables, fruits, eggs, and honey to supplement the food raised and sold at schools across the city. The school garden markets are "a bake sale, but with fresh produce, and the kids run the markets themselves," she says. 
The two colleagues hope these and other DC Greens initiatives will reduce some of the disparities in the nation's capital. "I grew up in the DC area and just wanted to have an impact in the city I lived in," says Rosen. Stewart sees food as the natural place to connect: "we all have to eat."