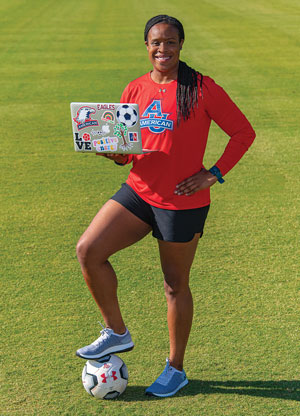 Almost a year after Marsha Harper was named head coach of the women's soccer team—and the first African American to hold the post in the program's 30-year history—she remains undefeated in the strangest way. Harper's never once coached her squad in-game and has no idea when she'll make her debut on the sidelines.
COVID-19 has twice red-carded college soccer programs, canceling spring training in March and postponing the fall season in August—at least until spring 2021. But Harper, a self-described "glass-half-full kind of person," still sees opportunity in a delayed kickoff: to strengthen communication and relationships within her team, cultivate an advanced tactical mindset among players, and recruit her heart out over Zoom.
"I never would have ever guessed this setup in my wildest dreams," says Harper, who made four stops as an assistant coach, including a recent two-year stint at the University of Massachusetts, before landing at AU in January. "Of course, I would have wanted to coach them through a few games—just one, even—but the great thing for all of the players is they now get to reestablish themselves and their identity."
The Eagles at least had a chance to learn Harper's before campus closed in March. A former defender at the University of Florida and the University of South Florida—"I didn't score much, so [my coaches] put me at center back," she laughs—Harper coaches a system that blends sturdy defense and offensive creativity through possession. On practice days, she prefers efficient, up-tempo training sessions.
Since AU went virtual, the team has discovered Harper's affinity for PowerPoint and inspirational quotes like, "Your attitude determines your altitude," a nod to her Denver roots, and the African proverb, "When the roots are deep, there is no reason to fear the wind." And because she's planted the seed of possibility, players also now believe that they can compete for the Patriot League championship.
"Right off the bat, Marsha was really focused on confidence and redefining who we are as a program," says midfielder-forward Juliana Saling, Kogod/BSBA '22.
"A big thing for her is spreading positivity," adds defender Tori Kent, CAS/BA '21, "making sure that everyone's 100 percent in every day."
Even 100 percent online, that remains true. The Eagles trained apart this fall, but Harper asked them to put their coaching hats on together. Each week, they dissected one Patriot League opponent's film and presented a scouting report detailing personnel and tactical patterns to stay sharp.
The exercise follows a summer in which players grew closer, bonding over more than just soccer. They tuned in to team seminars on nutrition and personal finance, organized a talent show, and launched an Athletics-wide photo campaign in June to combat racism and social injustice.
Now they're just eager to test their togetherness with a safe return to the field.
"It's definitely disappointing to have to wait until spring, and even that might be a little rocky," says Alysa Vazquez, SPA/BA '23. "But it's a small setback for a major comeback."
Another Harper-ism to illustrate that, even before her first game, the new coach's program has taken root.