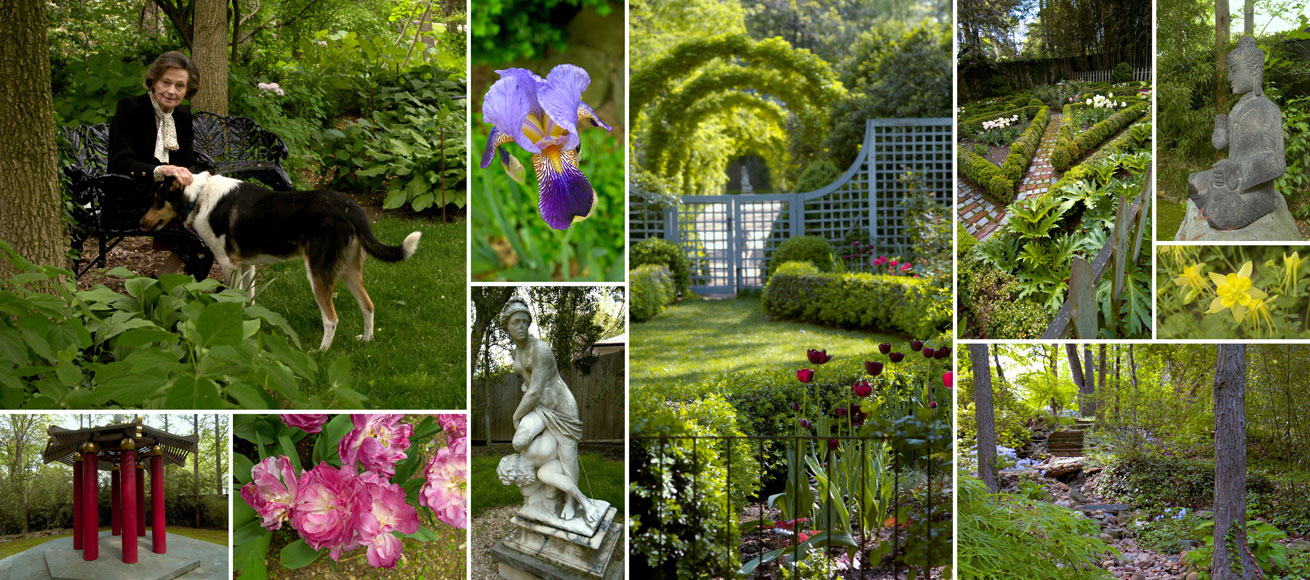 Walking into the garden of one of AU's closest neighbors feels a bit like stepping through the magical wardrobe in C. S. Lewis's The Chronicles of Narnia. You emerge into a world as unexpected as it is wonderful.
You've just left a bustling Nebraska Avenue, and suddenly the city has disappeared, replaced by a sprawling three-acre garden. To your left, Japanese weeping willows cascade gracefully down to the bank of a hidden fish pond. Before you stands an American boxwood topiary of Daphne escaping from Apollo. Behind, tulip poplars soar as high as cathedral columns. On your right, trellises enclose herbaceous borders that lead to a long allée of arches swathed with green akebia vines. Stroll through them, and you'd swear they were enchanted, making the world somehow grow smaller with each step.
Though an air of fantasy hangs about all of the scenery, the garden's true magic lies in what you don't see. Here in the middle of Northwest Washington, DC, you can look in every direction and find neither cars, nor office buildings, nor traffic signs.
"Our friends say we have the only country house in town," laughs the owner, who began grooming the English-style garden out of a mess of ivy and Virginia creeper 28 years ago when her husband started pulling out waist-high weeds in their backyard. "He thought we should do something to clean the place up," she recalls. But I had no idea it would grow into this someday. One thing just led to the next." 
Recently, however, she wondered what might happen to this Narnia in the future. "I love my tress," she explains, "and I started worrying about what would happen to them when I died and how I would make sure they were taken care of." Luckily, the only country house in town just happens to border on American University, the only arboretum university campus in the city. She chose AU as "a natural fit" for her garden, designating in her will that the property become part of the campus after she and her husband die.
The gift, as AU President Benjamin Ladner put it when he presented the garden's anonymous donor with the university's President's Award last October, will be the "jewel" in a campus that values green space as highly as its generous neighbor does. "It's certainly a special gift for us," agrees Mike Mastrota, one of the landscape architects who earned AU its arboretum status in 2003.
Beyond the greenery, the garden merges nature with art. Those enchanted akebia-lined arches, for instance, form a trompe l'oeil—an optical illusion that makes the statue at one end appear much larger when viewed from the other end. The magic rests in the height of the arches. They begin at twelve feet and diminish to seven feet as you reach the sculpture. By the time you get to it, what appeared to be six feet tall is barely three feet.
Yet, for the woman who shaped the garden, such landscaping flourishes are secondary to the value of nature itself. "I want to leave this property to the university, not because I think it's really something special, though I've been told that it is—especially in Washington," she explains. "It's just that I couldn't stand the thought of these trees being cut down someday to put up five other houses. I believe that every time a tree or any part of nature is destroyed we lose a piece of ourselves."