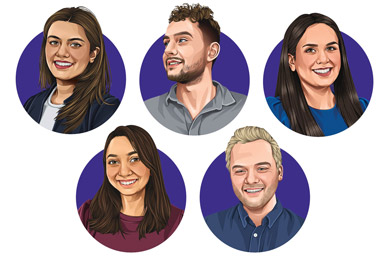 Being the first in a family to attend college comes with a range of emotions: pride, pressure, triumph, trepidation. 
First-generation students—who make up about 10 percent of AU's student body—can find it challenging to navigate applications, admissions, and financial aid without guidance from family members who have been through the process. They can also face internal struggles: feeling out of place on campus, wrestling with the guilt of being far from home, and shouldering the expectations that come with being "the first."
Financial difficulty is one reason why one in three first-year students at national universities won't return for their sophomore year. Through Change Can't Wait: The Campaign for American University—and the generosity of donors like Janice Menke Abraham, SIS/BA '79, who understand the sacrifices necessary to earn a degree—the university is raising new scholarship funds to make an AU education a reality for students with myriad experiences and backgrounds.
"A college education is a significant determinant in the financial, psychological, and emotional health of this country, and it creates a tremendous leverage point for individuals to advance in society," says Menke Abraham, who serves on the AU Board of Trustees. "Higher education transformed my family's life."
Menke Abraham was a little girl when her father finished his degree by taking classes at night. Her mother, who had to choose work over college despite earning a full scholarship, assisted with his studies. "I remember attending my father's graduation—it was a very big deal for my family. We understood the importance of achieving a college degree," Menke Abraham says.
As an international studies major, she juggled the demands of attending college while working to cover living expenses. Her AU experience—learning from prominent faculty, living on a diverse campus in a vibrant city, and securing her first internship—was instrumental in preparing her for a life of service, commitment, and philanthropy. Menke Abraham is president and CEO of United Educators, a risk management and liability insurance company serving educational institutions. In addition to her career leadership, she supports many professional and nonprofit organizations through governance and volunteer work.
Menke Abraham's background and experience inspired her and husband Kim Abraham to establish the $1 million Menke-Abraham Endowed Scholarship Fund, which provides scholarships to first-generation college students, helping them eliminate debt and inspiring them to carry on AU's spirit of service. She hopes the scholarship opens doors and eases the burden of paying for college, carving out a smoother pathway for more first-gen students like Karson Taylor, SPA/BA '23, to apply to, thrive at, and graduate from AU. 
"Showing up is the hardest step," says Taylor, a junior from Ohio, reflecting on starting college. "I wouldn't be here without scholarships and without the generosity of the Abrahams."
AU was Taylor's top choice. "It's a changemaking institution with strong academics that emphasizes career outcomes. I knew I'd have amazing opportunities beyond the classroom." She also knew she would need support to offset the costs. Scholarships have allowed Taylor to focus on academics and given her flexibility to pursue paid and unpaid activities—including internships at the White House and RepresentWomen and a seat on the Sine Institute of Policy and Politics' student advisory board—that enhance both her résumé and her college experience. 
"Scholarships have given me confidence in my pursuits," says Taylor, who's also involved with AU's First-Gen Student Union and serves as president of the Pre-Law Society and Alpha Epsilon Phi sorority. 
Thanks to scholarship awards, including the Menke-Abraham Endowed Scholarship, Taylor will leave AU a proud first-gen graduate and changemaker poised to pursue law school. And, by being part of Change Can't Wait, alumni and friends like Janice Menke Abraham and Kim Abraham ensure an equitable, affordable, and empowering AU education for more students who want to improve our world.
"Young people should have the opportunity to attend a high-quality educational institution, and American University is just that," Menke Abraham says. "We started this scholarship to allow individuals like Karson Taylor the chance to earn a degree, improve their lives and those of their families, and—equally important—improve the world. That's what American University students do." 
Meet Future Changemakers
Thanks to the generosity of alumni and friends who support scholarships through Change Can't Wait, we strive to attract, retain, and support the brightest, most talented students—no matter their circumstances. Learn what an American University education means to five of our scholarship recipients and how it will enable them to carry on AU's changemaking tradition in the world.
Brindha Kodlapur, Kogod/BS '22
Seidel Scholarship
"Since coming to AU, I've held several prestigious internships, including one with the US Securities and Exchange Commission, and was selected to the University of Pennsylvania's Girls Who Invest program. My professors and AU's alumni network are instrumental in mentoring me as I prepare for a career in finance."  
Luke Bennett, SOC/BA '22
Joseph A. Britton Memorial Scholarship
"My regimented swim and academic schedules encourage me to strive for excellence as an AU student-athlete. I've interned with several pro sports teams, including the Washington Commanders, and fostered deep industry connections that will help me achieve my goal of working in sports communications."
Nicole Butters, SIS/BA '22
Alice Gale Johnson Endowed Scholarship
"I am passionate about foreign policy and studied abroad through US Department of State–sponsored programs prior to college. When I returned to the US, AU and SIS were my first choice for college. I wanted to learn from professors with real-world experiences and attend a university that understands the need for peace education. I hope to work in the foreign service, helping prevent conflicts that lead to mass migration, hunger, poverty, and corruption; I know AU will open doors to those opportunities."
Shalini Ramachandra, CAS/BS '22
Frank Cox Jones Scholarship for Women in Mathematics
"AU professors encourage my passion for health and statistics, inspire my mathematical curiosity, and refine my analytical abilities. My classes and research at AU's Nutritional Neuroscience Laboratory motivate me to promote well-being, examine social determinants of health, and apply data methods to environmental health problems. I plan to pursue a PhD in biostatistics to improve health outcomes for the disadvantaged."
Bret O'Brien, CAS/BA '22
Sylvia and Harold Greenberg Scholarship
"I'm inspired by the Department of Performing Arts to advocate for the arts as a student government undergraduate senator for CAS and SOE and through my performances in musicals like The 25th Annual Putnam County Spelling Bee. Following graduation, I will continue performing and hope to promote great artists as a digital strategist in the recording industry."
Your Impact
As part of Change Can't Wait, the AU Fund for Student Support helps AU meet the changing needs of students. Gifts to the fund can help with the cost of textbooks, pave the way for research and internship opportunities, and ensure that all Eagles can thrive. If you want to help open doors to all that an AU education has to offer, join us today by making a gift of any size at go.american.edu/studentsupport.