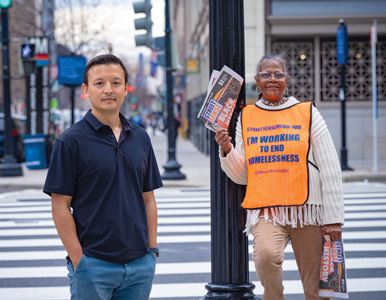 During his second deployment to Afghanistan in 2017, Major Will Schick, CAS/MFA' 21, was ready to make a major change.
Schick, who joined the United States Marine Corps (USMC) in 2007, was working as an advisor to the Afghan National Police from a small outpost in Helmand Province when he began to grow disillusioned. "What we were doing wasn't effective, and we weren't acknowledging reality. I got to a point where I felt like the rank was meaningless if I couldn't do work that I felt was important," he says.
It was around the same time that Schick started writing—and plotting his next chapter.
After separating from the military in 2018, the vet threw himself into a new mission: enrolling at AU, where he began his novel (working title: Article 134), a work of fiction about very real Afghans he trained who had died; volunteering at Miriam's Kitchen; and joining a writers' group where he and his peers—many of whom experienced homelessness—grappled with how to process trauma.
Schick also interned with Street Sense, the poverty- and homelessness-focused DC weekly that in December 2021 hired him as editor in chief. The nonprofit media group—founded in 2003 by Laura Thompson Osuri, SOC/BA '98—has allowed Schick to refine the reporting skills he first practiced as a USMC intelligence officer, including sniffing out logical fallacies and communicating responsibly and empathetically with people who have experienced trauma.
Each week, he plans the story lineup, leads a writers' workshop, and edits and publishes 15 to 20 writers who represent a wide range of life experiences and educational backgrounds. Schick, who's working toward a master's in journalism from NYU, also informs how other news organizations tell stories of the unhoused through Street Sense's Homeless Crisis Reporting Project, which will be updated this year to include a glossary and interview guide.
The editor at the top of the masthead says he's drawn to the Street beat for a pragmatic reason: it focuses on pervasive crises. More than 100,000 Washingtonians and tens of millions of Americans wrestle with homelessness, poverty, and housing insecurity. More than 330 million should be able "to agree that no one deserves to not have a place to call home."