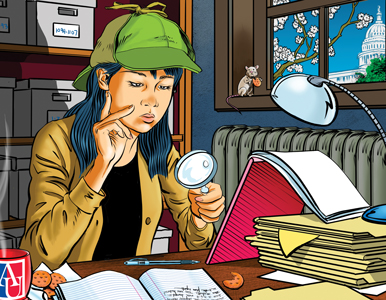 A gambler pulling the lever of a slot machine is not that different from a researcher elbow-deep in archival material, says Joseph Torigian. Empty bets and endless hours of searching can be aggravating, but the allure of a jackpot outweighs the slog of trying to hit it.  
"There's no feeling quite like going that extra mile to chase down a lead," the School of International Service professor says. "It can [point] you to something that you never would have expected to be so great." 
Torigian's new class, which requires students to design and complete a research project on an international affairs topic of their choice, is built on the premise that the world files its information miscellaneously.  
There is no one way to gain access to the right material. Instead, a savvy researcher shares a detective's instinct to push beyond easy answers. That means examining a source's motives and developing a healthy dose of skepticism. The magnifying glass and deerstalker hat are optional.  
"When you do research, if you get the details wrong, you get everything wrong," says Torigian, whose own work focuses on the politics of authoritarian regimes like Russia and North Korea. "You need to roll the dice as many times as you possibly can." 
During the semester students visit the Library of Congress or the National Archives in College Park, Maryland; conduct an in-person interview; and soak up the rays of sunshine laws by filing a Freedom of Information Act request.  
They also learn how to navigate the logistical challenges of fieldwork, protect sources, study secretive regimes like China and Russia, manage ethical issues, and win institutional review board approval.  
This "nuts and bolts" approach to research not only helps students feel less intimidated, it increases the odds that they'll generate a break that would make a seasoned detective proud.  
"I think I just like [uncovering] secrets," Torigian says. "Finding new, juicy pieces of information can really change what people think about a topic."